Snacks Recipes
Double-Decker Citrus Popsicles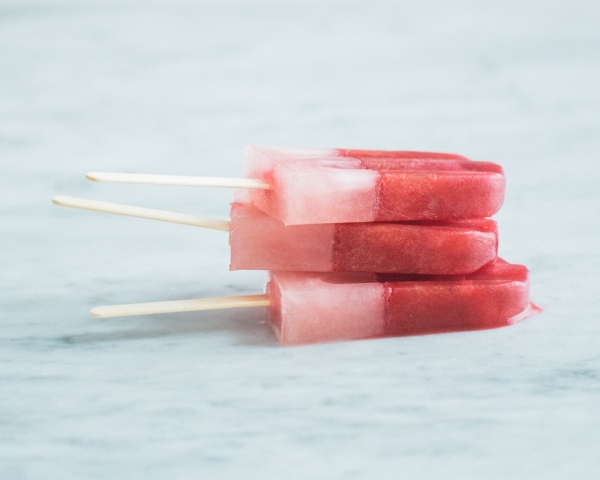 It turns out that if you juice blood oranges and tangerines together, you get a deep magenta juice with a wonderful, tangy sweet flavor. In these two-tone popsicles, the combo provides a gorgeous contrast with the very tart, pale pink juice of a white grapefruit. The popsicles look classy and fun, and they taste scrumptious!

They're also pretty darn healthy. They're naturally loaded with vitamin C, and we've only added a modicum of sugar — just enough to make them the perfect balance of puckery and pleasantly sweet. They're a super kid-friendly (if sticky) cooking project and a fun afternoon snack.
Our tip: Any citrus will work here, the only trick is to layer the colors. If you love grapefruit, a ruby red grapefruit can be quite stunning with a white one! Or a triple decker of lemon, lime, and pink grapefruit.

Ingredients
1 cup fresh-squeezed blood orange juice (from 2 to 3 blood oranges)
1 cup fresh-squeezed tangerine juice (from 3 to 4 large tangerines)
1 cup fresh-squeezed white grapefruit juice (from 1 to 2 grapefruit)
¼ to ½ cup superfine sugar, to taste
1 to 2 Tbsp fresh lemon juice

Directions
In a small pitcher, combine the blood orange and tangerine juices. Add 2 tablespoons of sugar and 1 teaspoon of lemon juice and stir until sugar is completely dissolved. Taste again to see if it has the right sweetness and tartness for you, bearing in mind that, when frozen, the juice will taste more subdued. Add more sugar and lemon if needed.
Repeat with the grapefruit juice, using the same range of sugar and lemon juice for each. Put the grapefruit juice in the refrigerator to cool. It's the second layer of the pop; if it's nice and chilled, it won't melt the first layer.
Fill each of 8 popsicle molds ⅔ full with blood orange-tangerine juice and carefully insert sticks, leaving 1 ½ to 2 inches of each sticking out. Freeze the popsicles, making sure they're level and upright, until firm to the touch, about 45 minutes.
Fill each mold to top with grapefruit juice, cover, and freeze 2 hours or overnight.
To unmold, run warm water over the individual molds just until popsicles release from sides, 5 to 15 seconds.

Recipe source: Sunset Magazine