Recipes
Easy Breakfast Meal Prep Ideas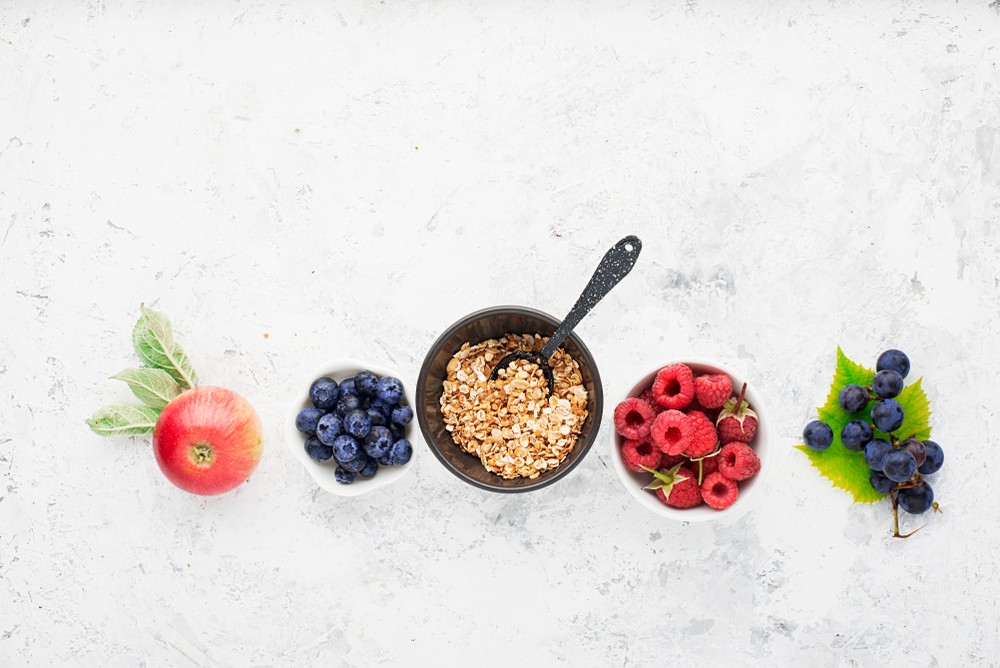 It's often said that breakfast is the most important meal of the day – and yet, so many of us end up skipping it when we run short on time. Or, if we do manage to make breakfast, it's limited to a bowl of sugary cereal, some bland toast, or a hastily-brewed cup of coffee. Unfortunately, failing to eat a nutritious breakfast can have a significant impact on your health.
Studies show that there are both physical and mental benefits to eating breakfast, ranging from a lowered risk of obesity to an improvement in memory. And although we can't help you add more hours to the day, we can set you up with some easy breakfast ideas that you can meal-prep beforehand.
With this handy guide to make-ahead morning meals, you'll be well-equipped to start your day on a healthier – and happier – note.
Healthy Breakfast Recipes You Can Meal Prep
Want a surefire strategy for having breakfast ready to go every day? Utilize the concept of meal-prepping to stock your fridge with grab-and-go options, so you'll have time to have breakfast on even the busiest of days.
Meal prepping is a practice that can be used for any meal of the day, but many people find it especially useful for breakfast. Not only does it save you a considerable amount of time, but you won't have to put any mental energy into deciding what to eat in the morning – and we'd say that's a win-win.
From your friendly food enthusiasts at Gelson's, here's a roundup of simple breakfast meal prep ideas for a more delicious (and nutritious!) tomorrow.
Egg "muffins" with ham, kale, and cauliflower rice
This dairy- and grain-free breakfast idea is at the top of the list because it's equal parts healthy, delicious, and quick. It's one of our favorite paleo-friendly breakfast ideas, requiring just five ingredients and 30 minutes of prep time. Just whisk riced cauliflower, chopped kale, and diced ham into some eggs, add salt and pepper, and pour into a muffin tin for perfectly-sized servings of protein-packed breakfast on the go.
Make-ahead breakfast bowls
For a hearty breakfast that will keep you satisfied until lunch, try these vegetarian and gluten-free breakfast bowls. This recipe combines scrambled eggs, roasted potatoes and peppers, and cheese for a delicious breakfast-in-a-bowl that you can portion out for the week ahead. Salsa, tortilla chips, and fresh green onions take this recipe to the next level – and they can easily be added in seconds.
Baked oatmeal cups with banana and chocolate chips
When you're craving something sweet in the morning, these banana and chocolate chip baked oatmeal cups are a tasty treat. Rolled oats and eggs give you the protein and fiber you need to power through your morning, while a sprinkling of chocolate chips adds a touch of sweetness. Bake up a batch to last you all week long, then grab one or two as you head out the door. These baked oatmeal cups and similar recipes can also be individually wrapped and frozen, taking just a couple of minutes in the microwave to heat back up.
Freezer-friendly breakfast burritos
Nothing says weekend like a breakfast burrito, especially one that's packed with flavor. But who says you have to wait until Saturday or Sunday to indulge your love for burritos? This recipe for breakfast burritos proves that with just a little preparation time, you can seriously upgrade your weekday mornings. Loaded up with eggs, sausage, beans, cheese, and tater tots, each fantastically filling burrito is wrapped up, frozen, and ready to be reheated whenever you're ready.
Yogurt parfaits
Maximize protein with a breakfast that tastes like dessert with homemade yogurt parfaits, featuring your choice of toppings. Portion a low-sugar or Greek yogurt into several single-serving containers (small Mason jars work like a charm!), then dole out your daily toppings. Granola, fresh fruit, coconut, nuts, and chia seeds are delicious additions to a parfait. Mix your preferred combination, then place it into enough small bags or containers to pair with your yogurts. Once it's time for breakfast, dump the toppings into your yogurt and enjoy!
Overnight oats
If you haven't yet experienced overnight oats, now's the time to change that. Incredibly easy, satisfying, and delicious, overnight oats are a meal prepper's dream. By soaking rolled oats overnight in your choice of milk (dairy-free alternatives work equally well), you'll end up with a new spin on old-school oatmeal. Plus, there are virtually no limits on how creative you can get in terms of flavor! Mixing in fruit, nut butter, spices, and other ingredients make this a recipe you can change up every week. Some of our favorite recipes for overnight oats include ones inspired by apple pie, coffee, and tropical fruits.
Chia seed pudding
Have you ever wished you could skip breakfast and go straight to dessert? If so, overnight chia seed pudding is the perfect meal prep recipe for you. Much like overnight oats, chia seed pudding involves leaving the ingredients to work their magic overnight. This particular recipe incorporates chocolate for a decadent twist, but there are plenty of other recipes for chia seed pudding that make use of fruit, nuts, and other flavorful ingredients.
Pre-prepped green smoothies
A green smoothie is an excellent way to bump up your veggie intake first thing in the morning, and if you prepared the ingredients ahead of time, it takes just seconds to make. The best green smoothies combine an excellent ratio of leafy greens, fruit, a liquid (like almond milk or coconut water), and your favorite mix-ins. With this recipe, you can place all of the non-liquid ingredients in single-serving freezer bags for the ultimate in an easy meal. Come morning, dump a bag in the blender, add liquid, and blend!
Master Meal Prep with Ingredients from Gelson's Supermarkets
Change the way you think about breakfast by adding meal-prepping to your routine – but first, you'll need to stock up on breakfast basics from Gelson's. Whether you want something you can eat on the go or are just looking for ways to save time, we have you covered with a wide variety of foods and ingredients for your morning meals. From fresh fruit and veggies to a range of options for dairy, meats, baked goods, and more, Gelson's has it all. And best of all, shopping here is simple, so you can spend less time at the store and more time tackling your busy schedule.
Make sure you're ready for make-ahead breakfasts by coming to your neighborhood Gelson's Supermarket to start shopping today.
Featured Image: Ileish Anna / Shutterstock