Dinner Recipes
Easy Sheet Pan Dinner Recipes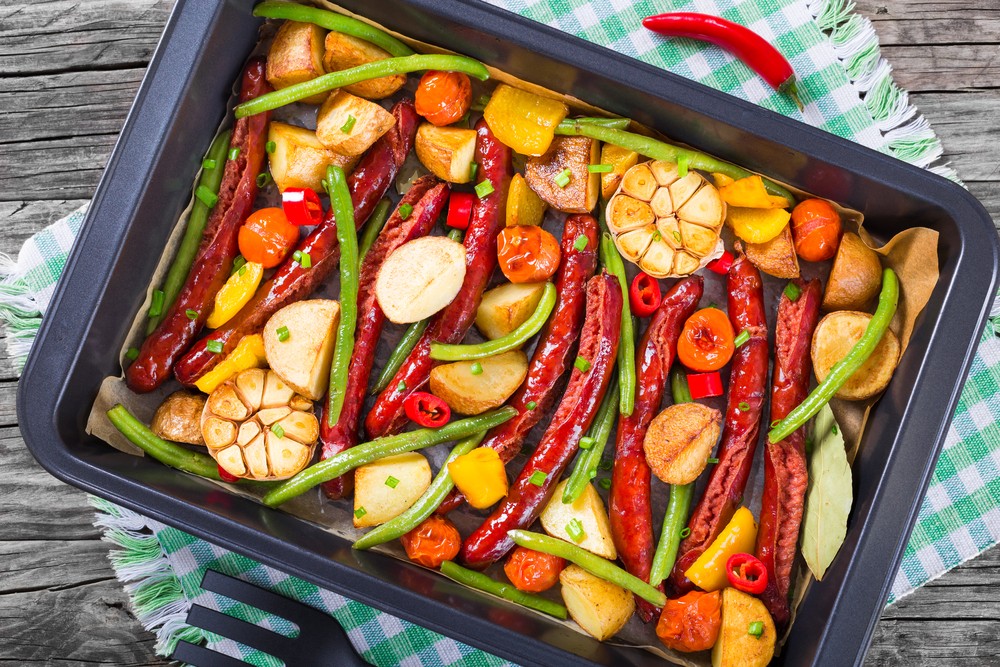 It suddenly seems like sheet pan recipes are everywhere you look - and if you appreciate quick, easy, and mess-free meals, that's definitely a good thing.
A sheet pan supper is so named because it requires just a simple baking sheet, with no need for any other pans. It's as easy as putting all your dinner ingredients on one sheet pan, then cooking everything together. Not only do these recipes let you save some serious clean-up time, but they might even give you a few minutes of free time to sit down and relax while dinner's in the oven. And if you ask us, that's definitely a win!
Even though these sheet pan meals are short on effort, they definitely don't skimp on flavor. Your family will enjoy a full and flavorful weeknight dinner complete with a main course and satisfying sides to match. Plus, because there are so many recipes for sheet pan dinners to choose from, you can easily find options for every day of the week.
We've rounded up our favorite ideas for sheet pan recipes, giving you a handy guide to make the daily dinner prep easier than it's ever been before.
The Best Sheet Pan Dinner Recipes for Easy Weeknight Meals
Stuffed Poblanos
This spicy sheet pan dinner recipe takes less than 30 minutes to get on the table, making it a great meal, with great flavors, to have in your lineup for busy nights. Large poblano peppers (broiled for about five minutes) are stuffed with a mix of ground Italian turkey sausage and ground beef, then combined with ready-to-serve Spanish rice.
Top it all off with enchilada sauce and cheese, putting it back under the broil for a couple more minutes. From there, all that's left to do is serve it up and watch your family clean their plates!
Roasted Vegetable Chili with Cornbread Biscuits
Sheet pan chili might sound like a crazy idea, but hear us out: this vegetarian-friendly recipe is packed with nutritious ingredients but doesn't require you to stand over a simmering pot all night long. Both the chili and the biscuits are placed on the same baking sheet, so you'll be doing minimal cleaning once dinner is made.
And since this recipe clearly breaks down the timing of each step, it's easy to end up with flawless, fabulously cooked biscuits and perfect chili.
Sheet Pan Sausage and Pepper Hoagies
Who doesn't love a good hoagie? These sausage and pepper hoagies take just 10 minutes of prep time, breaking all kinds of records for fast weeknight dinners. Once everything is in the oven, you have 30 minutes to do whatever you want - talk about a luxury that doesn't come around that often!
Your family gets to enjoy a classic favorite, and you get to cut down on time spent in the kitchen, earning this recipe a five-star review from us.
Sheet Pan Shrimp Scampi
Usually, you'd assume that shrimp scampi is as far as you can get from an easy weeknight dinner. But this recipe puts a sheet pan spin on this seafood dish, and it boasts impressively favorable feedback from online commenters.
Everything from your shrimp and veggies to the thick slices of French bread takes its turn on the pan. It's a wonderful dish for summer nights because it uses seasonal produce like summer squash and zucchini; plus, shrimp scampi is much better when enjoyed al fresco.
Sheet Pan Lemon Garlic Chicken
It's always a good idea to have some staple meals up your sleeve for those evenings when you want something simple but not bland or boring. This recipe for sheet pan chicken combines chicken thighs and drumsticks for variety, adding in baby red potatoes and a generous helping of garlic and herbs.
If you really want to wow your family, garnish each dish with a bit of lemon zest for that special something. Pair this meal with a quick salad, and you have a healthy sheet pan dinner recipe worthy of a regular spot in your rotation.
Sheet Pan Curried Chicken
Who would have thought that you could enjoy the complex, layered flavors of curry from a single sheet pan? The secret to this recipe is the pre-made curry paste: look for a high-quality option that's full of flavor for the best results. Both the chicken and vegetables are covered in a savory sauce, then roasted to perfection in the oven.
If you happen to have leftover rice on hand or don't mind using an extra pan to make a fresh pot, rice is a tasty base for this main course.
No-Fry Sheet Pan Eggplant Parmesan
Don't tell the Italian grandmothers, but we've found a better way to make eggplant parmesan. Instead of dealing with the mess of frying the eggplant, this sheet pan recipe uses the oven to achieve a crisp exterior. You'll find yourself using a fraction of the oil, making this a healthier eggplant parmesan recipe, and enjoying the meal just as much.
To be fair, this recipe does ask you to use a skillet to prepare the tomato sauce topping. But, if you're really running short on time or energy, you can swap the homemade sauce for your favorite jarred variety instead.
Sheet Pan Chicken and Waffles
Breakfast for dinner, anyone? Chicken and waffles are one of those indulgent breakfast dishes that can turn your entire day around, especially when you're eating it at dinnertime. The crushed cornflakes give the chicken a perfectly crunchy coating, while the sour cream coating seals in the flavor.
Sure, you'll have to spend a little bit of time prepping the chicken. But you'll get that time back when you use frozen waffles for this sheet pan meal - as they say, work smarter, not harder!
Stock Up on Dinnertime Necessities at Gelson's Supermarkets
Sheet pan dinners are one of the smartest ways to simplify your family's dinner routine - and another great option is to do all your grocery shopping at Gelson's.
Here, you can find all of the high-quality products you need for everyday meals, saving you the time and hassle of having to shop around at other stores. Whether this week is one that calls for easy sheet pan dinner ideas, or you're feeling like going gourmet, Gelson's has everything you need to feed your family.
Contact our team or visit your local Gelson's Supermarket today to learn exactly what makes us a favorite of so many shoppers across Southern California.