Recipes
Easy Tomato Tartlets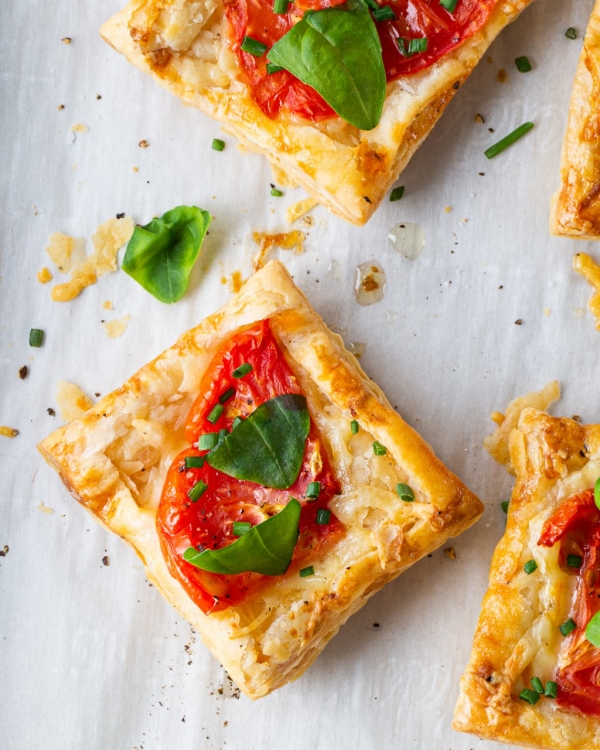 We wrote this recipe with a family craft project in mind — big kids, little kids, roommates, you and the S.O. They're fun to make, and they have a rustic prettiness that's very satisfying to look at … for the few, brief minutes they last.
The puff pastry bakes up so light and flaky. It's the perfect buttery base for the simple ingredients: a dusting of creamy Gouda, a slice of heirloom tomato, a little shaved garlic, and a sprinkling of delicate chives and peppery basil. We put the tiniest pinch of sugar in there too, and it seems to bring out all the tomatoes' herbaceousness. It's not a wonder our kids love these tartlets — hello, glorified pizza bite! (Plus, let's be honest, like all of us, they adore anything they make themselves.)
Tartlets make a fantastic afternoon snack, whether you enjoy them with a box of crayons or a crisp glass of pinot grigio. If you want to turn a nibble into a meal, you could serve them with a green salad or a small board of cheeses, sliced fruit, and hard meats.
Our tip: we love Gouda's sweet, nutty notes in this recipe, but really you can use any mild, shreddable cheese you have on hand — mozzarella or Parm would work great.
Servings: makes 16 tartlets
Ingredients
All-purpose flour, for dusting surface
1 sheet puff pastry, thawed
4 oz Gouda, grated
2 garlic cloves, thinly sliced
1 medium heirloom tomato, thinly sliced and quartered
Extra-virgin olive oil, for drizzling
Kosher salt, to taste
Freshly ground black pepper, to taste
Pinch granulated sugar
1 large Gelson's egg, lightly beaten
1 lemon wedge, for squeezing
Minced Gelson's organic fresh chives, for garnish
Torn Gelson's organic fresh basil leaves, for garnish
Directions
Preheat the oven to 400°. Line a baking sheet with parchment paper.

Lightly dust a flat work surface with the flour. Unroll the puff pastry and roll it into a 12- x 12-inch square. Using a chef's knife or pizza cutter, cut it into 16 squares.

Lightly score a square into each piece, ¼ inch from the edge, being careful not to cut all the way through the dough. Poke the middle of the dough 2 to 3 times with the tines of a fork.

Transfer the dough to the baking sheet and bake for 7 minutes, or until lightly browned.

Remove the sheet from the oven. Press the inside squares of the dough down with the back of a fork. This will leave a raised edge that looks like a crust.

Sprinkle the inside of each pastry square with the Gouda and garlic slices, and top with the tomato pieces. Drizzle with olive oil and sprinkle with salt, pepper, and sugar. Lightly brush the edges of the pastry squares with the beaten egg.

Return the tray to the oven and bake until the crust is well browned and the tomatoes appear roasted, about 20 to 25 minutes.

Top each pastry with a squeeze of lemon juice, minced chives, and torn basil leaves. Serve immediately.