Recipes
Falafel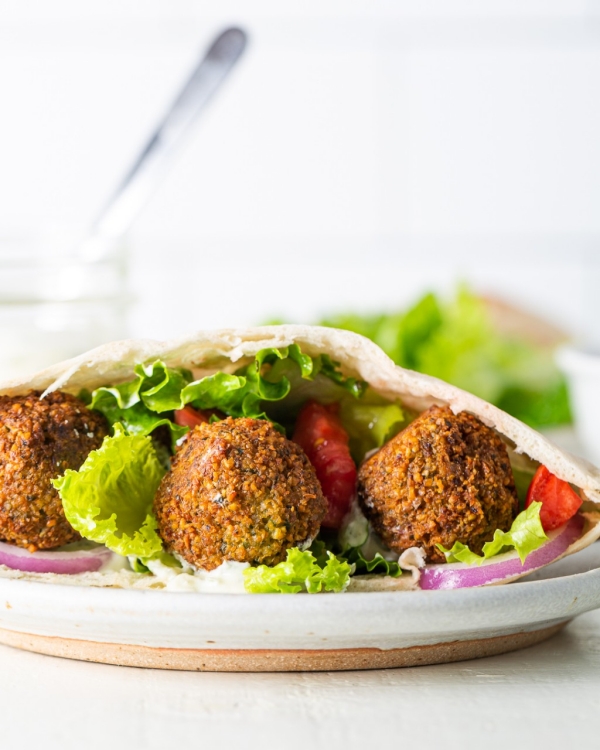 Falafel is one of the take-out foods we've missed in the pandemic — those little fried balls are so comforting. From a distance, falafel seems tricky and even a little mysterious. (Ground up dried chickpeas?) But in fact, it's as straightforward and easy as can be. And that's wonderful because you really can't beat fresh falafel piping hot out of the pan.
If you peruse the internets, there are plenty of falafel recipes that use canned chickpeas. But in the test kitchen, we found that dried chickpeas yielded lighter, fluffier balls. The dried are also very easy to work with: just soak the chickpeas overnight, and then you can throw them in the food processor like you would canned chickpeas. We whirled ours up with all the C spices — coriander, cumin, cayenne, and cardamom — as well as fresh parsley, cilantro and garlic. They're aromatic before you even get them in the oil.
We fried ours in just ½ inch of oil. They're more like latkes or fish cakes than donuts or fried chicken — and we had them all golden brown and crispy in 10 minutes. They were perfect too: super crispy and crunchy on the outside, and soft and fluffy on the inside. They're interior is bright green and full of herby, nutty, lemony flavor. Irresistible!
Of course, falafel is all about the accoutrements. So the thing to do is to pop them in a warm pita bread with a bunch of goodies. (Double points if you make the pita yourself. It's easier than you think.) We like our falafel sandwiches with a healthy dollop of tzatziki sauce, a squeeze of lemon, and some thinly sliced red onion, chopped tomatoes, and lettuce.
Our tip: Go ahead and make a double batch and freeze half of them. In a week or so, when you're low on groceries or motivation, you'll be so darn pleased with yourself.
Servings: 4 (24 falafel)
Ingredients:
8 oz dried chickpeas, soaked overnight
¾ cup packed parsley, roughly chopped
¾ cup packed Gelson's organic cilantro, roughly chopped
2 garlic cloves
½ small onion, roughly chopped
2 Tbsp all-purpose flour
1 ½ tsp kosher salt, plus more for sprinkling
1 tsp ground coriander
½ tsp ground cumin
¼ tsp cayenne pepper
¼ tsp ground cardamom
Zest of 1 lemon
Vegetable oil, for frying
For serving: pita bread, tzatziki sauce, chopped tomatoes, chopped lettuce, and thinly sliced red onion
Directions:
In a food processor, combine the chickpeas, parsley, cilantro, garlic, onion, flour, salt, coriander, cumin, cayenne pepper, cardamom, and lemon zest. Pulse until thoroughly combined, scraping down the sides of the bowl as needed. Note: The mixture should just be able to form into balls. If it doesn't form into balls, it probably needs to be pulsed for a little bit longer.

Gently roll the chickpea mixture into 1 ½-inch falafel balls and set them on a plate.

In a large pan, heat about ½ inch of vegetable oil to about 350°. Gently place a batch of falafel in the hot oil, placing the balls about 2 inches apart. Let them brown on all sides, turning occasionally, until a deep golden brown color is achieved, around 5 minutes. Transfer the falafel to a paper towel-lined plate and season with salt immediately.

Repeat step 3 until all of the falafel are cooked.

To serve, tuck the falafel into the pita pockets with tzatziki sauce, tomatoes, lettuce, and red onion.