Dinner Recipes
Fall Risotto with Beehive Truffle Cheese
Risotto is a wonderful dish for last-minute entertaining during the holiday season, especially if your favorite vegetarians are coming for dinner. It's not something folks eat all the time, so it feels luxe and special. But for all its stirring, it's actually a fairly easy to make, one-pot meal.

We've heightened the flavors in this risotto with Gelson's exclusive Truffle flavored Promontory Cheese from Beehive Cheese Co. An Irish-style cheddar infused with fresh truffles from Regalis Foods, it gives the risotto a wonderful aroma and just the right amount of mild, earthy pungency.

We've also added sweet delicata squash and slivers of bright, fresh cranberry for seasonal flavor — and for a dish that is as pretty and colorful as it is savory and comforting.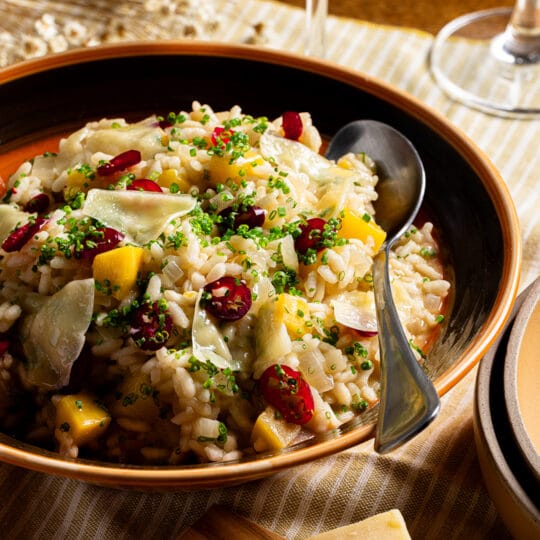 Dinner
Fall Risotto with Beehive Truffle Cheese
Serves: 4
Ingredients
5 cups vegetable stock or water
1 cup delicata squash, small dice
1 medium yellow onion, small dice
2 oz Beehive truffle cheese, grated or shaved
2 tsp fresh cranberry, thinly sliced
Directions
Bring the cooking liquid — vegetable stock or water — to a simmer in a medium pot, and keep it simmering on the stove until you need it in step 7.
In the meantime, warm the olive oil in a wide, heavy-bottom pot or rondeau.
Add the onion and cook it on a low heat just until it's translucent. Note: It's important not to caramelize or brown the onion.
Add the rice, and toast it evenly, until the starches start to release from the rice and it crackles.
Add the squash and gently sauté it for 1 to 2 minutes.
Add the wine and cook, stirring, until it's completely absorbed.
Add 1 cup of the cooking liquid to the rice and cook, stirring, until it's completely absorbed.
Add ½ cup of the liquid and cook, stirring, until it's completely absorbed. Repeat this step until the risotto is tender, but still al dente.
To finish, stir ⅛ cup of the buttermilk and 1 tablespoon of the butter into the risotto, and give it a taste. If it's not creamy enough, add more buttermilk and butter.
Garnish with the truffle cheese, chives, and cranberries, and serve immediately.