Recipes
Farro Breakfast Porridge & Warm Raspberries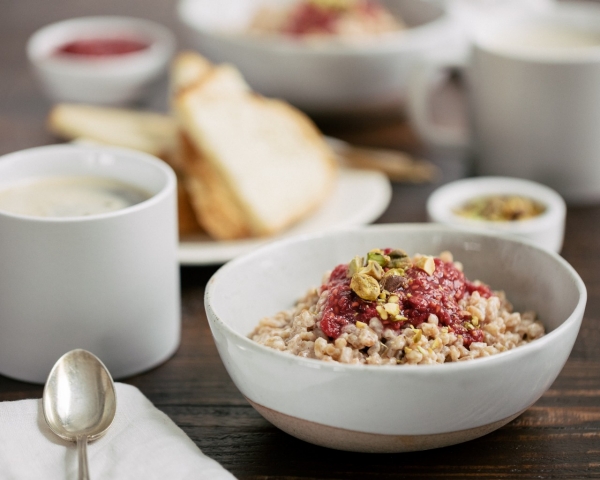 We like a little texture at breakfast, so farro is our friend. It's just as warm and comforting as oatmeal or Cream of Wheat, but chewier. It's like a super nutty, jumbo grain of rice. Add warm, honey-sweetened raspberries, crunchy pistachios, and creamy, cinnamon-laced yogurt, and it's pretty much a flavor and texture fandango. And who doesn't want to start the day out dancing?
Farro porridge, especially with the warm berries, is a great weekend meal — make it before you go out for a hike or before a long day of hanging out with a book and your favorite chair.
Our tip: This can be a fun breakfast to make for the kiddos, too. We like to whip up a big bowl of the porridge and the cinnamon yogurt and set up a kind of breakfast buffet with the warm raspberries, a homemade jam or apple butter, and a variety of chopped nuts. Our kids love sprinkling all the goodies on their farro.
Servings: 4
Ingredients
2 Tbsp unsalted butter
1 ½ cups pearled farro
3 ½ cups boiling water, plus more if needed
1 cup fresh raspberries
2 Tbsp honey
½ cup fat-free Greek-style yogurt
½ tsp ground cinnamon
Kosher salt
Chopped unsalted pistachios, for garnish
Directions
In a medium saucepan, melt the butter over moderate heat. Add the farro and cook, stirring, until toasted, about 2 minutes.

Gradually stir in the boiling water, ½ cup at a time, stirring in more as the water is almost absorbed, but the farro is still soupy, 10 to 15 minutes total. Cover the saucepan and simmer over moderately low heat until the farro is al dente, about 15 minutes.

Meanwhile, in a small saucepan, cook the raspberries over moderately low heat until they just begin to break down, about 3 minutes. Stir in the honey, and set aside.

Stir the yogurt and the cinnamon into the farro and season with the salt. (If a looser porridge is preferred, stir in more boiling water, one tablespoon at a time.) Spoon the porridge into bowls. Top with the raspberry sauce and the pistachios, and serve.

Recipe source: Food & Wine