Appetizer Recipes
Farro & Pomegranate Salad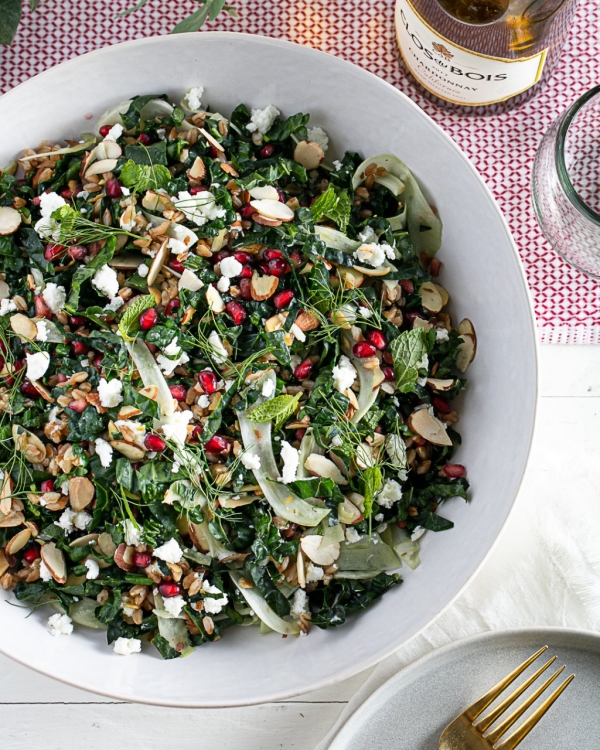 With jewel-toned ingredients topping a velvety ancient grain, this recipe is a great example of how much satisfaction a winter salad can provide. Bonus points: the festive mix of colors make it a great addition to any holiday meal.
The base of the salad is farro, a nutty, chewy grain that's perfectly suited for heartier offerings. It's quick and easy to cook on the stovetop, in an Instant Pot, or a rice cooker. Once you've got the farro ready, the other ingredients layer in to build balance and flavor. The contrast in textures is part of this recipe's appeal, from the soft, chewy grain to the creaminess of the goat cheese and juicy bursts of fresh pomegranate seeds. We also really like the way the kale and fennel taste together, especially when they're tossed with a sweet, fruity dressing of lemon, rice vinegar, and honey.
Our tip: That dressing is a keeper, so go ahead and make a double batch. It'll be great on everything from rice bowls to side salads.
Servings: 4 to 6
Ingredients
For the dressing:
1 shallot, minced
3 Tbsp fresh-squeezed lemon juice
2 Tbsp rice vinegar
¼ cup extra-virgin olive oil
1 tsp honey
Kosher salt, to taste
Freshly ground black pepper, to taste
For the salad:
1 bunch lacinato kale, stems removed, thinly sliced
1 cup farro, cooked to package instructions, cooled
1 large fennel bulb, cored, thinly sliced
1 cup sliced almonds, toasted, divided
1 cup pomegranate seeds, divided
4 oz crumbled goat cheese, divided
Fennel fronds, for garnish
Torn mint leaves, for garnish
Directions
To make the dressing: Add all of the ingredients to a mason jar, seal, and shake to combine. Refrigerate until ready to use.

Place the kale in a large serving bowl and gently massage to soften it. Stir in the farro, fennel, ½ cup almonds, ½ cup pomegranate seeds, 2 ounces goat cheese, and the salad dressing. Toss to combine.

Garnish with the remaining almonds, pomegranate seeds, goat cheese, fennel fronds, and mint leaves.

Serve immediately and enjoy!