Dinner Recipes
Flank Steak & Chipotle-Lime Butter
An ideal centerpiece for an outdoor dinner, this grilled steak is spicy and acidic from the lime juice, yet rich and rounded thanks to a creamy, smoky compound butter. Garnish with cilantro for a burst of freshness, then add some roasted corn and you have a pretty and flavorful meal. We use flank steak, but you could use rib-eye or skirt steak. And make sure to have some crusty bread on hand — if you have extra butter, you'll want big chunks of baguette to sop up every bite.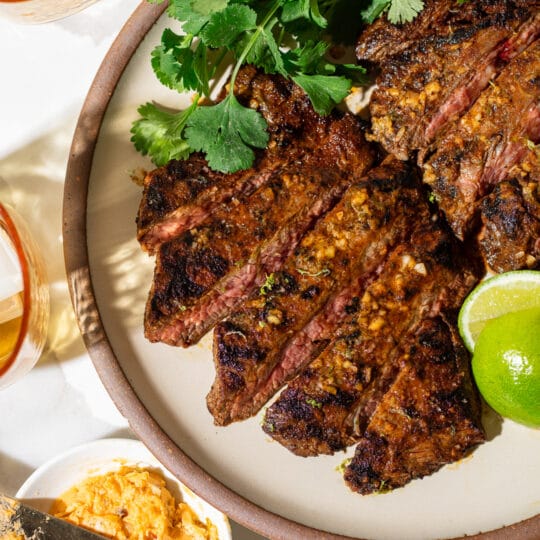 Dinner
Flank Steak & Chipotle-Lime Butter
Serves: 4
Ingredients
4 Tbsp unsalted butter, softened
1 Tbsp freshly squeezed lime juice
1 ½ tsp Gelson's sweet paprika
1 ½ tsp Gelson's ground cumin
Vegetable oil, for the grill
Gelson's organic fresh cilantro, for garnish
Directions
In a small bowl, combine the butter, garlic, lime zest, lime juice, and salt, and mix with a rubber spatula until combined. Set aside.

In a small bowl, combine the paprika, cumin, and chipotle powder.

Sprinkle the steaks with plenty of kosher salt, then evenly sprinkle the spice mixture over them on both sides, rubbing it into the meat.

Brush oil on the grill grates or grill pan and heat over high heat until smoking.

Reduce the heat to medium-high and add the steaks. Cook without moving until well-charred, about 4 minutes. Flip the steaks and continue to cook until the center of the steaks register 125º on an instant-read thermometer (for medium-rare).

Transfer the steaks to a platter to rest for 2 minutes. Add the lime butter and let rest for another 3 to 10 minutes.

Slice the steaks and serve immediately with fresh lime slices and cilantro.

Recipe source: seriouseats
Calculate nutrition information for this recipe.