Dessert Recipes
Flourless Chocolate Peanut Butter Cookies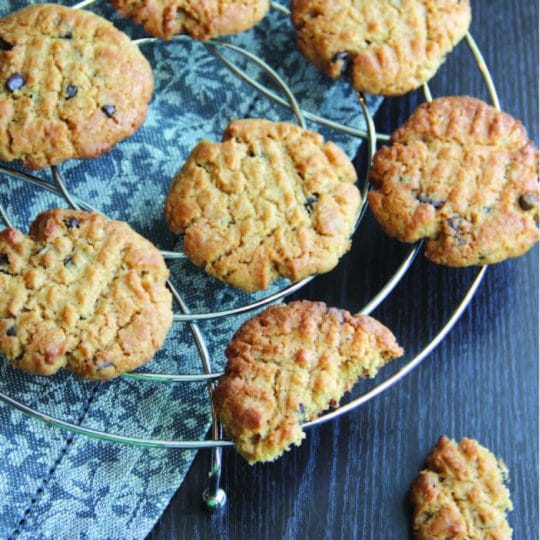 Dessert
Flourless Chocolate Peanut Butter Cookies
Serves: 20
Ingredients
1 16 ounce jar Laura Scudders smooth unsalted peanut butter refrigerated for at least 1 hour
1 Gelsons Finest organic omega 3 egg lightly beaten
1/3 cup Wholesome Sweeteners organic raw blue agave
1 teaspoon vanilla extract
18 squares about 2 ounces Green Blacks organic 70 cacao chocolate bar chopped into pieces roughly the size of chocolate chips about 4 pieces per square
Directions
Preheat oven to 350° Fahrenheit. Line a large baking sheet with parchment paper.
Pour the oil off the top of the peanut butter into a bag or directly into the garbage can do not pour it down the drain.
Combine all of the ingredients in a large mixing bowl. Mix well until everything is evenly distributed.
Use a soup spoon to drop 20 balls of dough onto the cookie sheet. Use the back of a fork to press the tops of the dough down to shape the cookies to be about 1/3 inch thick and make a criss cross pattern on the tops. Bake 12 to 14 minutes. Remove from oven and transfer to a wire rack to cool. Store in an air tight container for several days.