Dinner Recipes
Fresh Lobster with Rice Noodles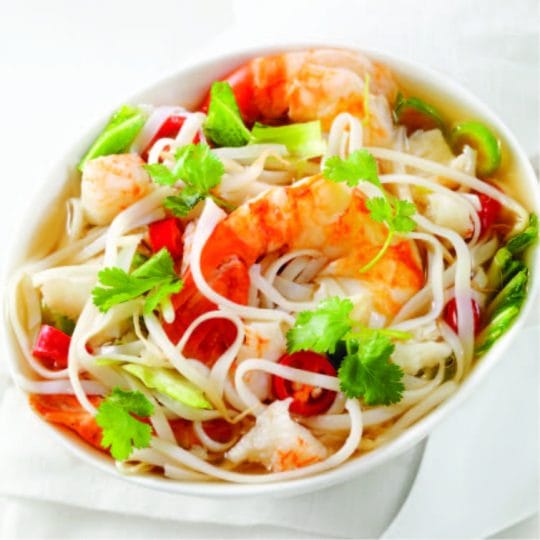 Dinner
Fresh Lobster with Rice Noodles
Serves: 5
Ingredients
1/3 package A Taste of Thai rice noodles 5 ounces
2 1/2 pounds fresh live lobster parboiled and removed from shell in the store to yield about 12 ounces of meat
2 medium shiitake mushrooms stemmed halved and thinly sliced
4 large cloves Melissas organic garlic peeled smashed with the flat side of a knife
1 1/2 inches fresh ginger peeled sliced into 12 thin slices smashed lightly with the flat side of a knife
12 green onions ends trimmed smashed lightly with the flat side of a knife cut into 2 inch pieces
3 tablespoons Yamasa less salt soy sauce
Directions
Cover noodles with very hot not boiling water and let stand 15 minutes. Rinse with cold water and drain. Set aside.
Cut lobster meat into bite sized pieces
Heat a large frying pan or wok on high. Add the canola oil and heat until almost smoking. Add the shiitake mushrooms, garlic, ginger, and scallions and cook for about 15 seconds, tossing the ingredients around with a wooden spatula. Add the lobster pieces and continue to cook, about 1 minute. Stir in the sake and soy sauce. Cover partially with a baking sheet and cook for 3 minutes. Toss in the cooked rice noodles, cover partially and cook 2 to 3 more minutes. Divide the stir fry among five plates or shallow bowls, pick out the four cloves of garlic, and serve immediately.