Recipes
Fried Green Tomatoes & Horseradish Aioli Recipe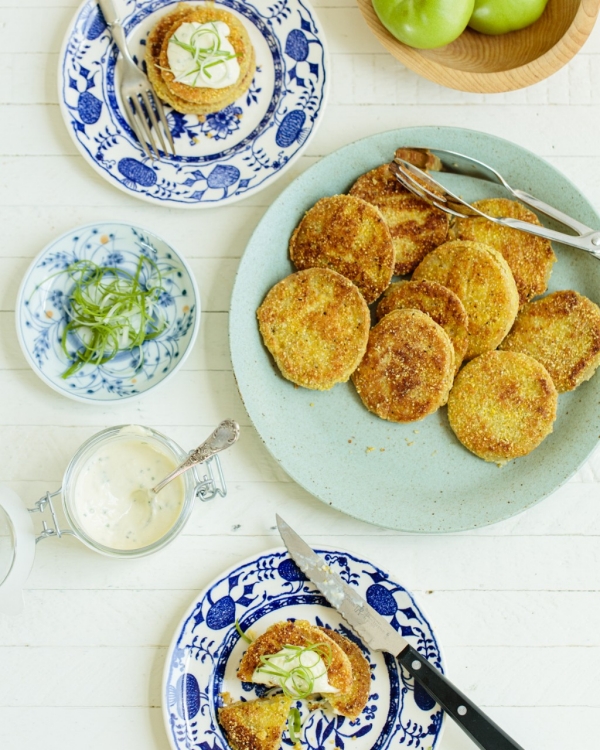 What we love about these fried green tomatoes is the contrast between the crunchy fried cornmeal crust and the soft, slightly juicy, very tart green tomato. The creamy horseradish aioli is the perfect partner in crime for that green tomato. It's full of mustard, lemon, and garlic too, so it packs a tangy punch. It's all up in your nose.

For many of us, fried green tomatoes are a rarefied treat: the season for them is short, a mild fear of frying keeps us from making them at home, and they're too seldom seen on restaurant menus. No more! Like many things cooking-related, frying a green tomato is no big thing once you know-how.
It turns out that the key to a perfectly golden, crispy fried green tomato is shallow frying. Instead of swimming around in the oil, the little cakes sit nice and flat on the bottom of the pan, so the cornmeal is pressed into the tomato and forms a nice crust. Bonus: oil doesn't spatter all over your kitchen.
Fried green tomatoes look very pretty stacked up with a dab of aioli and the curly slivers of green onion. In the test kitchen, people gasped with delight when they saw them. They'd be perfect for an easy catch-up with your best friend over a glass of wine — think jeans and T-shirts, sunshine, and a Mason jar of flowers.
Our tip: Pair your fried green tomatoes with a bone-dry white with plenty of acidity, like Martin Codax Albarino Rias Baixas. Its lively citrus notes will give the bright green tomatoes wings.
Servings: 6 to 8
Ingredients for the Fried Green Tomatoes & Horseradish Aioli
For the horseradish aioli:
1 cup mayonnaise
2 Tbsp horseradish root, grated
1 Tbsp Dijon mustard
2 cloves garlic, minced
1 Tbsp olive oil
2 Tbsp green onion, minced
1 tsp lemon juice
Salt, to taste
Pepper, to taste
For the fried green tomatoes:
1 cup all-purpose flour
Salt, to taste
Pepper, to taste
2 eggs
1 cup buttermilk
1 cup cornmeal
4 green tomatoes, sliced ¼-inch
½ cup vegetable oil, plus more if needed
1 lemon, wedged, for garnish
2 Tbsp green onion, sliced, for garnish
How to Make the Fried Green Tomatoes & Horseradish Aioli
To make the horseradish aioli: Combine the mayonnaise, horseradish, Dijon, garlic, olive oil, green onion, and lemon juice in a food processor and pulse until incorporated. Season the aioli with salt and pepper, and transfer it to a medium bowl. Cover the bowl with plastic wrap, and tuck it into the fridge until you're ready to use the aioli.

To make the fried green tomatoes: In a medium shallow bowl, add the flour and season it with salt and pepper.

In a second medium shallow bowl, whisk together the eggs and buttermilk.

In a third medium shallow bowl, combine the cornmeal and a pinch of salt.

Working in small batches, dredge the tomato slices in the flour, dip them in the buttermilk and egg mixture, and then toss them in the seasoned cornmeal. Shake off any excess coating between steps.

Transfer the coated tomatoes to a wire rack, and repeat step 5 until all of the tomato slices are coated.

In a large nonstick sauté pan, heat half of the oil to medium-high heat. Note: You want about ⅛ inch of oil. You don't want the tomatoes to float, but you also don't want a dry pan, so if the oil gets low, replenish it.

Once the oil is hot, gently place a few tomato slices in the oil, making sure they are laying flat on the pan, and cook for about 3 minutes, or until they are golden brown. Gently flip the tomatoes, and cook the other sides until they're golden brown.

Transfer the fried tomatoes to a cooling rack. Discard the oil, wipe the plan clean, and then repeat steps 7 and 8 until all of the tomato slices have been fried, about 2 to 3 batches. Note: the fried tomatoes can be kept warm in a 250º oven.

Serve the fried tomatoes with a dollop of horseradish aioli, a wedge of lemon, and the sliced green onions.
Calculate nutrition information for this recipe.