Beverage Recipes
Frozen Bee's Knees Cocktail
We love a Bee's Knees: It's just a bit of gin, fresh lemon juice, and honey, so it's perfect for (lazy) at-home mixology. And yet, it's so balanced — bright, herbaceous, floral, and sweet-tart. Here, we make the Prohibition-era cocktail all the more refreshing by turning it into a cold, cold slushie!
A frozen Bee's Knees is dangerously easy to drink, like a boozy frozen lemonade, so consider making a double batch right off the bat. It's such a balm on a sweltering SoCal day: slurp it up while you nibble on fresh berries with mint and ignore your weekend to-do list.
One tiny tip from the test kitchen: Be sure to blend the liquids before you add the ice. Otherwise, the honey will freeze forever, never to be dissolved.

Yield: 2 cocktails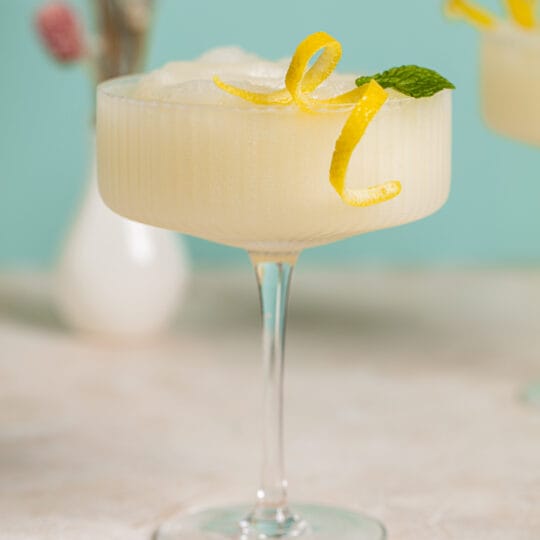 Beverage
Frozen Bee's Knees Cocktail
Ingredients
3 oz freshly squeezed lemon juice
2 Gelson's organic fresh mint leaves, for garnish
2 lemon twists, for garnish
Directions
Chill 2 coupe glasses in the freezer for 30 minutes.

In a blender, combine the gin, lemon juice, honey, and a pinch of salt. Blend for 30 seconds or until the honey has completely dissolved.

Add the ice and blend until smooth, about 30 seconds.

Divide the cocktail among the coupes. Garnish each with a mint leaf and a lemon twist. Enjoy!
Recipe adapted from: Imbibe