Dessert Recipes
Frozen Blackberry Lemon Cake (Vegan)
They challenged us to make a "healthy cake." Challenge accepted. This gorgeous chilled cake is reminiscent of the DQ ice cream cake we all loved as kids, but it's actually vegan! The crust is just almonds, dates, and salt (yes, that's it) and the creamy almond filling is made entirely from whole foods, with no refined sugar. It's the perfect sweet treat for New Year's resolutions, warm sunny days, or anytime you're trying to watch the sugar — but still want dessert.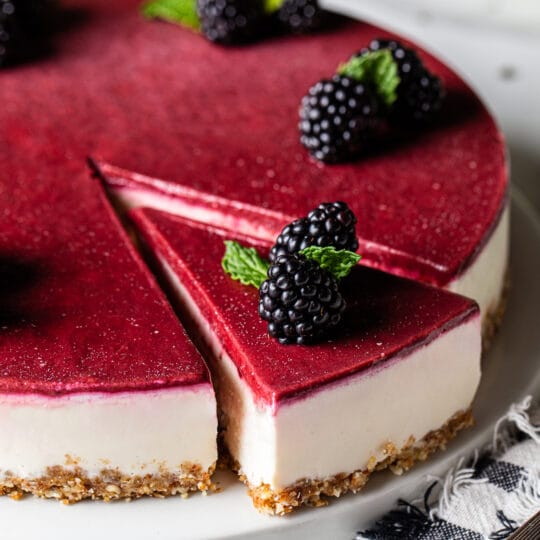 Dessert
Frozen Blackberry Lemon Cake (Vegan)
Serves: 8
Ingredients
2 ½ cups almonds, divided
1 ½ cups unsweetened almond milk
6 Tbsp plus 1 tsp freshly squeezed lemon juice, divided
¼ cup plus 3 Tbsp honey or agave nectar, divided
2 tsp vanilla extract, divided
½ cup plus 2 Tbsp coconut oil, divided
1 cup blackberries, plus more for garnish
Gelson's fresh mint leaves, for garnish
Directions
Place 1 ½ cups of the almonds in a medium bowl and fill the bowl with water. Cover and soak for at least 2 hours and up to overnight.

Line the bottom and sides of a 9" springform pan with parchment paper.

In a food processor, pulse the remaining 1 cup almonds until coarsely ground, about 10 seconds. Add the dates and a pinch of salt. Pulse until the dates are finely ground and the dough holds together when pinched, about 20 seconds.

Transfer the dough to the prepared pan and press it into an even layer. Set aside.

Drain the soaked almonds, pinch and press each one to remove and discard the skin, and transfer them to a blender. Add the almond milk and blend on high speed until smooth, about 7 minutes. Let cool for 10 minutes.

Add 6 tablespoons of the lemon juice, ¼ cup honey, 1 teaspoon vanilla extract, and ½ cup coconut oil. Blend until smooth, 30 seconds. Pour the filling into the pan and smooth the top. Freeze until firm, 4 to 6 hours.

Melt the remaining 2 tablespoons coconut oil and let cool for 5 minutes. In a clean blender, combine the blackberries, remaining 3 tablespoons honey, 1 teaspoon vanilla extract, 1 teaspoon lemon juice, and the melted coconut oil. Blend until smooth, 20 seconds.

Strain the purée through a sieve, then pour it over the cake, gently swirling to make an even layer. Freeze until firm, about 3 hours.

To serve, unmold the cake and let temper for 20 minutes or until easy to cut with a chef's knife. Slice the cake into pieces, garnish with fresh blackberries and mint leaves, and serve immediately. Leftover cake can be frozen in an airtight container for up to 1 month.
Recipe adapted from: "It's a Pleasure" by Virpi Mikkonen