Beverage Recipes
Frozen Strawberry Margarita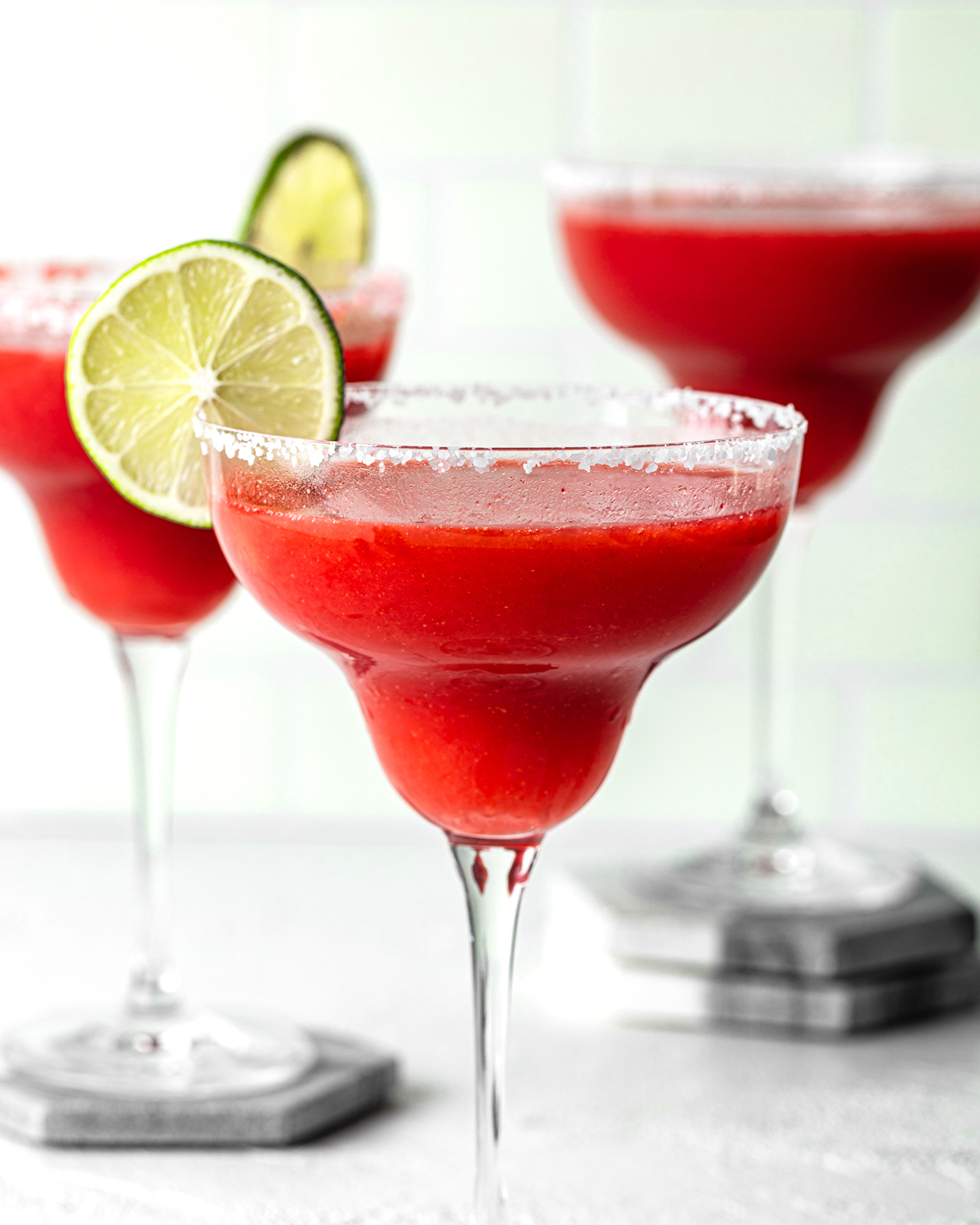 If summer has a signature cocktail, it's probably the blended margarita. Slushy, fruity, and often brightly colored, it speaks to us of summery things, like long, beachy weekends, hot afternoons under patio umbrellas, and celebratory dinners. And not in a whisper: hello, tequila!
In the test kitchen, we've made margaritas with all kinds of fruit, from blackberries to pineapples to winter citrus. We love them all, but we have to admit the deep, luscious red of this strawberry margarita is well nigh irresistible. But one doesn't drink for color alone — how's it taste?
Well, it's a whirl-up of tequila (naturally!), lime, Cointreau, honey, and a full pound of strawberries. In combination with the honey's earthy sweetness and the tart citrus, the berries give the drink an intense fruitiness — it tastes just like ripe strawberries. Where is that tequila? We don't know. This beauty is dangerously easy to drink.
Like most margaritas, this one comes together in a minute or two, so while it looks and tastes festive, you could definitely make it for any old Taco Tuesday on the patio. And why not: every day of summer should be a celebration. Cheers!
Servings: 3
Ingredients
3 lime wedges, for the glass rims
Margarita salt, for the glass rims
1 lb frozen whole strawberries
¾ cup silver tequila
½ cup freshly squeezed lime juice
¼ cup Cointreau, or orange liqueur
⅓ cup honey
3 lime wheels, for garnish
Directions
Run 1 lime wedge over each rim of 3 margarita glasses. Dip and roll the rims in the margarita salt. Set aside.

In a high-speed blender, add the frozen strawberries, tequila, lime juice, Cointreau, and honey. Blend until completely smooth, about 1 minute.

Pour and divide the blended margarita among the 3 glasses. Garnish each with a lime wheel and enjoy immediately.
Recipe source: Down Shiftology
Calculate nutrition information for this recipe.