Jessica Recipes
Gelson's Back to School Lunches with Jessica Siegel - Creamy Sesame and Veggie Noodles
Here's our latest recipe as part of Gelson's Back to School Lunches with Jessica Siegel video series! Today, Jessica will show us how to make this delicious vegan cold noodle dish. She uses soft tofu in the sesame sauce to add healthy plant protein and creaminess. Make this in the evening so it will be cold enough to pack for lunches in the following days.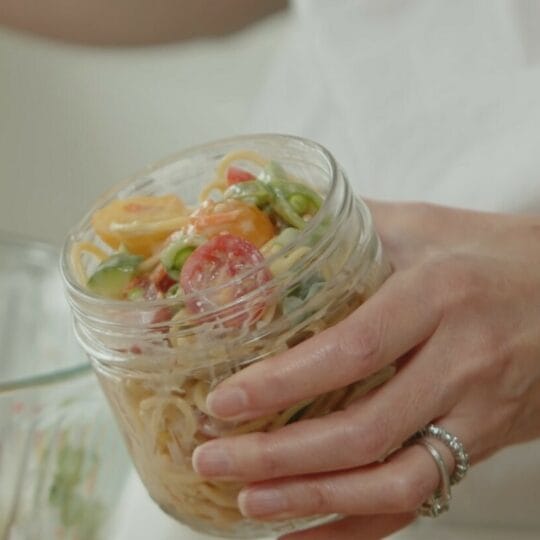 Jessica
Gelson's Back to School Lunches with Jessica Siegel - Creamy Sesame and Veggie Noodles
Serves: 3
Ingredients
1/4 block House soft tofu (3.5 ounces)
1/2 teaspoon fresh peeled and minced ginger
2 tablespoons 3 Dragons sweet ginger teriyaki sauce
1 tablespoon San-J tamari lite reduced sodium soy sauce
2 tablespoon Marukan unseasoned rice vinegar
1 tablespoon Mighty Sesame organic tahini
2 tablespoons Napa Valley organic olive oil
1 teaspoon Napa Valley organic sesame oil
4 ounces Barilla Protein Plus spaghetti, cooked al dente (7 minutes), rinsed in cold water and chilled
1 Persian cucumber diced cup Ready Pac shredded carrots
15 Mann's stringless sugar snap peas, thinly sliced at an angle
12 cherry tomatoes, halved red bell pepper, seeded and finely chopped
1 tablespoon toasted sesame seeds
Directions
Directions:
1. Make the dressing in a mini food processor or blender. Add the tofu, garlic and ginger; blend briefly to pulverize the garlic and ginger into the tofu. Scrape down sides of work bowl. Add teriyaki, tamari, rice vinegar, lime juice, and tahini. Process until smooth, scrape down sides if needed, then add the olive oil and sesame oil. Process briefly to incorporate. Set aside.
2. Toss the cold spaghetti with the dressing, working to gently coat the noodles and separate them. Add all the vegetables and sesame seeds and toss again. Divide into 3 portions and chill until ready to pack in separate lunch containers with an ice pack.