Dinner Recipes
Gelson's Pasta Dinner
It's fall, the kids are back in school — and everything is so busy. It's a great time for some one-pot weeknight magic. Enter the classic pasta dinner: it's a little bit prepared, a little bit fresh, and a whole lot easy.
At the heart of this dish are a few Gelson's products we're really proud to offer. We started with Gelson's new spaghetti. It's made in Italy using 100% durum wheat semolina, a high-quality, flavorful wheat that's packed with nutrients. Our pasta makers cut it using traditional bronze dies and then dry it slowly — so it cooks perfectly al dente and our pasta sauces cling to it.
Speaking of which, the tomato basil pasta sauce we use in this recipe is made locally for us using the best and freshest ingredients — just like your nonna would do. In fact, when we were developing the sauce, we sent it home for some family-dinner-table testing. "More herbs!" our tasters said. "More herbs!" we told the chef. It's truly delicious.
Our zippy artisanal sauce tastes even better with fresh herbs and veggies! We dove into our produce section for some red onion, garlic, carrots, zucchini, and yes, even more fresh basil. We like that all these goodies are in the pasta so you can skip the salad and still feel good about putting some veggies on the table for your kiddos. Now, pass the Gelson's Parm please!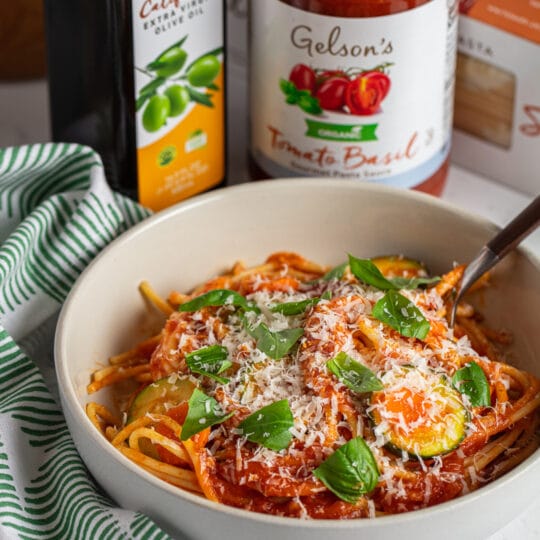 Dinner
Gelson's Pasta Dinner
Serves: 6
Ingredients
1 Tbsp Gelson's 100% California extra virgin olive oil
1 carrot, peeled and sliced
1 red onion, thinly sliced
24 oz Gelson's tomato basil pasta sauce
Freshly ground Gelson's black pepper, to taste
Gelson's grated Parmesan cheese, for garnish
Gelson's fresh organic basil, torn for garnish
Directions
In a large pot, combine a generous pinch of salt and 2 quarts of water and bring to a boil over high heat. Cook the pasta according to the package directions and then drain it, reserving 1 cup of the pasta cooking liquid. Set aside.

In a Dutch oven, heat the olive oil over medium heat. Add the garlic and cook for 1 minute, or until fragrant, stirring constantly to prevent browning.

Add the zucchini, carrots, and red onions, and cook until the vegetables soften, about 7 minutes.

Add the spaghetti, reserved pasta water, and pasta sauce. Gently stir until well combined. Season with salt and pepper and then bring the sauce to a gentle simmer to heat it.

Divide the pasta among 4 bowls, garnish with Parmesan cheese and fresh basil, and enjoy.
Recipe adapted from: Delish