Breakfast Recipes
Gluten-Free Bacon and Egg Muffins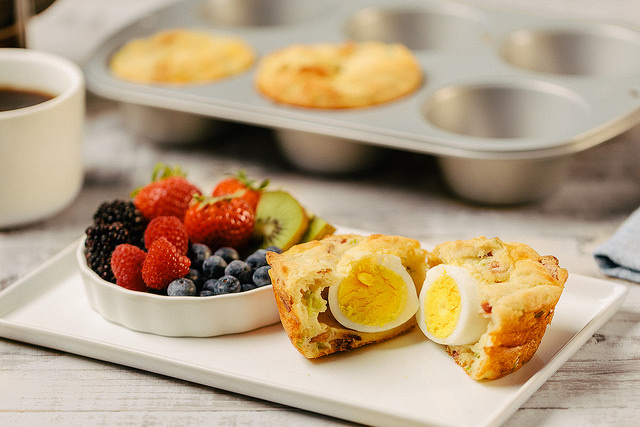 A warm, soft-boiled egg swaddled inside a moist pastry loaded with bacon and cheese — these muffins have all the soft, fluffy comfort we want first thing in the morning and all the savory seriousness (read: protein) we need to get our day started. They're so darn scrumptious, no one would ever suspect they're gluten-free!

If taste is not enough, we also admire the versatility of these jumbo morning muffins: They're self-contained and portable enough to make the journey to school or work. And yet, they're luxe and fancy enough to sit beside a beautiful fruit salad at brunch. Our tip: Do both! Make a double or triple recipe for Sunday brunch, and take one (or two) to go the next morning. Also, if you're not sure how to soft boil an egg, we recommend "The 7-minute Egg" method.
Servings: 4
Ingredients
1 cup Bob's Red Mill Gluten-Free All-Purpose Flour
1 tsp baking powder
½ tsp sea salt
¼ tsp baking soda
½ cup milk
½ cup full-fat plain Greek yogurt
1 Vital Farms Pasture-Raised Egg
2 Tbsp Vital Farms Pasture-Raised Butter, melted
½ cup cooked bacon, chopped
½ cup scallions, chopped
1 cup sharp cheddar cheese, grated
4 Vital Farms Pasture-Raised Eggs, soft-boiled and peeled
Directions
Preheat the oven to 350º. Grease a jumbo muffin tin.
In a large mixing bowl, whisk together flour, baking powder, sea salt, and baking soda, and then make a little well in the center.
In a large measuring cup, whisk together milk, yogurt, egg, and butter, and then pour them into the bowl with the dry ingredients and stir until just combined.
Stir in the bacon, scallions, and grated cheese. You'll end up with a very thick batter.
Spoon enough batter into each of the 4 muffin cups to fill the bottoms.
In each of the cups, make a little indentation in the center of the batter and gently place a soft-boiled egg into it. Divide the rest of the batter between the 4 cups, covering the eggs.
Bake for about 20-25 minutes or until golden.
Recipe source: Vital Farms.