Dinner Recipes
Gluten-Free Hamburger Buns
It's probably no surprise that all of the gluten-intolerant folks in the test kitchen were thrilled to eat these gluten-free buns. But get this: the gluten eaters were scarfing them down, too. Golden brown, flaky, and airy, these buns are almost biscuit-like — and have a subtle, bready flavor that lets the burger itself shine.
To develop the recipe, our test baker riffed on a gluten-free brioche recipe — it's got a whole stick of butter for richness — but made it way lighter with cornstarch, egg whites, and lots of water. Overall, there are more wet ingredients than dry, which helps the gluten-free dough bake into a bun that's moist and pillowy, never too crumbly or dense.
The result: gluten-free buns are a fantastic vehicle for any type of burger — black bean, salmon, turkey, you name it — and its fixings. Our favorite? A classic beef patty with tangy burger sauce, crisp lettuce, juicy tomato, perfectly melted cheese, and crunchy dill pickle chips.
Our tips: Don't worry if your buns look a little wonky — that's just the world of gluten-free baking and they'll taste great no matter what! For hot dog buns, simply use an appropriately shaped mold and check the internal temperature of the buns 3 to 4 minutes earlier.
Yield: 8 buns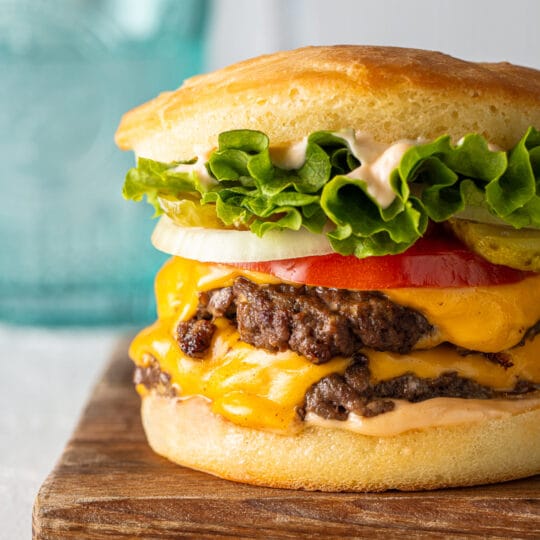 Dinner
Gluten-Free Hamburger Buns
Ingredients
1 ½ cups warm water (about 110º), divided, plus more for molding
2 cups Cup4Cup gluten-free flour
7 Tbsp unsalted butter, melted and cooled slightly, plus more as needed
1 large Gelson's egg plus 2 egg whites
Special equipment: 4" silicone hamburger bun molds
Directions
In a medium liquid measuring cup, whisk together the granulated sugar, yeast, and ¾ cups warm water. Let sit until foamy, about 10 minutes.

In a stand mixer fitted with a paddle attachment, sift together the flour, cornstarch, salt, and xanthan gum.

In a medium bowl, combine the remaining ¾ cup warm water, melted butter, honey, egg, and egg whites. Whisk until well blended, then whisk them into the bloomed yeast.

With the mixer running on low speed, slowly pour the liquid ingredients into the dry ingredients. Once absorbed, increase the speed to medium-high and beat for 5 to 7 minutes, or until glossy and smooth. The batter will appear wetter than regular bread dough.

Transfer the batter to a medium bowl, cover tightly with plastic, and let sit at room temperature until doubled in size, about 2 hours. If you don't want to bake the buns immediately, the batter can be transferred to the refrigerator and stored for up to 24 hours.

Grease a silicone hamburger bun mold with butter, and place it on a baking sheet. Use a large spoon to transfer the batter to the mold, filling each well ¾ of the way up. It's okay if the batter deflates a bit. Let the batter rest, uncovered, at room temperature for 40 minutes. Note: The surface of the batter will be slightly lumpy, and the buns will have the same appearance after baking. You can smooth the batter, if desired, by dipping your finger in cold water to prevent sticking and smoothing the lumps by hand.

Preheat the oven to 350º.

Gently brush more melted butter on top of the buns, being careful to not rip the skin that's just formed on the batter.

Transfer the buns to the oven and bake for 20 to 25 minutes, until the tops are golden brown and the internal temperature reaches 205º on an instant-read thermometer.

Transfer the baking sheet to a wire rack and let the buns cool until safe to handle, about 10 minutes. Cut the buns in half and serve with your favorite burgers.

The buns are best eaten the day they are baked. They can be stored in an airtight container for up to 1 day.