Appetizer Recipes
Goat Cheese and Delicata Squash Crostini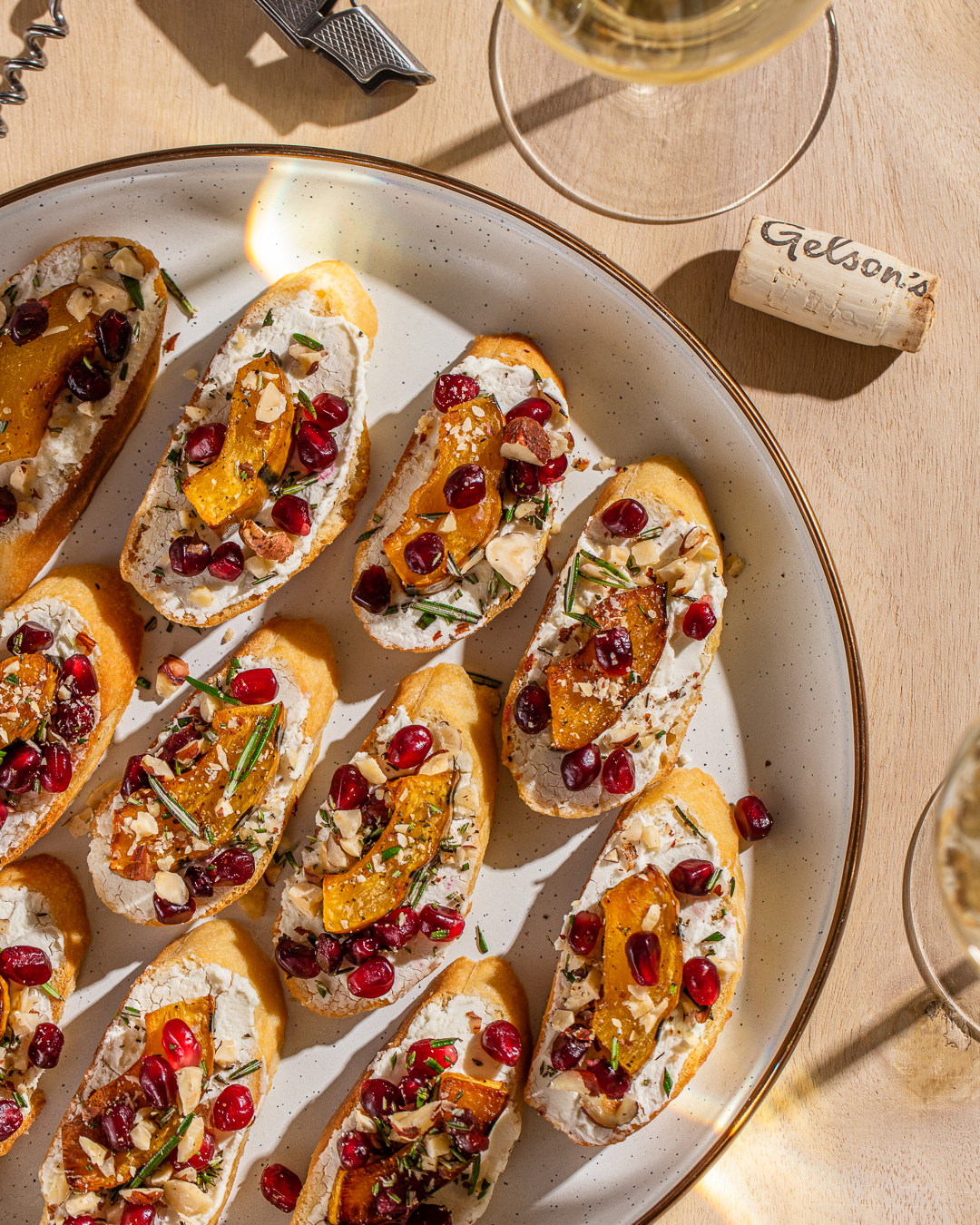 These little crostini have all the texture and color of fall! Crunchy toast layered with soft, tangy goat cheese, velvety sweet delicata squash, and toasted hazelnuts — all punctuated with a bright, sweet-tart pop of pomegranate. They'd be great for spur-of-the-moment appetizers on the patio with friends because they come together in just a handful of easy steps, they're individually portioned, they're impressively pretty, and they pair beautifully with a glass of wine.

In fact, we asked our Tastemaster, Lisa Ali, for a pairing, and she recommended Sisters Forever, an unoaked Chardonnay from Donati. Aged in steel vats, it's crisp and clean and full of lemon zest and hints of stone fruit — the perfect complement to the creamy cheese and the nutty sweetness of the squash.

Servings: 6 to 8

Ingredients

1 delicata squash
1 baguette
1 goat cheese log
Olive oil
Hazelnuts, toasted and chopped
Pomegranate seeds
Rosemary, chopped
Directions
Preheat the oven to 400º.
Cut the squash in half and remove the seeds. Cut into half-moon slices, and then again in quarters.
Brush the squash with olive oil, sprinkle it with salt and pepper, and roast it for 20 to 25 minutes.
While the squash is cooking, slice the baguette and brush each slice with olive oil on both sides.
When the squash is done, drop the oven temperature to 350º, and toast the baguette slices for 5 to 7 minutes, or until golden.
Spread goat cheese on each crostini, and then top with a slice of squash and a sprinkle of hazelnuts, pomegranate seeds, and rosemary.