Recipes
Grain Salad with Radish & Pecans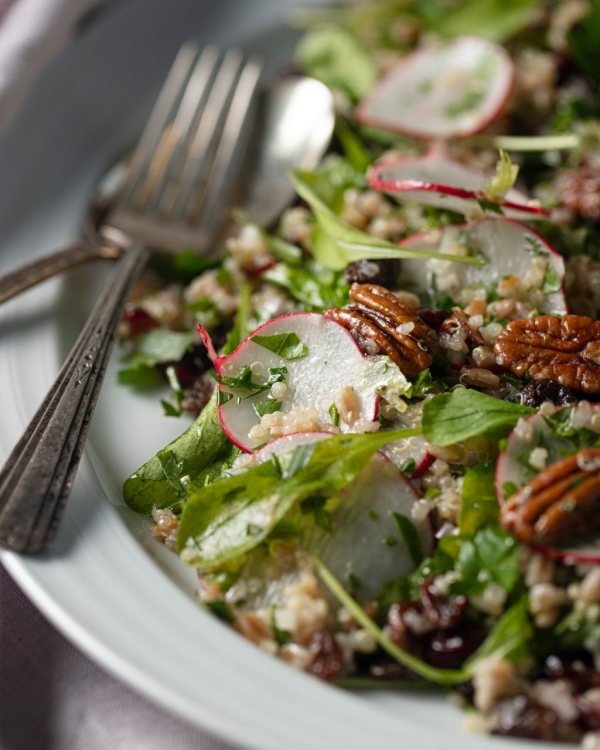 Here's a fresh, crunchy salad for winter — a counterbalance for all the comfort food of the holidays. It's really the best of all salad worlds. It's got the stuff we like in a grain salad: chewy, ancient grains, sweet pecans, and tart dried cranberries. Those heartier textures are tossed with crisp French breakfast radishes, leafy greens, and a handful of fresh herbs. A classic sherry vinaigrette pulls it all together.
We'd serve this pretty salad as a side dish at any special dinner, but it's also perfect midweek fodder: It comes together in three steps and a wee bit of slicing, and it has enough heft for a light lunch or dinner. You won't find yourself poking around the pantry for a snack one hour later. If something more substantive is called for, we like it with a protein, like salmon, steak, or a perfectly poached egg.
Tip: we used quinoa and farro in our salad, but you can use your favorite grains.

Servings: 6 to 8, as a side
Ingredients
2 cups mixed quinoa and farro
1 cup baby arugula leaves
1 cup parsley leaves, minced
½ cup tarragon leaves, minced
½ cup mint leaves, cut in a chiffonade
½ cup Gelson's pecan halves
¼ cup walnut oil
¼ cup sherry vinegar
1 cup French breakfast radishes, thinly sliced
¼ cup shallot, minced
¼ cup olive oil
½ cup raisins
½ cup dried cranberries
Kosher salt, to taste
Directions
Cook grains according to package instructions.

Drain the grains into a colander, then set them aside until they are warm to the touch.

In a large salad bowl, combine all of the ingredients and toss well. Season with salt to taste.
Recipe source: Food52