Lunch Recipes
Greek Salad Pizzas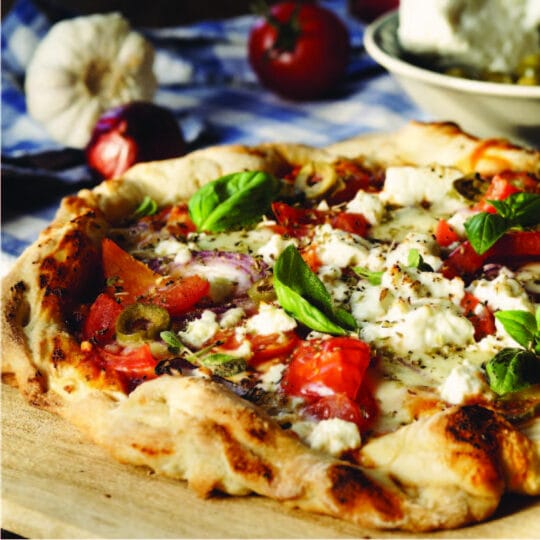 Lunch
Greek Salad Pizzas
Serves: 4
Ingredients
13 Nature Sweet cherry tomatoes quartered
1/2 cup green bell pepper seeded and diced
15 Peloponnese Kalamata pitted olives rinsed drained and chopped
1 tablespoon fresh oregano chopped
1 tablespoon fresh mint chopped
1 tablespoon Napa Valley organic olive oil
1/4 teaspoon black pepper
4 Thomas Sahara whole wheat pitas
1/2 cup Athenos reduced fat crumbled feta cheese
Directions
Preheat oven to 400 Faherenheit.
In a medium bowl, combine tomatoes, bell pepper, onion, olives, oregano, mint, olive oil, and pepper. Let stand while you prepare the pitas.
Spray both sides of the pitas lightly with olive oil spray. Place pitas directly on oven rack and cook 4 minutes until they start to brown. Remove from oven and place them on a baking sheet.
Spoon salad mixture onto the concave side of the pitas. Sprinkle each pizza with 2 tablespoons of feta cheese.
Return pizzas to the oven and cook 2 to 3 more minutes, until the salad is warm. Serve immediately and eat with a knife and fork or in one large piece with your hands.