Dinner Recipes
Green Bean Casserole
When we sat down to decide which classic Thanksgiving recipe to make for our 70th anniversary, green bean casserole was the obvious choice. It's arguably the most popular Thanksgiving side dish ever, with an estimated 20 million households serving it for the holiday every year.
Surprisingly, green bean casserole was not, in fact, intended to sit next to a turkey on the dining room table. "Green bean bake," as it was initially called, was originally created in 1955 by Dorcas Reilly, an employee of the Campbell Soup Company's Home Economics department. The assignment? To develop a quick, easy, everyday side dish using two ingredients most American home cooks always had on hand: green beans and Campbell's Cream of Mushroom Soup. It wasn't until the 1960s, when Campbell's began printing the recipe on the side of soup cans, that green bean casserole took off as a Thanksgiving dish.
You can't go wrong with the old-school Campbell's green bean casserole, of course. However for this recipe, we've opted to make a DIY cream of mushroom sauce. True, it requires a bit more effort than dumping a can of soup into a pan — but the payoff in flavor is well worth the extra 15 minutes.
We sauté onion and baby bella mushrooms in butter, which creates a deeply savory base for our homemade sauce. A bit of fresh thyme lends some floral herbaceousness, garlic brings the punch, and heavy cream makes it rich and gravy-like. To round it all out: a bit of Worcestershire sauce, some lemon juice, and a few dashes of hot sauce. We love how they give the mushroomy cream a bit more dimension — tangy sweetness, bright zing, and a lovely little tingle of heat. (But not so much heat that Gramps won't eat it.) The sauce tastes amazing with the crunchy, vegetal green beans (that's right, no mushy beans here!) and the quintessential crispy onion topping.
Our tip: try to time it so your green bean casserole comes out of the oven just a few minutes before you sit down for your Thanksgiving dinner; it tastes even better when the sauce is still bubbling a little and those fried onions are nice and hot.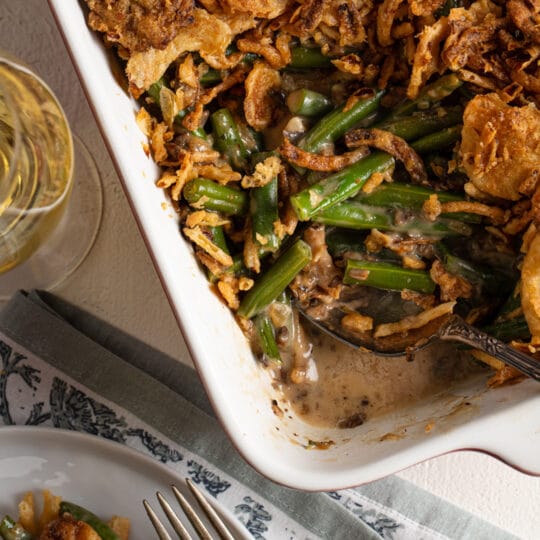 Dinner
Green Bean Casserole
Serves: 12
Ingredients
2 lb green beans, trimmed and halved
4 Tbsp unsalted butter, plus more for greasing pan
½ medium white onion, diced small
1 lb baby bella mushrooms, roughly chopped
½ tsp freshly ground Gelson's black pepper
½ tsp chopped Gelson's organic fresh thyme leaves
2 large garlic cloves, minced
2 tsp Worcestershire sauce
1 tsp freshly squeezed lemon juice
Directions
Preheat the oven to 350°. Butter a 9x13" baking dish.

Fill a stockpot three-quarters full with water. Generously salt the water and heat over high heat until boiling. Meanwhile, fill a large bowl halfway with ice and top with water.

Add the green beans to the boiling water and cook until tender, 5 to 6 minutes. Using a spider or slotted spoon, immediately transfer the beans to the ice bath to stop the cooking process. Set aside.

In a large nonstick skillet over medium-high heat, melt the unsalted butter. Add the onions and cook until softened, 2 to 3 minutes.

Add the baby bella mushrooms, kosher salt, and black pepper. Cook for 8 to 10 minutes, or until the mushrooms are browned.

Add the thyme and garlic, and cook until fragrant, about 30 seconds.

Stir in the all-purpose flour until fully incorporated into the butter. Slowly add the chicken stock, whisking continuously.

Stir in the heavy cream, Worcestershire sauce, lemon juice, and 5 dashes of hot sauce. Bring the mixture to a boil, lower the heat, and simmer for 5 minutes, or until the mixture has thickened and coats the back of a spoon. Remove from heat.

Drain the green beans and transfer half of them to the prepared baking dish.

Add the remaining green beans to the skillet and stir into the mushroom cream sauce. Then transfer everything to the baking dish, scraping the pan to spread the mushroom sauce over the casserole.

Top with the fried onions and bake the casserole for 15 to 20 minutes, or until golden brown and bubbling.

Allow the casserole to cool for 5 minutes and then serve hot.
Calculate nutrition information for this recipe.