Recipes
Grilled Asparagus & Green Onion with Parmesan Vinaigrette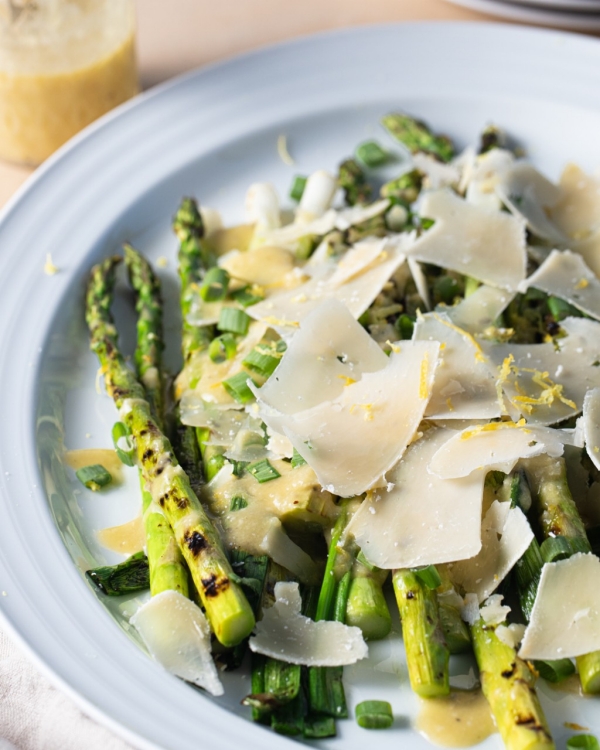 Don't these bright, green shoots of grilled asparagus and green onion look just like summer? We throw them on a hot, hot grill for less than a handful of minutes, so they've got a few grill marks, but their color is still brilliant and their texture is tender but not soft. And then we dress them in a lively vinaigrette of Champagne vinegar, Parmesan, Dijon, and anchovies — it gives the rustic dish some unexpected elegance.
Feeling a little agnostic about the anchovies? Trust us, this vinaigrette will make you a believer. We love how the light char on the veggies combines with the subtle yet umami-riffic fishies, the vinegar's bright acid, the tang of the mustard, and the salty, fatty cheese. It just works.
This dish is a grilling season go-to. It'll be right at home piled next to a savory egg bake at brunch, atop a midweek rice bowl, and arranged on your most delicate platter for an extravagant dinner.
Our tip: Hold on to the extra vinaigrette. It'll make a dashing companion for any sort of grilled veggie or meat, from zucchini to fingerling potatoes and chicken to salmon.
Servings: 4
Ingredients
For the vinaigrette:
½ cup grated Parmesan cheese
1 Tbsp minced shallot
1 Tbsp minced garlic
1 Tbsp Dijon mustard
3 Tbsp Champagne vinegar
2 anchovy fillets
2 tsp honey
⅓ cup extra-virgin olive oil
Flake salt, to taste
Black pepper, to taste
For the grilled asparagus and green onion:
1 bunch asparagus, woody ends trimmed
2 Tbsp extra-virgin olive oil, divided
2 pinches flake salt, divided
4 cracks black pepper, divided
2 bunches green onions, ends trimmed
1 oz Parmesan cheese, shaved
1 tsp lemon zest
Green onions, chopped, for garnish
Directions
To make the vinaigrette: In the bowl of a food processor, combine the Parmesan, shallots, garlic, mustard, vinegar, anchovies, and honey.

With the food processor running, slowly add the olive oil, allowing the vinaigrette to emulsify.

Season the vinaigrette with salt and pepper, transfer it to an airtight jar, and store it in the refrigerator until ready to use. Note: the vinaigrette can be stored in the refrigerator for up to a week.

To make the vegetables: Heat a grill pan or grill to high heat.

In a medium bowl, toss the asparagus with 1 tablespoon of olive oil, a pinch of flake salt, and 2 cracks of black pepper.

Place the asparagus on the grill and cook for 3 to 4 minutes. Turn, and cook for another 3 to 4 minutes, or until the asparagus has grill marks and is bright green and tender.

While the asparagus cooks, toss the trimmed green onions with the remaining olive oil, salt, and black pepper in the same bowl.

Add the green onions to the hot grill and cook for 1 minute. Turn, and cook for another minute, or until they have grill marks and are slightly softened.

Combine the green onions and asparagus on a serving platter.

Drizzle the vegetables with the vinaigrette and top with shaved Parmesan, lemon zest, and chopped green onions.