Lunch Recipes
Grilled Barbecue Chicken Pizza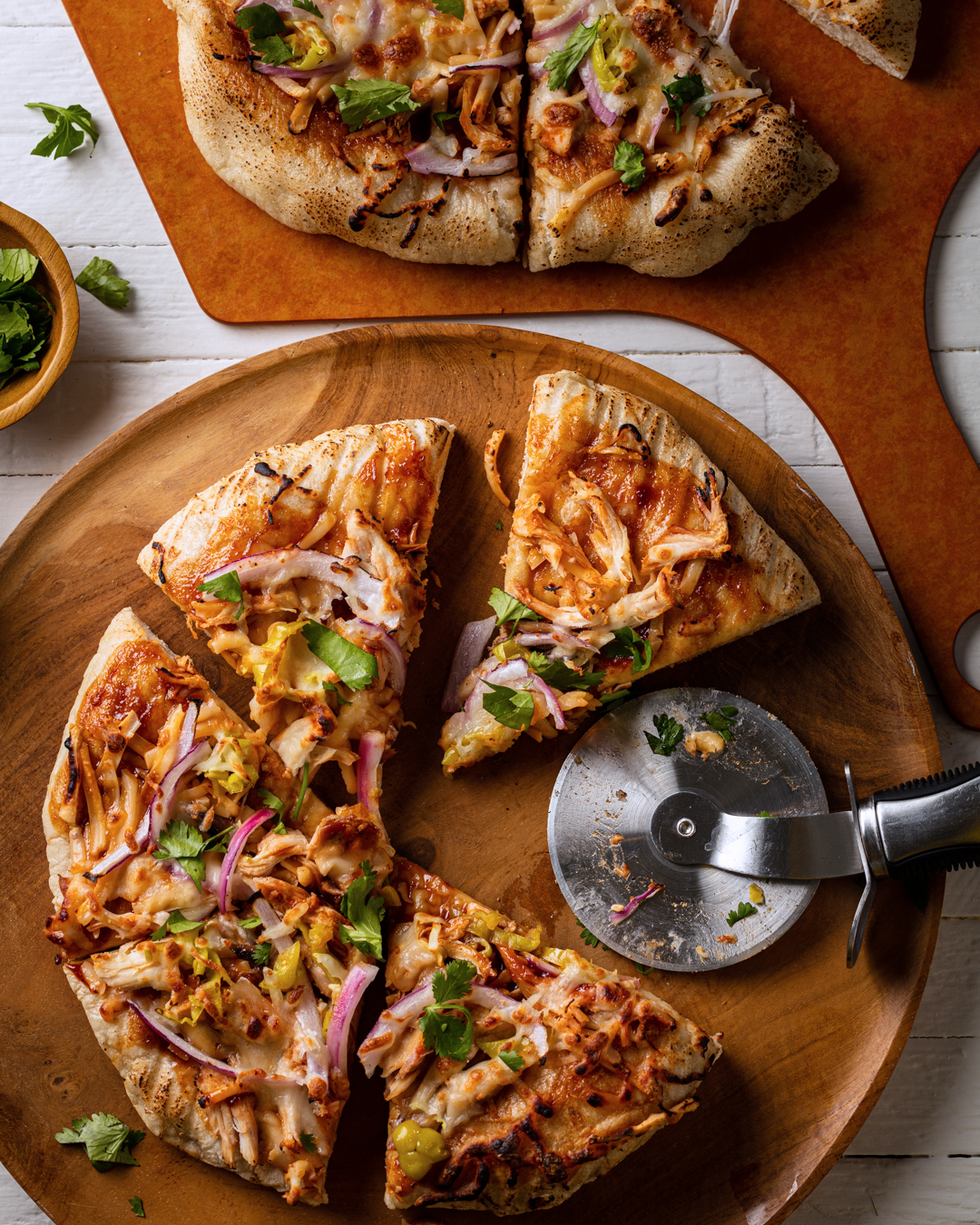 A while back, we developed a Neapolitan pizza crust for our gorgonzola and grape pizza. It was dense and chewy with a crispy bottom, and we all fell in love with it. In addition to being tasty, it really stands up to a pile of ingredients. Since then, we've used it to make a gorgeous breakfast pizza, but the craving for more is still there, so here's our latest creation — a spicy-sweet grilled barbecue chicken pizza.
Homemade pizza can sound intimidating, but this one is something you can pull off on a weeknight: The crust is make-ahead, and there are a few premade items in the ingredients, so there's not a ton of prep. When it's go-time, the pizza comes together in about 30 minutes.
Basically, we swab the pizza with barbecue sauce, and then sprinkle on smoked Gouda, shredded chicken, red onion, pepperoncini, and mozzarella — and grill it for a handful of minutes. You could slide it in the oven, but the grill produces a beautiful smoky char on the crust that complements the whole barbecue chicken vibe. (It also keeps the heat outdoors, and to be honest, grilling a pizza is just more fun.)
However you bake it, barbecue chicken pizza is a deeply satisfying bite! The barbecue sauce is smoky and sweet, the chicken is tender and chewy, the cheese is light yet appropriately gooey — and then you've got loads of snappy, fresh veggie textures and the green, citrusy notes of fresh cilantro. We love the mild heat those pepperoncinis bring to the mix.
This is an A+ family dinner, of course, but we could also see it sliced up at a summer happy hour — or a birthday party. Cooking for two? Make one pizza for dinner, and roll out the second one for lunch or dinner the next day.
Our tip: to make this pizza vegetarian, sub in jackfruit, pineapple, or plant-based chicken for the rotisserie chicken.
Yield: 2 pizzas
Ingredients
1 Neapolitan-style pizza crust, halved and rolled into 2 balls
All-purpose flour, for dusting counter
Semolina flour, for dusting peel
2 tsp extra virgin olive oil
½ cup barbecue sauce
¾ cup shredded smoked Gouda cheese
8 oz Gelson's rotisserie chicken, skin and bones removed, shredded
½ red onion, julienned
¼ cup pepperoncini slices
½ cup Gelson's shredded mozzarella cheese
¼ cup chopped Gelson's fresh cilantro
Special equipment: pizza peel
Directions
Heat a grill to high heat between 450° and 500°. Push the bed of coals to one side of the grill to cook with indirect heat and make sure the grates are clean.

On a lightly floured surface, roll out each ball of dough to roughly 10 to 12" and lightly dust a pizza peel with semolina flour. Transfer one pizza crust to the pizza peel.

Transfer the crust to the grill, on the opposite side of the coals, and cook for about 1 minute, or until the crust begins to bake and firm up a bit, and some grill marks have formed. Flip the crust over and cook for 1 minute more. Remove the crust from the grill and repeat with the second pizza crust.

Brush each pizza crust with 1 teaspoon extra virgin olive oil. To top each pizza, evenly divide the barbecue sauce, smoked Gouda cheese, rotisserie chicken, red onion, and pepperoncini slices, then sprinkle with half of the mozzarella cheese.

Transfer the topped pizzas back onto the grill, one at a time, again on the opposite side of the coals. Cover and cook for 3 to 4 minutes, or until the cheese has melted and the crust is golden brown with some char marks underneath.

Remove the pizzas from the grill, garnish with the fresh cilantro and serve hot.
Calculate nutrition information for this recipe.