Dinner Recipes
Grilled Chicken & Asparagus Pesto Pasta
"I would eat the entire bowl … but I have a sandwich coming," said one of our tasters while begrudgingly resisting another forkful of this grilled chicken and asparagus pesto pasta. Lesson learned: don't order lunch when you're working in the test kitchen!
What makes this pasta so irresistible? We season the chicken with herby Italian seasoning, and then grill it with fresh asparagus. They both come off the hot grates with a little bit of char — and incredible texture. The chicken is nice and juicy; the asparagus, perfectly crisp-tender. Then, we toss them in our homemade basil pesto with bouncy rotini, bright cherry tomatoes, and nutty Pecorino Romano. A squeeze of lemon juice serves as a zippy, sweet-tart contrast to the rich, peppery pesto.
Altogether, you get a delightfully summery pasta — and you can serve it warm or chilled, à la pasta salad. Either way, it's a veritable one-bowl wonder of seasonal goodness. Do we want a glass of sauvignon blanc to go with it? We thought you'd never ask.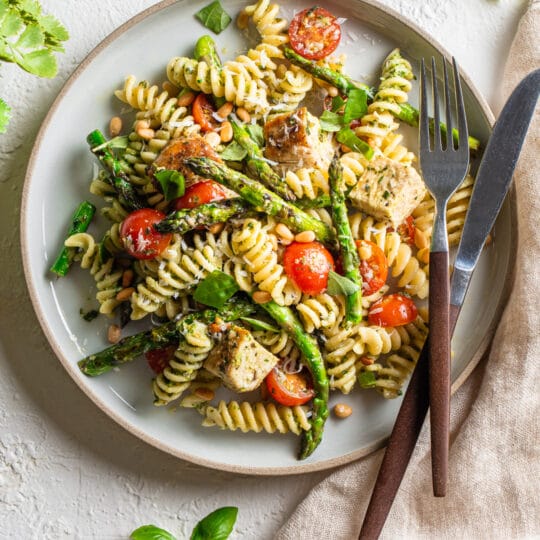 Dinner
Grilled Chicken & Asparagus Pesto Pasta
Serves: 4
Ingredients
12 oz Gelson's fusilli pasta
1 tsp Gelson's 100% California extra virgin olive oil, plus more for drizzling
2 boneless, skinless chicken breasts
1 tsp Gelson's Italian seasoning
Freshly ground black pepper, to taste
1 bunch asparagus, woody ends removed
1 cup cherry tomatoes, halved
⅔ cup pesto (recipe link above)
3 Tbsp freshly squeezed lemon juice
3 Tbsp finely grated Pecorino Romano, plus more for garnish
2 Tbsp pine nuts, toasted
Chopped fresh basil, for garnish
Directions
Cook the pasta according to the package instructions. Strain, toss with the olive oil, and lay out on a rimmed baking sheet to cool.

Preheat the grill or a grill pan to medium-high heat.

Pat the chicken dry with a paper towel. Season with Italian seasoning, salt, and black pepper. Drizzle lightly with olive oil.

In a medium bowl, drizzle the asparagus with olive oil, salt, and black pepper, and toss to coat.

Place the chicken on the grill and cook for approximately 6 to 8 minutes, rotating 90 degrees halfway through. Flip it over and grill, rotating 90 degrees halfway through, for 6 to 8 minutes, or until the internal temperature reaches 165°. Let the chicken rest for 5 minutes, then dice it into ¾" pieces.

While the chicken rests, place the asparagus on the grill perpendicular to the grates. Grill for 2 minutes, flip the spears over, and grill another 1 to 2 minutes, until crisp-tender. Cut the asparagus into 2" pieces on the diagonal.

In a large serving bowl, combine the pasta, chicken, asparagus, and tomatoes. Add the pesto, lemon juice, and grated Pecorino Romano. Season with salt and black pepper and toss to coat.

Garnish with the toasted pine nuts, chopped fresh basil, and if desired, additional Pecorino Romano. Serve warm or cold.
Recipe adapted from: Recipe Runner