Dinner Recipes
Grilled Chicken Greek Salad
This hearty salad is perfect for those hot summer days when the thought of turning on the stove is dreadful. Like all Greek salads, it's packed with crunchy veggies, olives, and feta, but it's the grilled chicken that brings us back again and again.
We marinate the chicken in yogurt, lemon juice, and a bunch of garlic and aromatic spices. It's not absolutely necessary, but we do leave it in the marinade overnight, which allows all the flavors to meld and gives the acids plenty of time to work their magic. This chicken is super tender!
Getting a head start on the chicken also makes prep faster the evening of — you can just toss it on the grill. The juicy, flavorsome meat is delicious paired with all the goodies in the salad. We toss the whole thing in a bright vinaigrette of lemon, garlic, and oregano and then sprinkle it with mint leaves.
Grilled chicken Greek salad tastes so light and fresh, and yet it's such a satisfying meal. It's also a great one for entertaining: get out the linen napkins, plate the salad on your favorite platter, throw some pita on the grill, pour everyone a glass of wine, and you've got easy-breezy summer luxury.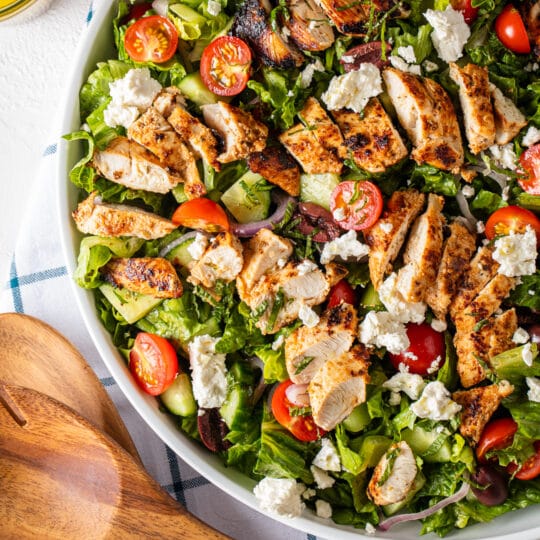 Dinner
Grilled Chicken Greek Salad