Recipes
Grilled Jerk Pork & Curried Peach Relish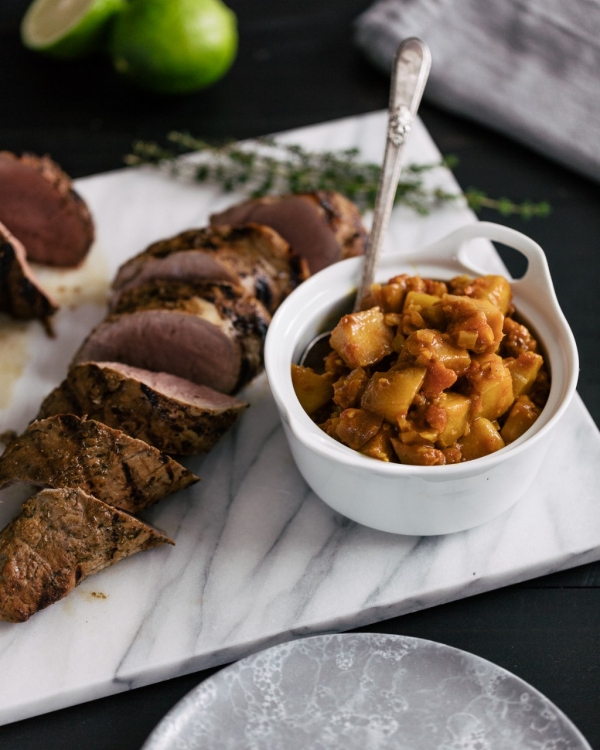 When we made the grilled pork, we were struck by how good it was. The meat was perfectly seared, very tender and juicy, and had a wonderful mildly sweet and spicy flavor from the jerk spices. And yet, for all that perfection, it was the peach relish that stole the show.
Tomatoes and peaches seem like an odd couple, but in savory dishes, like salads and this relish, they're a great pairing. They balance each other out: the juicy, acidic tomato, the softly crisp, sweet peaches. Cooked down in the onion, ginger, and curry, the pair develops a deep, spicy sweetness that's almost like a chutney — and absolutely stunning on the meat.

Our tip: This is a deceptively easy, weeknight recipe. Yes, there are a lot of ingredients but only a modicum of chopping. And both the relish and the pork benefit from at least 8 hours in the fridge, so it's a natural for making ahead. In fact, you could even make the relish a few days ahead.

Servings: 6
Ingredients

Click here to add ingredients to your Gelson's Instacart shopping list.
For the pork:
3 scallions (white and pale green parts only), trimmed
1 Tbsp chopped fresh thyme
2 tsp kosher salt
½ tsp ground allspice
¼ tsp black pepper
2 Tbsp fresh lime juice
1 Tbsp molasses (not robust or blackstrap)
1 tsp habanero hot sauce, or to taste
2 pork tenderloins (1 ¾ to 2 lb total)
2 Tbsp vegetable oil for basting
For the relish:
1 ½ lb firm-ripe peaches
½ lb tomatoes
½ cup red onion, chopped
1 Tbsp peeled fresh ginger, minced
1 tsp kosher salt
1 Tbsp vegetable oil
1 ½ tsp curry powder
2 Tbsp sugar
1 Tbsp lime juice
Directions
To make the pork marinade: In a bowl, combine the scallions, thyme, salt, allspice, pepper, lime juice, molasses, and hot sauce and blend it with an immersion blender until smooth.

In a gallon freezer bag, rub the marinade into the pork. Marinate in the fridge, turning occasionally, for 8 hours. Bring to room temperature before grilling.

For the peach relish: In a pot, boil about 4 quarts of water.

With a sharp paring knife, cut a shallow X in the bottom of each peach and tomato, and then blanch them in the boiling water in 2 batches. Use a slotted spoon to transfer the peaches and tomatoes to a bowl of ice water until they're cool enough to handle.

Peel, pit, and halve the peaches, and then cut them into 1-inch pieces. Peel and coarsely chop the tomatoes. Set the peaches and tomatoes aside.

In a medium heavy saucepan, cook the onion, ginger, and salt in oil over moderate heat, stirring occasionally, until softened, 3 to 4 minutes.

Add curry powder and cook, stirring constantly, 1 minute.

Add the peaches and tomatoes with their juices, sugar, and lime juice and simmer, uncovered, stirring occasionally, until mixture is thick and peaches are tender but still hold their shape, about 8 minutes.

Transfer to a bowl to cool, and then cover and chill for at least 8 hours.

To make the grilled pork: Remove the peach relish and the pork from the refrigerator, so they have time to come to room temperature.

Prepare the grill for cooking over medium-hot charcoal or heat a gas grill to medium.

Discard any marinade remaining in the dish, then brush pork lightly with oil and grill it on a lightly oiled grill rack, turning occasionally and basting frequently with oil, until an instant-read thermometer inserted diagonally into the center of the meat registers 145°, about 15 to 25 minutes.

Transfer the pork to a cutting board and let it stand 15 minutes before slicing. This helps the meat reabsorb the juices and will also raise the temperature to about 155°. Serve pork with the peach relish.

Recipe source: Epicurious