Dinner Recipes
Grilled Rib-eye Steak and Herb Butter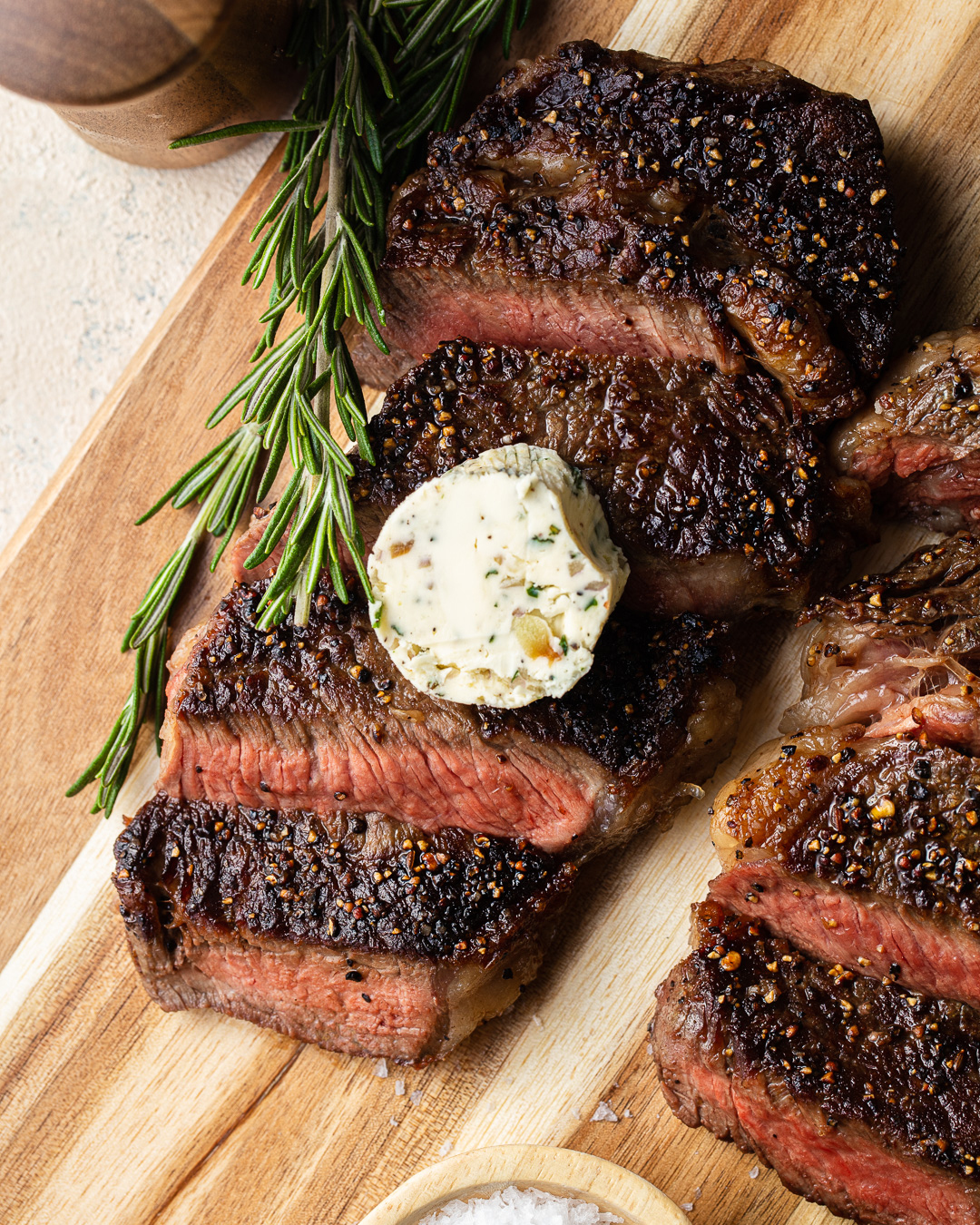 This one comes from Sean Sáenz, our Vice President of Fresh Operations — and a bonafide Grill Master. He tells us that the high fat content in rib eye makes it the perfect steak for grilling: It stays incredibly juicy inside and develops a nice, charred crust on the outside.

Sean recommends grilling the steaks to medium rare, and then topping them with a generous dollop of butter right when they come off the grill, so the butter melts and infuses the meat with its deeply layered flavors of garlic, shallot, and herbs.

Our tip: You can really use whatever herbs you have around the house in the butter. And hold on to your leftover herbed butter: it's fantastic anywhere you would normally use butter, like bruschetta, eggs, grilled meats and fish, and roasted vegetables.
Servings: 4
Ingredients
4 10-oz Certified Angus Beef® rib-eye steaks
½ lb unsalted butter (2 sticks), softened
1 Tbsp roasted garlic
1 Tbsp kosher salt
1 tsp freshly ground black pepper
1 tsp shallots, finely chopped
1 tsp fresh parsley, finely chopped
1 tsp fresh sage, finely chopped
1 tsp fresh rosemary, finely chopped
Big Poppa's "Double Secret" Dry Rub*
Salt and freshly ground pepper to taste

*Note: You'll find Big Poppa's dry rub in the Gelson's meat department.
Directions
Thoroughly combine softened butter with garlic, salt, pepper, shallots, parsley, sage, and rosemary.
Roll with plastic wrap into a log shape 1-inch in diameter; refrigerate 2 hours or until butter is solid.
Season steaks with Big Poppa's "Double Secret" dry rub, salt, and pepper, and grill to desired doneness. Tip: Aim for 135º on an instant-read thermometer for a perfect medium rare.
Put a ¼-inch pat of butter on each steak, and serve immediately.