Dinner Recipes
Grilled Steak, Daikon & Cucumber Salad
This little ditty is delightfully different than your standard blue-cheese-and-balsamic steak salad. And funnily enough, the star is not actually the meat! Yes, the perfectly charred New York strip steak is a superb complement to the lush bed of arugula. But the standouts are, in fact, the thin slices of marinated English cucumber and daikon radish.
The cucumber and daikon marinate in what also serves as the vinaigrette — a blend of soy sauce, lemon juice, rice vinegar, garlic, and olive oil. It imbues them with lots of salty-sweet, umami depth and creates a sort of quick-pickle effect, so the veggies are bright and punchy but hold onto their delicate crunch.
For the finishing touch, we garnish the steak salad with a gremolata-inspired sauce of jalapeño, lemon zest, and garlic. The jalapeno's gentle, grassy heat brings out the peppery side of the arugula; the citrus enhances the lemon in the marinated cucumbers and daikon. Add the lightly blackened steak, and you get a beautiful juxtaposition of zippy fresh veggies and rich, savory smoke — a study in contrasts masquerading as a simple summer salad.
Our tip: Serve grilled steak, daikon, and cucumber salad for a dinner party (on the patio, of course). It's a breeze to make and will taste marvelous with whatever wine your guests bring.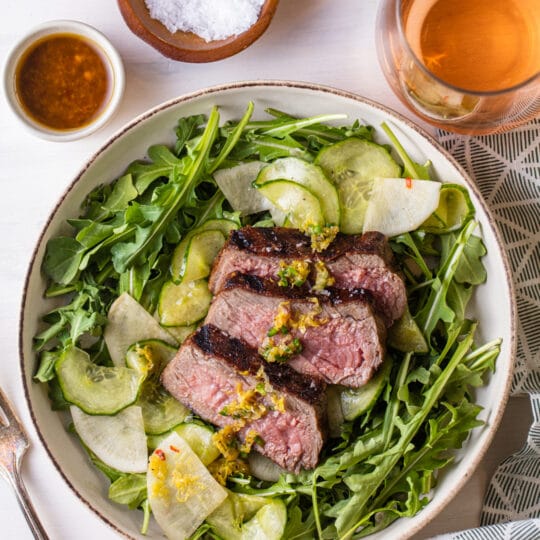 Dinner
Grilled Steak, Daikon & Cucumber Salad
Serves: 4
Ingredients
1 Tbsp freshly squeezed lemon juice
2 garlic cloves, grated, divided
¼ cup extra virgin olive oil, plus more for drizzling
Freshly ground black pepper, to taste
½ English cucumber, very thinly sliced
½ cup peeled, very thinly sliced daikon radish
4 8-to-12 oz NY strip steaks
1 tsp jalapeño, seeded and minced
Directions
In a small bowl, whisk together the soy sauce, lemon juice, vinegar, and ½ the grated garlic. Slowly pour in the olive oil, while whisking, until emulsified. Season with salt and black pepper. Transfer ½ of the dressing to a medium bowl, and set the remaining dressing aside.

Add the cucumber and daikon to the medium bowl and toss to coat. Let stand at room temperature for 30 minutes. Drain the vegetables, squeeze out the excess liquid, and return them to the bowl.

Heat a grill or grill pan to high heat.

Drizzle the steaks with olive oil and season with salt and black pepper. Grill the steaks, turning halfway through, until lightly charred on both sides, about 7 minutes total for medium-rare steaks. Transfer the steaks to a cutting board, let them rest for 5 minutes, and then cut into ½" slices against the grain.

In a small bowl, combine the lemon zest, jalapeño, and remaining garlic. Season with salt and black pepper.

Divide the arugula between 4 serving bowls, top with the pickled veggies and steak, garnish with the seasoned jalapeños, and serve with remaining dressing.
Recipe adapted from: Food & Wine