Recipes
Hanukkah Dinner Made Easy: A Buying Guide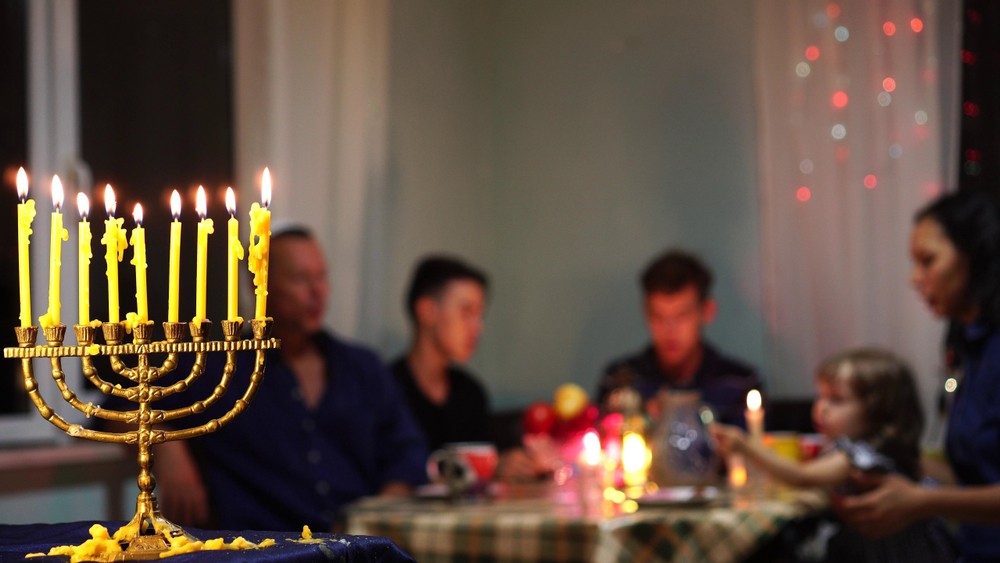 Perhaps you're taking on Hanukkah hosting duties for the first time ever, or maybe you're a seasoned host that's been serving up holiday fun for years… whichever the case, planning your Hanukkah dinner can be a challenge. All too often, the holiday sneaks up on us, and we're left scrambling to put together a delicious and enjoyable meal just days before the big event.
But this year, you can conquer the holiday season like a true professional and coast through the season with less stress than ever – all it takes is a little bit of preparation. And if you've arrived here in the midst of a last-minute holiday prep rush? Don't worry, we have tips for pulling together a great event with little to no preparation time as well.
Our Hanukkah hosting guide breaks down exactly what you can do to get ready for the big dinner, whether you have a few weeks or just a few days to go. So, set up your menorah, start practicing your dreidel spinning skills, and prepare for a wonderful Hanukkah this 2019.
If you have a good amount of time on your hands, you can stay a few steps ahead of the hectic holiday planning by putting together a menu for Hanukkah dinner early on.
Include Family Favorites
Nearly every family has their must-serve Hanukkah dishes, the ones that are full of nostalgia and beloved memories. If this is your first time hosting Hanukkah dinner, consider asking family members if they have any longtime favorites that they'd like to have. Depending on how formal or casual you want dinner to be, you could even ask friends and family to bring their favorite Hanukkah dish to share with other guests in a potluck-style set-up.
Don't Hesitate to Get a Little Creative
Once you've made sure to include your family's traditional Hanukkah dishes, you can have a bit of fun with the rest of the menu. Don't be afraid to put your own spin on classic Hanukkah recipes, whether you do your own experimenting or get inspiration from cooking magazines and blogs. Here are a few ideas to get your creative culinary juices flowing:
Add extra flavor to spice up conventional potato latkes, mixing in elements like ginger and scallions for a unique twist.

Use your slow-cooker to prepare the brisket for dinner, saving yourself oven space and maximizing flavor with this nearly effortless method.

Swap the traditional sufganiyot fillings (custard or jelly) for something a little more unconventional.
One Week Before: Start Shopping
Seven days out and it's time to make a well-planned stop (or two) at your favorite neighborhood grocery store.
Organize a Shopping List that Saves Time
With your Hanukkah menu in hand, create a shopping list that includes every single item you'll need for dinner. Once you've completed the list, go through your pantry and cross out any ingredients you already have. Then, organize the remaining items according to sections of the grocery store (for example, meats, produce, and baking basics), to make your shopping trip as quick and hassle-free as possible.
Another tip is to split your shopping into two trips: one several days before that covers all your nonperishables, then another a day or two prior to stock up on all your fresh ingredients. This approach is especially useful if you have a busy schedule that keeps you from spending too much time at the store. Be sure to select a grocery store that offers a high-quality selection that includes everything on your list – there's no need to make several unnecessary stops.
A Few Days Before: Get Smart with Our Holiday Hacks
With the holiday clock ticking, you can start preparations a bit early – and even take advantage of a few simple shortcuts.
Simplify Prep Time with Prepared Holiday Meals
Whether you're in a last-minute rush or simply want to make your holiday dinner prep as short and sweet as possible, prepared Hanukkah side dishes and entrees are a great option. Gelson's catering team expertly crafts a delicious selection of Hanukkah meals, and all you have to do is reheat and serve. We begin taking orders at the end of November, so you can even get ahead of the holiday prep to ensure that everything is ready to go. Instead of spending hours upon hours in the kitchen, let us send you home with a perfectly-cooked meal for your guests.
One Day Before: Spruce Up Your Space with Festive Décor
The day before Hanukkah dinner, it's time to turn your attention to the space where everyone will be celebrating.
Choose an Eye-Catching Centerpiece and Add Your Own Personal Touches
A wonderful Hanukkah celebration is all about the friends and family you're with, but delicious food certainly helps enhance the evening – as do beautiful decorations. Choose a few floral arrangements to brighten up the main dining table and the areas where guests will be spending their time. Even just a small arrangement or two can make a big statement and add holiday cheer.
The Day of Hanukkah Dinner: Finish Your Feast and Enjoy the Holiday
When the big day of your Hanukkah dinner arrives, it's time to get down to business and create the meal of your holiday dreams.
Delegate Whenever Possible
Though it's tempting to hold on tightly to every last hosting task, delegating can make the holiday far easier and less stressful. If you have time before your guests arrive, think about how they may be able to help you in small ways. For example, perhaps younger members of the family can help set the table, or maybe your mother or grandmother can help tackle a side dish or two. You might just find that inviting friends and family to participate in the dinner preparations are a wonderful way to make long-lasting Hanukkah memories.
Don't Forget to Relax and Have a Good Time
Being in charge of the annual Hanukkah celebration can feel like a monumental responsibility, but try not to let it detract from the true meaning of the holiday season. And if your worst-case scenario kitchen disaster becomes a reality? You and your loved ones will have a great holiday story to laugh about for years to come.
Find All Your Hanukkah Must-Haves at Gelson's Supermarkets
Gelson's is your source for all your holiday necessities, making it simple to stock up on everything you need in one friendly place. We have everything from pantry basics to fresh produce, meats, and seafood, so you can serve the very best to your family and friends. Instead of spending the busy holidays at countless Southern California grocery stores, why not make Gelson's your first and last stop of the season?
In addition to our exceptional grocery selection, the Gelson's catering department is here to make your Hanukkah hosting easier than ever with prepared holiday dinners that are both delicious and convenient. Whether you want to simplify your dinner preparations by ordering a few prepared sides or you want to take advantage of our prepared Hannukkah dinners that feature an entrée and your favorite holiday side, Gelson's has you covered.
Visit your neighborhood Gelson's Supermarket and let us help make Hanukkah 2019 your best holiday season yet.