Dinner Recipes
Harissa Salmon & Green Salad
Heavy meals in this heat? No, thank you! If you're like us, you're craving lighter fare and bright, snappy flavors right about now — summer's version of comfort food. Good news: this vibrant salad delivers.

We coat the salmon in a very simple harissa pan sauce — think garlic, smoke, and a mild chile warmth — and bake it in the oven for a handful of minutes. Yeah, we know, crispy, pan-seared salmon is terrific, but we love how the oven's slow heat brings out the fish's lush side. The texture is heavenly: it's so delicate and buttery, it almost melts in your mouth.
The salad is a mix of buttery gem lettuce, delightfully bitter endive, and sprigs of fresh dill tossed in a simple lemon-shallot vinaigrette. It's simple but full of zippity-do-dah. When the salmon is perched atop it (fish pun!), the interplay of citrus and salmon, dill and harissa, is surprisingly complementary — a minor culinary revelation in a meal that comes together in under 30 minutes!

Servings: 4 to 6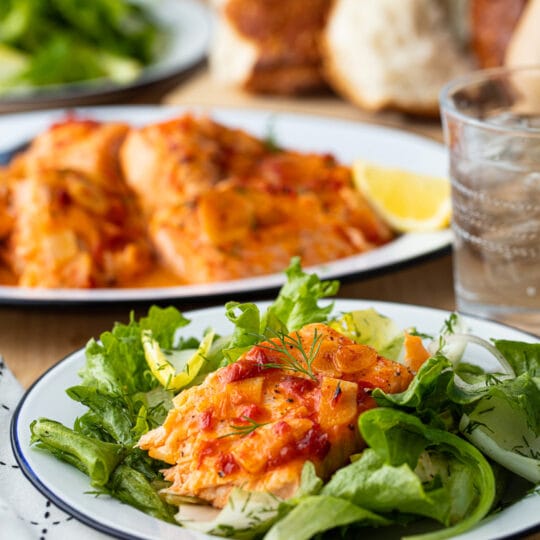 Dinner
Harissa Salmon & Green Salad
Ingredients
1 ½ lb skin-on salmon fillet
Freshly ground Gelson's black pepper, to taste
4 garlic cloves, thinly sliced
2 Tbsp extra virgin olive oil, divided
4 Tbsp freshly squeezed lemon juice, divided
1 small shallot, thinly sliced into rings
10 oz little gem lettuce, torn into bite-size pieces
1 endive, cut into bite-sized pieces
¼ cup Gelson's organic fresh dill, finely chopped, plus more fronds for garnish
Lemon wedges, for garnish
Crème fraîche, for serving
Crusty artisanal bread, for serving
Directions
Preheat the oven to 450°. Place the salmon on a rimmed baking sheet, skin-side-down, and season with salt and black pepper.

In a small skillet, cook the butter over medium heat, whisking occasionally, until it foams and browns, about 5 minutes.

Add the garlic slices, letting them sizzle and brown in the butter for 30 seconds, then whisk in 1 Tbsp of the olive oil and the harissa. Cook for 2 minutes, stirring occasionally.

Add 2 tablespoons of lemon juice and whisk to combine. Season with salt and black pepper.

Pour the harissa sauce over the salmon and transfer the sheet pan to the oven. Roast until the salmon is just cooked through and the fillet flakes easily with a fork, 7 to 10 minutes.

In a medium serving bowl, toss the shallot with the remaining 2 tablespoons lemon juice, 1 Tbsp olive oil, and season with salt and black pepper. Add the gem lettuce, endive, and dill, and toss to coat.

Use a serving spoon to scoop large chunks of the salmon onto a serving platter. Spoon any remaining brown butter sauce over the fish and squeeze more lemon juice over it.

Garnish the salmon with dill frond and lemon wedges. Serve with the dill salad, crème fraîche, and toasted bread.
Recipe adapted from: New York Times