Snacks Recipes
Harvest Apples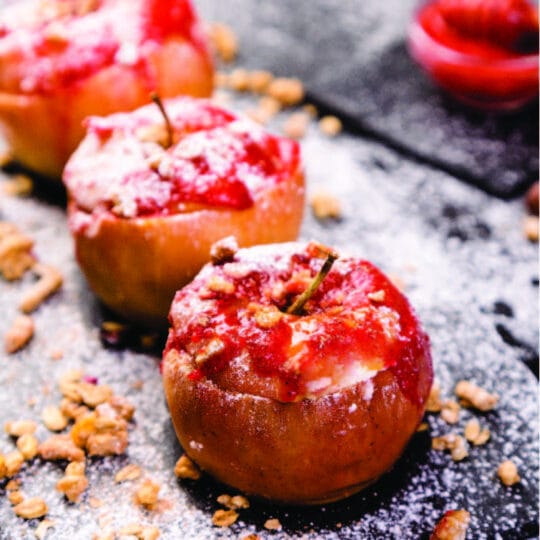 Snacks
Harvest Apples
Serves: 4
Ingredients
4 Golden Delicious Apples
4 Ladyfinger Cookies crumbled
1/4 cup Blanched Almonds chopped
1/4 cup Pine Nuts chopped
1/4 teaspoon almond extract
5 ounces Bittersweet Chocolate
2 tablespoons powdered sugar
Directions
Soak raisins in Marsala for 30 minutes.
Cut the tops off the apples, save as lids. Carve out the core and discard. Carve out 1/2 of the pulp to half an inch of the outside of the apple, chop the pulp coarse, then combine with the lady fingers, nuts, and extract.
Drain the raisins and add to the mixture.
Fill the apples and cover with the lid. Steam or bake in a steam bath for about 6 to 8 minutes or until just tender.
Melt the chocolate with the cream in a double boiler and stir until smooth.
PRESENTATION NOTES:
Drizzle the chocolate over the apples and dust with powdered sugar just before serving.Serve warm or chill up to two days in advance.