Recipes
Hatch Chile Chocolate Chip Cookies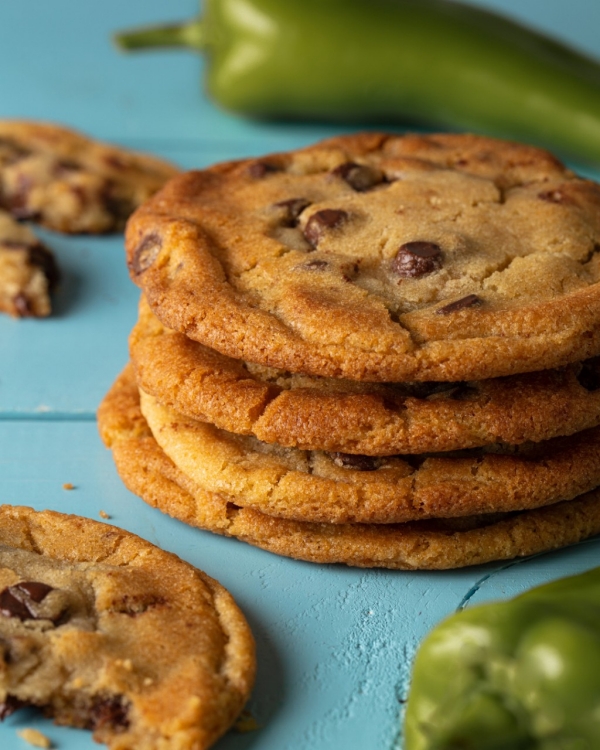 Around here, everyone loves chocolate chip cookies, and these looked promising from the moment they slid out of the oven — a little squat, very crispy at the edges, and clearly full of chocolate chips. The texture is perfect: dense, chewy, and gooey with melted chocolate. And just as you're sinking into a buttery, sweet cookie reverie, the Hatch chile's soft vegetal notes hit you, followed by a smidge of peppery heat, and then it's all gone 'til the next bite.
In the test kitchen, we wondered if a cookie laced with Hatch chiles and cayenne pepper might be too spicy and adventurous for the average cookie monster, but our tasters dispatched the entire batch with enthusiastic efficiency. Minutes! We found that the cookies are so mild, you don't need a cold beverage, but they taste pretty wonderful dunked in a glass of milk.
Our tip: Hatch chile and cayenne pepper butter is just a good idea, so make a double batch of the stuff, while you're at it. Let the leftover chile butter solidify. You can put a little pat of it in the egg pan, bake it into your cornbread, or make it the base layer on a slice of avocado toast.
Ingredients
1 cup fresh Hatch chiles, chopped with seeds
1 cup butter, room temperature, divided

½ tsp cayenne pepper
1½ cups flour
¼ tsp baking powder
1 tsp baking soda
½ tsp salt
½ cup brown sugar
½ cup granulated sugar
1 large egg
½ tsp vanilla extract
1 ¼ cups dark chocolate chips
Directions
In a small pot, combine the chopped chiles and ⅔ cup of the unsalted butter, and warm them over medium heat until the butter has melted.

Reduce the heat to low, add the cayenne pepper, and cook for another 15 minutes.

Strain the chiles from the melted butter, discarding the chiles, and let butter cool to room temperature.

In a medium bowl, combine the flour, baking powder, baking soda, and salt. Set the bowl aside.

In a large bowl, beat together the chile butter and remaining reserved butter until smooth.

Add the sugars, egg, and vanilla extract, one ingredient at a time, beating well after each addition.

Fold in the dry ingredients, mixing until just combined.

Fold in the dark chocolate chips, mixing until evenly distributed.

Lay out 2 sheets of plastic wrap about 12 inches long. Roll the cookie dough into two logs about 3-inches around, wrap them tightly in the plastic wrap, and store them in the refrigerator overnight — or for at least two hours.

Preheat the oven to 375º.

Unwrap the cookie dough logs, cut them into 1-inch rounds, and set them on an ungreased, nonstick baking sheet.

Bake until the edges are golden and a toothpick inserted in the center comes out clean, about 10 to 14 minutes. Bang the pan on a stable surface to stop the cookies from rising — this will give them a lovely, chewy texture.