Breakfast Recipes
Hatch Chile Cream Cheese Spread
Hatch chiles bring out our innate gushiness — and in the test kitchen, there was love abound for this simple cream cheese spread.
"I could seriously eat this all day," said one taster.
"Love how easy it is," said another.
"Hatch chile cream cheese is something special," said literally everyone.
Along with a pretty green hue, the Hatch chiles give the rich, tangy cream cheese a bright, vegetal flavor and some subtly smoky heat. We play up those notes with fresh cilantro and green Tabasco — and then round it all out with a little bit of garlic powder. It's reminiscent of a garden veggie cream cheese, but way better because, you know … Hatch chiles!

We love Hatch chile cream cheese spread on toasted bagels — nothing fancy. But if we're in a maximalist mood, we'll load up that Hatch-smeared bagel with all sorts of goodies, like lox, pickled red onion, avocado, and capers. Would it be good on a turkey sandwich? In a veggie wrap? As a dip for crudités and crackers? Yes, yes, and yes!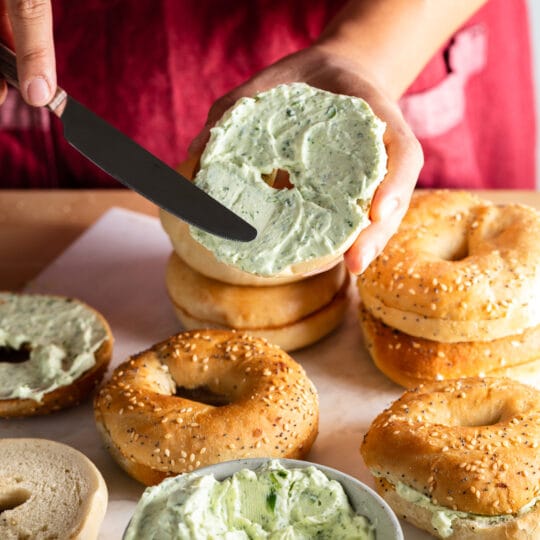 Breakfast
Hatch Chile Cream Cheese Spread
Ingredients
1 Hatch chile, stemmed, seeded, and roughly chopped
12 oz cream cheese, softened
½ tsp Gelson's garlic powder
¼ cup fresh cilantro, chopped
Freshly ground Gelson's black pepper, to taste
Directions
In the bowl of a food processor, pulse the chile until roughly small-diced, approximately 10 times.

Add the cream cheese and pulse until completely combined, about 12 times, scraping down the sides of the bowl as needed.

Add the garlic powder, Tabasco, and cilantro. Season with salt and pepper, to taste. Process until well combined.

Serve on your favorite bagels, toast, or sandwich. It's also delicious with crackers or crudités. Store in an airtight container in the refrigerator for up to 1 week.