Dinner Recipes
Hatch Chiles Rellenos
Chile relleno is so comforting — in the way that only deep-fried Mexican food can be. It's most commonly made with poblano peppers … but we'll let you in on a little secret: it's also incredible with Hatch chiles. We love the flavor they bring to the deep-fried Pueblan dish: smoky and vegetal, with just a touch of heat. Stuffed inside? Mild Oaxaca cheese and savory refried beans. So simple yet so satisfying.
And let's not forget the batter! You beat eggs until they're light and frothy, so the batter puffs up in the hot oil and creates a super delicate, super crispy crust around the tender Hatch chiles. The textural contrast with the melty cheese and creamy beans is such a treat.
We garnish Hatch chiles rellenos with cotija crumbles and fresh cilantro and serve them in a pool of homemade tomato salsa. It's brightly acidic, lightly sweet, and garlicky — the perfect foil to the deep-fried goodness. Take a bite, and you'll realize that the more you eat of this, the more you want. It's a never-ending loop of chile relleno love!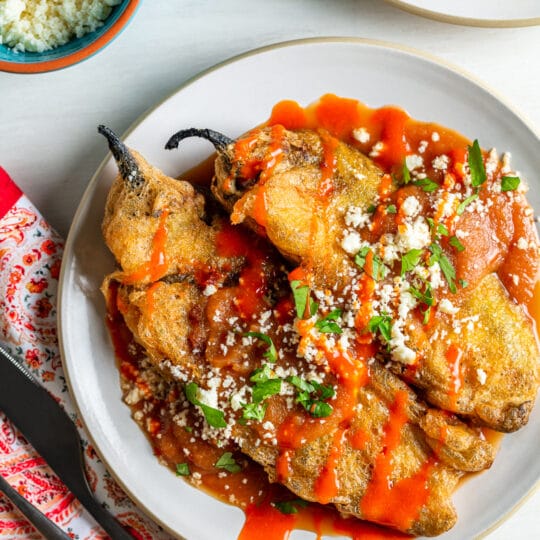 Dinner
Hatch Chiles Rellenos