Dinner Recipes
Hawaiian Ham & Cheese Sliders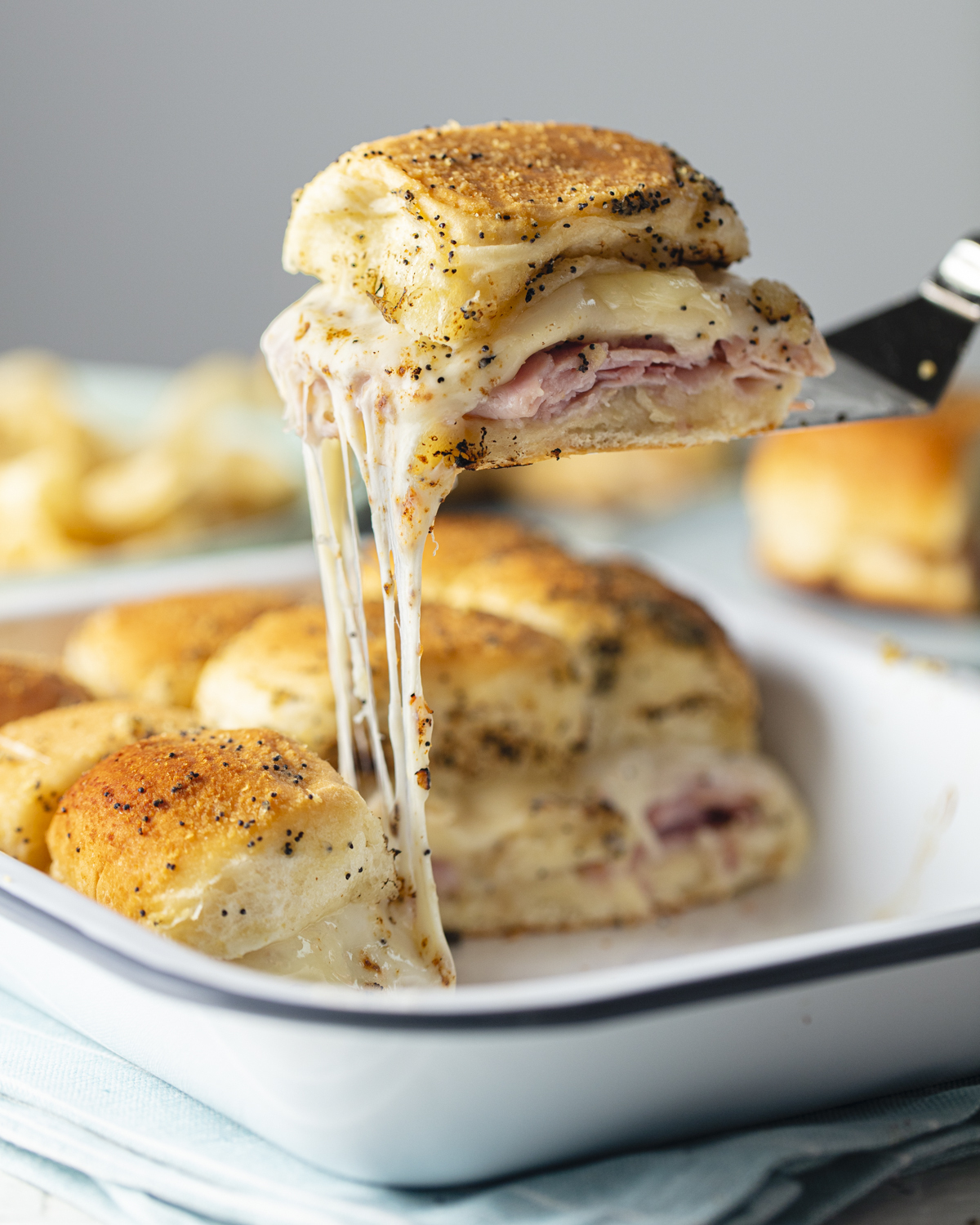 Sliders are always, always, always a game day winner: they're scrumptious, they're finger food, and they're tiny, so you can have more than one. In our humble opinion, this might be the world's most perfect slider. It's a delightful little stack of Swiss cheese, honey ham, and Dijon mustard on an ultra-soft Hawaiian sweet roll — and it's drenched in an onion-mustard butter. It's crispy, mouthwateringly sweet, soft, salty, ooey-gooey, and chewy all at the same time.
Best of all, they come together in under 30 minutes, which is great because you're going to want to make a lot of them. The recipe says to start with two packages of rolls, which may sound like a lot — but these sliders go down easy. We told our crew of tasters, "Have two, they're small," but most of them came back for thirds. Or tried to: as supplies dwindled, folks were heard to say, "How many have you had?" and "That's mine!"
Ham and cheese sliders are a natural for game day, but we'd roll them out for any gonzo snacking occasion, from siblings on the patio to bad TV night. For beers, think about something with plenty of hoppy character, like a Sculpin from Ballast Point Brewing & Spirits.

Servings: 24

Ingredients

24 King's Hawaiian Original Hawaiian Sweet Dinner Rolls
⅓ cup mayonnaise
24 slices honey ham
6 slices Swiss cheese, quartered
1 Tbsp poppy seeds
1 ½ Tbsp Dijon mustard
½ cup butter, melted
1 Tbsp onion powder
½ tsp Worcestershire sauce

Directions

Preheat the oven to 350º.

Without separating the rolls, slice them in half and set the bottom portion in a baking dish measuring 7 x 11 inches.

Spread the mayonnaise on the bottom side of the rolls. Place a slice or two of ham and a slice of Swiss cheese on each roll. Replace the top of the rolls.

In a medium bowl, whisk together the poppy seeds, Dijon mustard, melted butter, onion powder, and Worcestershire sauce.

Pour the sauce over the top of the rolls. Cover the baking dish with foil and let the sliders sit for 10 minutes.

Bake the sliders until the cheese melts, about 10 minutes. Uncover and cook until the tops are slightly brown and crisp, about 2 minutes. Serve warm.
Recipe adapted from: King's Hawaiian