Appetizer Recipes
Healthy Hummus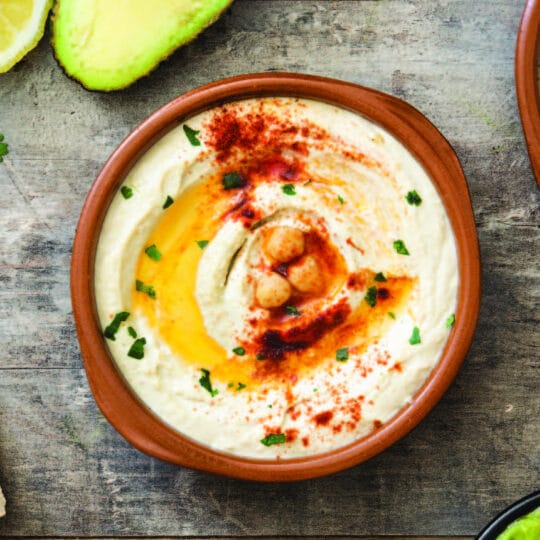 Appetizer
Healthy Hummus
Serves: 8
Directions
2cloves Melissas organic garlic
3 to 4tablespoons Horizon Organic plain nonfat yogurt
2tablespoons fresh lemon juice
2tablespoons Arrowhead Mills tahini
1/8teaspoon cayenne pepper
1 teaspoon ground cumin
1/4teaspoon ground coriander
1/4teaspoon salt
2tablespoons Napa Valley organic olive oil
pinch of paprika optional
1tablespoon fresh Italian parsley, minced
1tablespoon sesame seeds
2packages Ak Mak whole wheat crackers
1pound broccoli florets, blanched
Rinse and drain two cups of the cooked and cooled beans.
Cut each garlic clove into three pieces and mince in a food processor. Scrape down the sides and run the machine again, if necessary. Add the beans, yogurt, lemon juice, tahini, cayenne pepper, cumin, coriander, and salt. Run the machine for about 30 seconds, stop and scrape down the sides if necessary. Turn the machine back on and slowly pour the olive oil through the top of the lid. Taste the hummus and adjust the yogurt and any other seasonings.
Transfer to a wide, flat serving dish. Sprinkle top with a pinch of paprika, chopped parsley, and sesame seeds. Serve with Ak Mak crackers and blanched and chilled broccoli florets.
Visit Gelson's Supermarket today to gather all the ingredients you need to make this amazing hummus recipe. Contact us online with any questions!