Lunch Recipes
Healthy Meals for 2021 And Beyond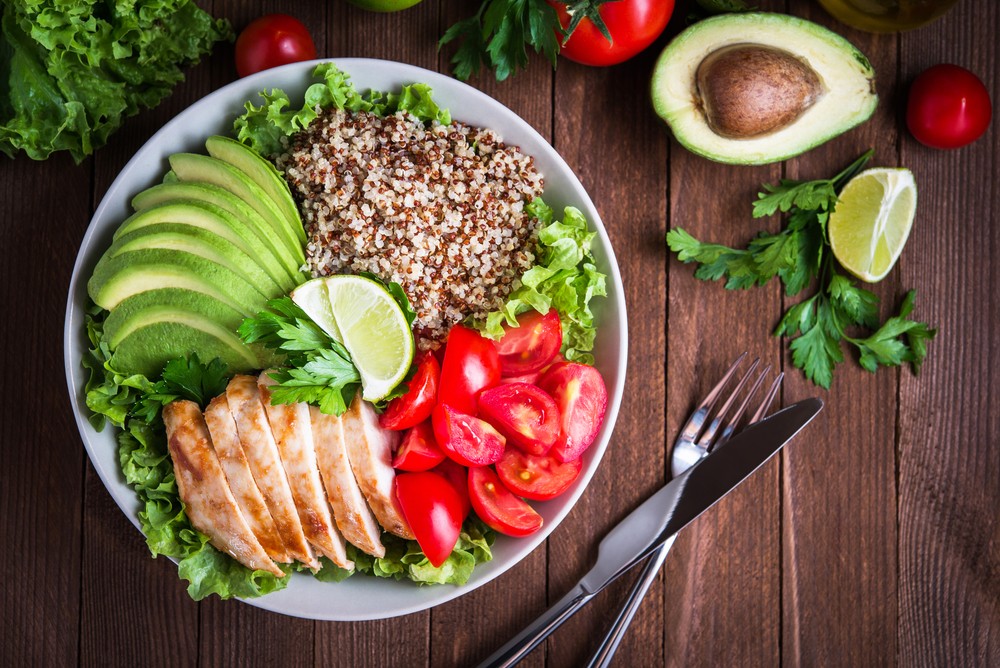 If one of your regular New Year's resolutions is to eat healthier, you aren't alone. In fact, eating better is a goal set by a considerable number of people every year. And suppose you find yourself struggling to stick to your resolution by the time February rolls around. In that case, you're also in good company - sticking with a healthier way of eating can be tough, especially when it comes to finding healthy foods that are easy to make.
But ringing in a healthy new year doesn't have to feel like an overwhelming challenge, especially not when you're armed with an array of recipes for simple meals that are as delicious as they are nutritious.
We've assembled a collection that includes quick, easy, and healthy recipes that can be hearty, keeping you on track with your goals while satisfying your appetite for excellent food. From meal prep recipes to ideas for healthy family dinners, our roundup of recipes for the new year will help you make 2021 your best one yet.
Ideas for Healthy Meals for the New Year
If you've always assumed that eating healthy meant giving up fun and flavor, we have good news: there are so many great recipes that prove that wrong! As it turns out, it's never been easier to achieve your goals without settling for bland and boring meals.
Here is a huge list of our favorite recipes for healthy meals, giving you inspiration from breakfast to dinner and everything in between.
Overnight Oats
Overnight oats are the perfect make-ahead meal, offering you an easy way to start your day with a filling, nutritious meal. And for anyone that's imagined oatmeal to be a boring breakfast option, it's time to rethink that!
Prepared the night before, overnight oats take just minutes to make. Plus, since you have a virtually limitless assortment of toppings and flavor combinations to choose from, you won't have to worry about oatmeal burnout.
Vegetarian Frittata

Frittatas might seem like a fancy brunch dish, but they're actually surprisingly simple to make - and with the right ingredients, they can also be a great option for a healthy breakfast recipe. If you've never had a frittata, it's essentially a low-carb, crustless quiche. Baked in the oven and filled with your favorite vegetables, herbs, or cheese, frittatas are a versatile meal prep recipe that's ideal for the new year.
Here is some inspiration for whipping up a frittata that will quickly become your favorite: this recipe gives you a solid starting point with a great frittata base, then serves up five variations using different combinations of ingredients. If you have a busy schedule that often requires you to eat breakfast on the go, try these veggie frittata muffins and skip the drive-thru breakfast sandwich.
Green Smoothies
Is one of your New Year's resolutions to eat more vegetables? With a daily green smoothie, you can pack multiple servings of vegetables into one tasty snack or meal - and thanks to the sweetness of fruit, it will taste more like dessert.
There are many variations on green smoothie recipes, and finding one that suits your tastes might take some trial and error. This recipe gives you a go-to formula for a great green smoothie, so you can switch up ingredients based on what's in your fridge at the moment. One of our favorite tips is to blend your smoothie in stages, so you can be sure that your smoothie is deliciously smooth and free from the big bite of leafy greens.
Super Green Salad with Crispy Chickpeas
Salads are a staple of healthy eating but don't sell yourself short with dry iceberg lettuce and chicken breast. Instead, aim for salads that boast a rainbow of color and flavor, like this super green sun-dried tomato herb salad with crispy chickpeas. The chickpeas are a crouton alternative that adds protein and fiber to this salad, while a plentiful variety of produce and herbs ensure every bite is delicious.
Creamed Spaghetti Squash with Browned Butter Walnuts
Sometimes, eating better comes down to making simple swaps in the kitchen. This recipe opts for spaghetti squash in place of traditional pasta but uses a generous amount of butter and cheese for a truly decadent dish. It's an excellent option for those evenings when you're craving something rich and hearty but don't want to derail your healthy eating progress altogether.
Healthy Slow Cooker Turkey and White Bean Chili
Healthy slow cooker recipes can be a smart and simple way to maintain your new lifestyle, even if you don't have tons of time to spend in the kitchen. This recipe upgrades your classic chili with ground turkey, white beans, and chipotle peppers, preserving all the traditional flavors while cutting down the fat. You'll never guess that your slow cooker did almost all the work once you taste the medley of comforting flavors in this healthy chili recipe.
Detox Chicken Soup
Are you searching for a nutrient-rich meal to help you rebalance your body after one too many sugary or salty treats? This detox chicken soup is loaded with vegetables, giving your immune system a much-needed boost with a generous serving of vitamins. The addition of orzo pasta, cannellini beans, and chicken ensure that you won't be left hungry, making this soup both filling and incredibly healthy.
Shrimp Zucchini Noodles
Zucchini noodles, or "zoodles," have gained popularity as a low-carb pasta alternative, and it's easy to see why. When correctly prepared, they provide a texture and taste comparable to high-carb noodles but boast far more nutrients. This quick and easy recipe transforms shrimp scampi into a keto-friendly option using zucchini noodles, offering a meal prep option to give you a go-to lunch or dinner all week long.
Best Buddha Bowl
Featuring roasted sweet potato, kale, brown rice, and chickpeas, this hearty grain bowl is sure to satisfy. Equally delicious for lunch or dinner, this recipe gives you plenty of ideas for variations - so if there's an ingredient you don't love, or you simply want to keep things interesting, you can switch things up easily. If one of your goals is to eat more plant-based recipes this year, veggie-rich grain bowls are a wonderful start.
"Better than Takeout" Kung Pao Cauliflower
Just because you're trying to eat healthier this year doesn't mean that your takeout favorites are completely off the table. This creative recipe reimagines a classic Chinese dish, introducing oven-roasted cauliflower as the star of the show. You might be skeptical about how well a veggie can stand in for crispy, deep-fried chicken, but we promise you won't be disappointed.
Stock Up on Ingredients for Healthy Recipes at Gelson's
One of the best tips for healthy eating in the new year is to be well-prepared, and that means having your kitchen well-stocked with plenty of nutritious staples. With a wide selection of farm-fresh produce, premium meats and seafood, and pantry necessities, Gelson's Supermarkets makes it simple to shop for a healthier lifestyle. From keto-friendly snacks to basics for clean eating, to vegan and gluten-free snack recipes, we have something for everyone.
Make this the year that you empower yourself to stick to your healthy eating resolutions by starting off strong with a shopping trip to your neighborhood Gelson's Supermarket today. Contact Us to learn more!
Featured Image: Elenadesign / Shutterstock