Lunch Recipes
Healthy Tofu Bowl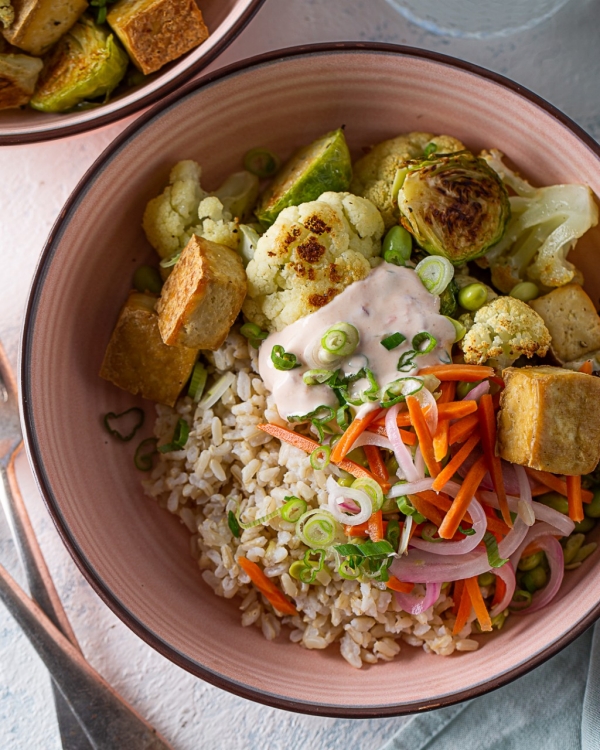 The secret to a really satisfying bowl is balance — all the things in all the right ratios. This recipe includes pickled vegetables for sour crunchiness and spicy yogurt sauce for creamy richness. And the warm ingredients complement the crisp, raw ones, making every bite a study in tasty contrasts.
The best part is that this healthy bowl couldn't be easier to prepare. Cooked ingredients — tofu, broccoli, and cauliflower — are spread on a sheet pan to roast for half an hour. While that's happening, it's easy to pull together a truly blissful sauce that combines yogurt, green onion, lime juice, fish sauce, and sambal oelek. Put it all together in your favorite bowl to enjoy a dish that nourishes your body and soul.
Our tip: Sambal oelek, a traditional Indonesian chili paste, is made with chili peppers and vinegar. Since even a little bit carries a spicy punch, feel free to add more or less according to taste.
Serves: 4 to 6
Ingredients
For the tofu bowl:
3 Tbsp extra-virgin olive oil, divided, plus more for greasing the baking sheet
1 16-oz pkg firm tofu, cut into 1" cubes
½ tsp garlic powder
¼ tsp ginger powder
1 lb Brussels sprouts, halved and trimmed
½ head cauliflower, chopped into florets
Kosher salt, to taste
Black pepper, to taste
Cooked brown rice, for serving
For the pickled vegetables:
1 cup shredded carrots
1 cup shelled edamame
½ small red onion, thinly sliced
¼ cup rice vinegar
2 Tbsp water
2 Tbsp granulated sugar
½ tsp kosher salt
For the sambal oelek yogurt sauce:
½ cup Greek yogurt, plain
2 Tbsp green onion, plus more for garnish
1 Tbsp lime juice
1 Tbsp sambal oelek
¼ tsp fish sauce
Kosher salt, to taste
Black pepper, to taste
Directions
To make the baked tofu and vegetables: Preheat the oven to 450°. Grease a baking sheet with olive oil.

Lightly press the cubed tofu between two paper towels to remove excess moisture.

In a medium bowl, combine the tofu,1 tablespoon olive oil, garlic powder, and ginger powder. Toss to coat all pieces completely.

Spread the tofu evenly over the pan, leaving plenty of room between cubes. Cook for 10 minutes.

Meanwhile, in a separate medium bowl, combine the Brussels sprouts, cauliflower, and remaining 2 tablespoons of olive oil. Season with salt and pepper and toss to coat evenly. Set aside.

Use a spatula to flip the tofu cubes, and then add the Brussels sprouts and cauliflower to the baking sheet, tossing and spreading all ingredients evenly. Cook for 20 minutes, until vegetables have browned.

To make the pickled vegetables: In another medium bowl, combine the carrots, edamame, red onion, rice vinegar, water, sugar, and salt. Stir well and set aside.

To make the sambal oelek yogurt sauce: In a small bowl, combine the yogurt, green onion, lime juice, sambal oelek, and fish sauce. Season with salt and pepper. Set aside.

To assemble the bowls: Cover the bottom of each bowl with rice. Divide the tofu, roasted vegetables, and pickled vegetables among the bowls. Finish with a generous dollop of the sambal oelek yogurt sauce and a sprinkle of green onion.
Calculate nutrition information for this recipe.
Contact us at Gelson's Supermarket today for more recipes or information.