Appetizer Recipes
Heirloom Tomatoes with Herbs & Olive Oil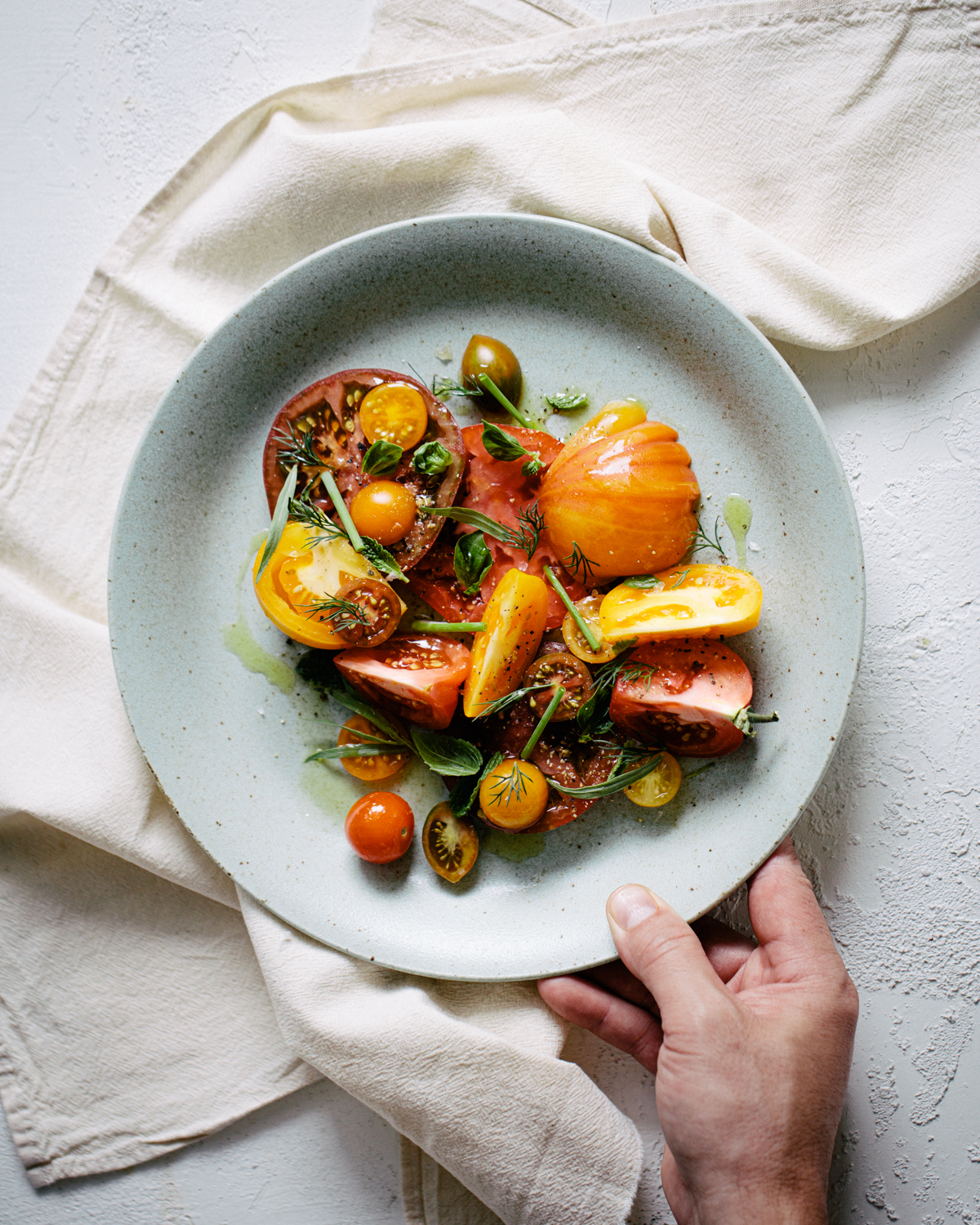 Not long ago, we interviewed Bill and Marsanne Brammer from Be Wise Ranch, the farmers who grow our organic heirloom tomatoes. In the course of the conversation, we learned why the San Diego climate is perfect for growing tomatoes, what color can tell you about the fruit's flavor — and, most importantly, the best way to eat an heirloom tomato.
In the produce world, heirlooms are considered "fresh eating" tomatoes. They're juicy, intensely meaty and flavorful tomatoes that are meant to be eaten right off the plant — not cooked down in long-simmering sauces. We asked Marsanne how she liked to eat an heirloom tomato. "They're really good sliced on a bagel with lox or avocado toast," she said, "but my favorite way to eat them, like if I'm taking them to a party, is to just sprinkle a little basil over them. When a tomato tastes that good, you just eat it."

We could not agree more, and we wrote this recipe in that spirit. It's just a handful of herbs, a nice olive oil, sherry vinegar, and some salt and pepper — but it tastes like a full-blown miracle of summer. If you want a heartier repast, a rustic wheat bread grilled with olive oil and salt would make a perfect accompaniment.

Our tip: For wine, think about Kendall-Jackson Vintner's Reserve Sauvignon Blanc. It's got some stone fruit and citrus notes, but they're soft and not too zippy. It'll complement the tomatoes' sweetness.

Servings: 2 to 4
Ingredients
2 lb heirloom tomatoes of various sizes and colors, sliced
1 tsp dill fronds
1 tsp tarragon leaves
1 tsp mint leaves
1 tsp chives, chopped
1 tsp basil leaves
2 oz extra-virgin olive oil
1 Tbsp sherry vinegar
½ tsp flake salt
Ground pepper, to taste
Directions
Arrange the tomatoes on a serving dish, and sprinkle them with the fresh herbs.

Spoon the olive oil and sherry vinegar over the tomatoes and herbs.

Season with flake salt and black pepper and enjoy.
Calculate nutrition information for this recipe.