Recipes
Herbed Potato Gratin
November 14, 2018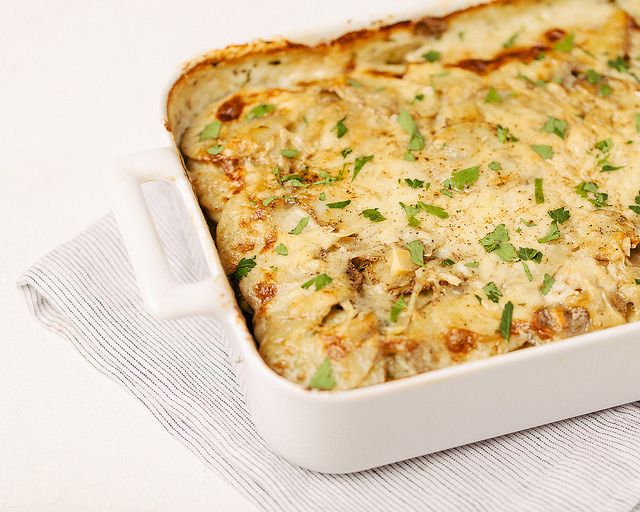 You don't often see "light" and "comfort food" in the same sentence, but that's just how we'd describe these au gratin potatoes. To get there, we've sliced russet potatoes very thin, folded them through with heavy cream and a handful of aromatic herbs, and then sprinkled them with Gruyère — just enough, so that the herbs shine through in every bite, and you still get a gooey cheese top.

It's the kind of dish that's perfect for special dinners — elegant looking and tasting — but comes together in just five steps. So you could make it on a weeknight when you're craving Mac & Cheese but want to do something a little nicer for yourself.
Servings: 8
Ingredients
Butter for baking dish
Cooking spray
3 lbs medium russet potatoes, peeled and cut in ?-inch slices
1 ½ cups heavy whipping cream
½ cup chicken broth
1 Tbsp Italian parsley, minced
1 Tbsp rosemary, minced
1 Tbsp sage, minced
1 Tbsp thyme, minced
1 clove garlic, minced
1 tsp kosher salt
Black pepper, to taste
1 cup grated Gruyère cheese
Directions
Preheat the oven to 425º, grease a baking dish measuring 7 x 11 inches with butter, and grease enough foil to cover it with cooking spray.
Spread the potatoes in the baking dish.
In a large bowl, combine the cream, chicken broth, minced herbs, garlic, and salt, and then pour the mixture over potatoes.
Sprinkle the potatoes with pepper, cover them with the foil, and bake for 35 minutes.
Remove the potatoes from the oven and sprinkle them with Gruyère cheese. Continue baking, uncovered, for about 25 minutes, or until brown and bubbling. Let rest before serving — that gives the fluids time to reabsorb, so your potatoes will be easier to serve.