Dinner Recipes
Guide to Cooking With Plant-Based Meat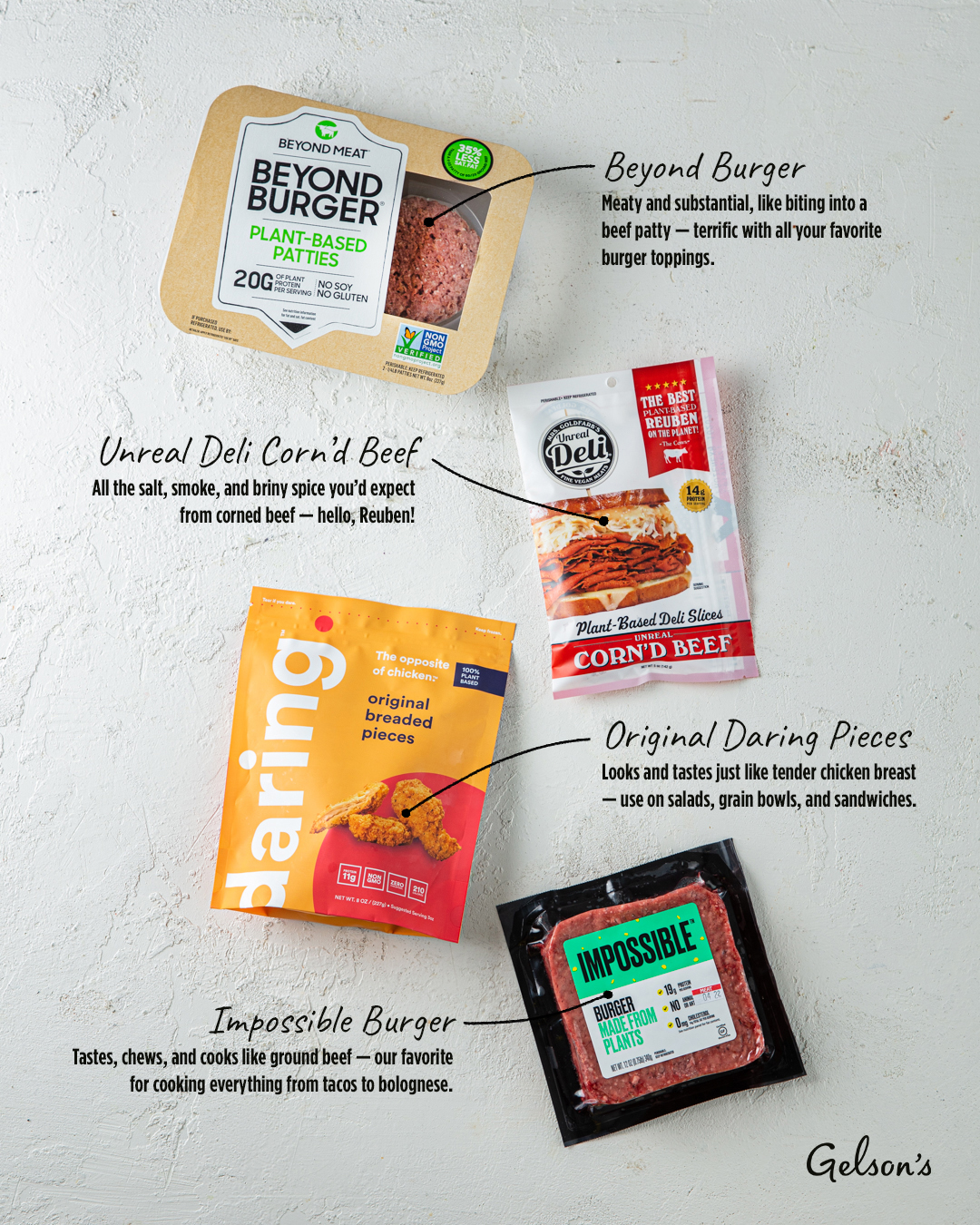 We're living through a truly thrilling age for meat alternatives. For a long time, tofu, tempeh, wheat gluten, and TVP were pretty much the only options in town. In the last 10 years, that's changed, mostly because more and more people are looking to cut down on their meat consumption.
In addition to the folks who embrace vegetarian and vegan diets, lots of us are choosing to eat a little less meat for our health — and the health of the planet. That demand is fueling rapid invention in the food sciences: it seems like every month our team is vetting new options for what we now call "plant-based meat."
New and delicious! Today's plant-based meats look, taste, and chew like the meat they mimic, whether it's a fish stick, a slice of chicken breast, or a hamburger patty. And by and large, they're made from good ingredients and packed with protein, so you can feel great about eating them.
That's certainly the case with the plant-based meats we've included here. Is this a comprehensive guide to our offerings? No! These are just a few of our faves. You should definitely explore the many, many plant-based meats offered at the Gelson's in your neighborhood.
Beyond Burger
Made with pea, brown rice, and mung bean proteins, Beyond Burgers have a wonderful texture: meaty and substantial, like biting into a beef burger. In fact, they're even pink like beef, thanks to pomegranate and beet extracts. These are not your average, dry veggie pucks — they're downright juicy.

The key to a great Beyond Burger is to make sure you don't overcook it. Get the pan or your grill piping hot so you get a good sear, and cook it for 4 minutes per side. And, of course, you've got to get the bun and the toppings right! The Beyond Burger would be awesome in a classic California burger, for example.
Unreal Deli Corn'd Beef
If you're a fan of Shark Tank, you may already be familiar with Jenny Goldfarb and her Unreal Deli. She's got deep corned beef roots: her great grandfather, Morris Gross, immigrated to New York City in 1907 and worked his way up from dishwasher to deli owner, eventually opening up several delis and cafeterias.
Unreal Deli Corn'd Beef is made with beets, chickpeas, tomatoes, and loads of spices. It has all the salt, smoke, and briny spice you'd expect from corned beef, as well as its crumbly mouthfeel. And once you pile on all the fixings, it's even more delicious. We love how it tastes layered in a classic Reuben with melty Swiss cheese, creamy Russian dressing, and loads of juicy sauerkraut. It's sublime.
Original Daring Pieces
If we didn't know it was faux, we wouldn't know! Daring Pieces are chunks of mock chicken like you've never seen before — they really look like chicken, and the texture is a near-perfect mimic of the real deal. It's made with just soy protein, sunflower oil, and a bunch of spices, like pepper, ginger, nutmeg, and cardamom, so it's got a savory warmth and a healthy vibe.
This is a super versatile plant-based meat: it comes in plain pieces and breaded tenders. We'd use it basically anywhere we'd usually add chunks of chicken. It would be great on top of a grilled Caesar salad or even chopped up in a creamy chicken salad and piled on a croissant. Want more ideas? Check out our chicken recipe collection. Bok bok!
Impossible Burger
We were very proud to be the first supermarket in the world to carry Impossible Burger. Why? It's kind of a revolutionary product. It tastes, cooks, and smells just like meat, but it's made from soy. In the pan, it sears up beautifully, and it's terrific in all kinds of recipes where you might use ground beef.
In the test kitchen, we've used Impossible Burger in dishes where the beef is traditionally the centerpiece, like a zippy larb wrapped in butter lettuce and super satisfying chorizo breakfast tacos. We've also used it to make saucy and cheesy stuff, like a deeply flavorsome Bolognese and a gooey deep dish pizza — in both cases, our tasters were so delighted with the outcome, they didn't notice that we'd used Impossible Burger.