Recipes
Honey-Glazed Roasted Sweet Potatoes
November 14, 2018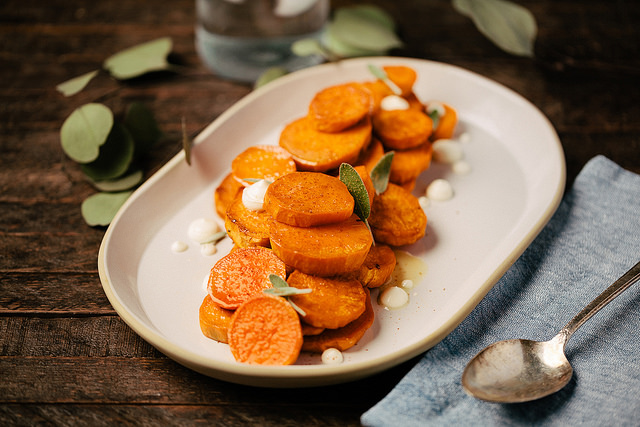 If you love sweet potatoes but are thinking about taking a break from the heavy, brown sugar sweetness of the whipped variety, this recipe is for you. Our honey glaze adds just a hint of citrus sweetness, and in the oven it's a little bit of textural magic — giving the medallions a caramelized skin that's crisp and chewy, while the inside stays soft and creamy. You won't miss the brown sugar!

For the cook, the most magical thing about this recipe may be that it preps up in just 10 minutes. Our tip: We top our sweet potatoes with crème fraîche and cinnamon. If you put the crème fraîche in a condiment squeeze bottle, it's super easy to give your potatoes restaurant-worthy swirls and dollops.
Servings: 4
Ingredients
2 ¼ lb red-skinned sweet potatoes, peeled and cut in ½-inch slices
6 Tbsp salted butter
3 Tbsp honey
1 tsp lemon juice
1 Tbsp orange juice
Directions
Preheat the oven to 350º.
Place the potatoes on a rimmed baking sheet.
In a small saucepan, stir together the honey, butter, lemon juice, and orange juice, and warm them over medium heat until the butter melts.
Pour ¾ of the butter mixture over the potatoes, and toss them to get a good coating. Sprinkle them generously with salt and pepper.
Bake the sweet potatoes, turning occasionally, for about 60 minutes, or until tender when pierced with a fork.
Coat the potatoes with the remaining butter mixture and top with crème fraîche before serving.