Recipes
Honey-Roasted Root Vegetable Salad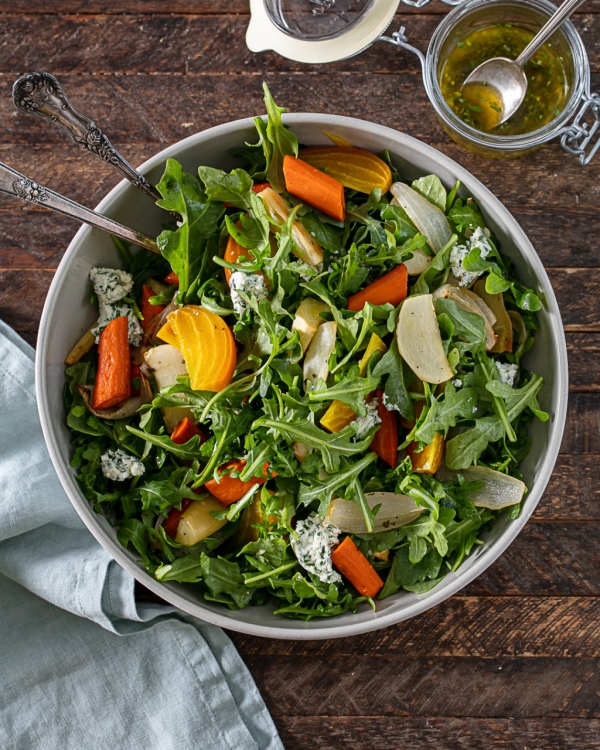 When we imagine the quintessential fall harvest salad, this is exactly what comes to mind: roasted root vegetables and the last of summer's arugula greens. Root veggies can sound heavy and a little dusky, but look at this salad — it's full of golden beets, bright orange carrots, and curls of peppery arugula. And as bright and simple as it looks, it's got a few layers of flavor too.
As they're roasting, we slather warm, sage-infused honey over the root vegetables, creating a glaze that brings out the natural sweetness in the carrots and parsnips — and tempers the earthiness of the beets and turnips. The veggies taste wonderful in a bite with the salad's herbed goat cheese and peppery arugula greens. And lest you think those greens are just a colorful base for the other goodies, we'll add that they're tossed in a classic sherry vinaigrette that's made with fresh herbs, shallots, and garlic. They bring their own zesty, tangy, peppery notes to the salad — a welcome complement to the herby, sweet glaze.
We'd definitely serve this salad as the main event at a light luncheon or dinner. If you're missing the protein, you could toss it with chicken or toasted nuts. It also makes a brilliant side dish, and we'd pair it with anything from a fancy pomegranate-glazed rack of lamb to a homey bowl of creamy artichoke and spinach linguine. Planning a tiny Friendsgiving on the patio? This salad will fit in beautifully.

Servings: 4 to 6
Ingredients
For the roasted root vegetables:
1 lb medium beets
1 lb carrots, peeled and cut into 1 ½" pieces
1 lb parsnips, peeled and cut into 1 ½" pieces
1 lb turnips, peeled and cut into 2" wedges
3 small white onions, cut into wedges
3 Tbsp extra-virgin oil, divided
Kosher salt, to taste
Freshly ground black pepper, to taste
3 Tbsp honey, warmed
1 Tbsp chopped sage leaves
For the salad:
4 oz fresh goat cheese, room temperature
¼ cup plus 1 Tbsp minced fresh herbs, such as chives, tarragon, and flat-leaf parsley, divided
6 Tbsp extra-virgin olive oil, divided
2 Tbsp sherry vinegar
1 garlic clove, minced
Kosher salt, to taste
Freshly ground black pepper, to taste
4 cups packed arugula leaves
Directions
To make the roasted beets: Preheat the oven to 400°. Tightly wrap the beets in a double layer of aluminum foil and roast them on the bottom shelf of the oven for 1 ½ hours, or until they are tender when pierced with the tip of a knife.

When the beets are cool enough to handle, peel and cut them into bite-size wedges. Set aside.

To make the roasted root vegetables: Divide the carrots, parsnips, turnips, and onions between 2 large, rimmed baking sheets.

Toss the vegetables in each pan with 1 ½ tablespoons of the olive oil. Generously season the vegetables with salt and pepper and roast for 40 minutes.

Brush the vegetables with the warm honey and sprinkle with the sage. Continue to roast the vegetables for 25 minutes more, or until they are tender and glazed. Loosen the vegetables with a spatula and let them cool to room temperature in the pans.

To make the herbed goat cheese: in a small bowl, mix the goat cheese with ¼ cup of the herbs and 2 tablespoons of olive oil, and season with salt and pepper.

To make the vinaigrette: In a small bowl, combine the remaining 4 tablespoons of olive oil, vinegar, garlic, and remaining 1 tablespoon of herbs. Season with salt and pepper.

To assemble the salad: In a large bowl, toss the arugula with 1 tablespoon of the vinaigrette and arrange on plates. Add the beets and roasted root vegetables to the bowl and toss with the remaining vinaigrette.

Top the arugula with the vegetables, dot each plate with small spoonfuls of the herbed goat cheese, and serve.
Recipe adapted from: Food & Wine