Beverage Recipes
Horchata Latte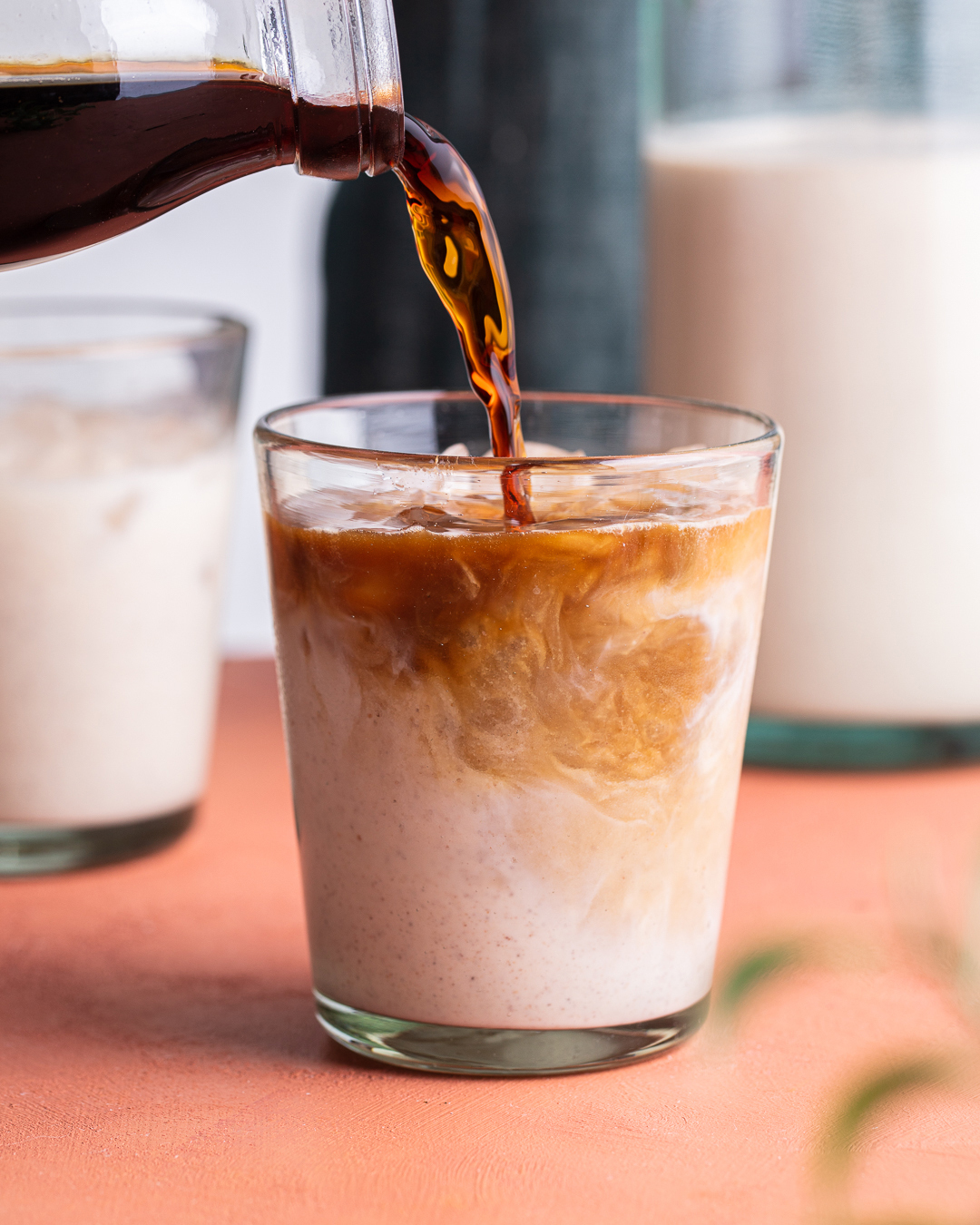 If you've never tried it before, horchata is a light, sweet drink made by soaking nuts, grains, or seeds in water, and then whirling the mixture up with sugar and spices. It's wildly popular in Latin countries, where it has a very long history: the Egyptians sipped an early version of the horchata de chufa — aka tiger nut, a potato-ish groundnut — that's beloved in Spain. In Puerto Rico, they favor an horchata made with sesame seeds; in Central America, the licorice-like jicaro seeds. Here in SoCal, you'll mostly find Mexican horchata made with either rice or almonds, milk, and cinnamon.
For this recipe, we blend up rice water, whole milk, sweetened condensed milk, nutmeg, and cinnamon. The result is a sweet, wonderfully spicy horchata that tastes a bit like chai. The rice gives it body, and the milk keeps it smooth and creamy. We love it poured plain over a glass of ice, but all that nutmeg goodness really shines in a rich, chocolaty cold brew or a deep, dark hit of espresso.
Here's the good news: You can drink it all the ways because you're going to end up with a pitcher of the stuff. That makes it perfect for a Saturday brunch fandango with the family. If kiddos are invited, you can whisk a little cocoa into their horchata, too. Take the leftovers to work with you — a horchata latte is the perfect midafternoon treat. (Read: kick in the pants.)
Servings: 8
Ingredients
2 cups uncooked long-grain white rice
1 14-oz can sweetened condensed milk
1 Tbsp ground nutmeg
1 Tbsp ground cinnamon
½ gallon whole milk
Cold brew concentrate or espresso, to taste
Directions
Add the rice and 2 ½ cups water to a large container and cover. Soak at room temperature for a minimum of 8 hours.

Pour the rice and the soaking liquid into a blender, and blend until all the rice is finely ground, 2 to 3 minutes. Note: Stop your blender periodically to prevent overheating.

Add the condensed milk, nutmeg, and cinnamon and blend until combined.

Pour the mixture into a large pitcher or bowl. Add the whole milk and whisk until incorporated.

Divide the horchata among 8 ice-filled glasses and top each with cold brew concentrate or espresso.
Recipe adapted from: New York Times
Calculate nutrition information for this recipe.