Beverage Recipes
Hot Mulled Wine
We're always thankful for a balmy autumn in SoCal, but we do like to embrace the spirit of seasonal change. Just saying: it feels wrong to watch the Hollywood Christmas Parade with an Aperol spritz in hand. If you're not quite ready to give up the aperitif, this mulled wine has all its citrus vibes, plus crisp apples and a handful of spices — making it is like lighting a November-scented candle. Is that the sweetness of Thanksgiving I smell?
Yes! This one goes down like a slice of apple pie. To make it, we mull white wine with thin slices of Honeycrisp apples, orange wheels and zest, cardamom, allspice, and cinnamon sticks. We use a dry yet juicy riesling with plenty of green apple and zesty citrus notes. In the mulled wine, its bright acidity is a balancing force, adding even more fruitiness and perfume but not a lot of sugar. There's also some Grand Marnier in there — for cognac-y warmth — as well as honey to bring out the fruit's sweetness.
This is a mulled wine that offers up just a little coastal sunshine with its spicy fall warmth. It's the perfect way to conjure the holiday season! We'd serve it on the patio with a light cashmere throw (even if you don't absolutely need it) and a brilliant sunset.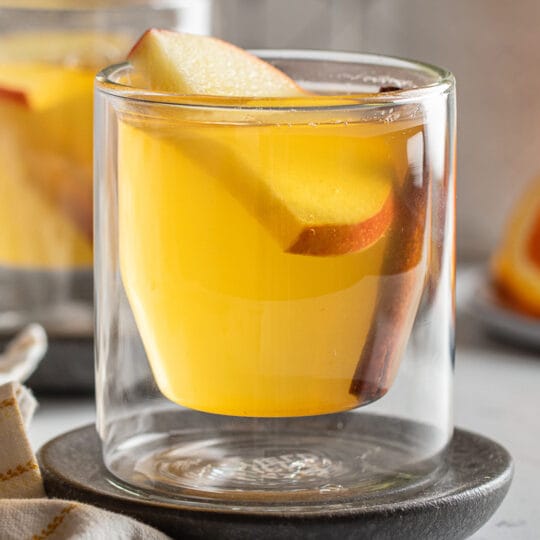 Beverage
Hot Mulled Wine
Ingredients
2 2"-long orange zest strips
8 Gelson's cinnamon sticks, plus more for garnish
1 orange, sliced into ½"-thick rounds
1 Honeycrisp apple, peeled, cored, and thinly sliced into half moons, divided
Directions
Pierce each orange zest strip with 8 of the cloves, making sure they are well secured.

In a large Dutch oven, combine the orange zest, sugar, honey, cinnamon sticks, cardamom pods, allspice berries, Grand Marnier, and riesling. Heat over medium-low heat and stir until the sugar and honey dissolve, about 7 minutes.

Reduce the heat to low and add the orange slices and ½ the apple slices. Simmer for 20 to 30 minutes, stirring occasionally.

Using a mesh sieve, strain the mulled wine into a clean pot.

To serve, divide the wine among glasses and garnish each with an apple slice and a cinnamon stick. Serve warm. Store leftover mulled wine in an airtight container in the refrigerator for up to one week. Reheat in a small pot over low heat.
Recipe source: Ingredient