Breakfast Recipes
How to Make Breakfast Sausage and a Fall Brunch Bowl
In between brunches, we tend to forget about breakfast sausage, and so we are always surprised at how aromatic and savory it is — and how much we love it. This recipe proves the rule. The test kitchen has filled it with fresh herbs, garlic, spices, and brown sugar. It's full of earthy sage, it's got a soft, gingery zing, and it's just the right amount of breakfast-y sweet. It's an ode to fall, if ever a sausage could be one.
Aside from all that flavor, there are a couple benefits to making sausage at home. One is that you can form it into patties or keep it in its loose, ground form. The other is that freshly made breakfast sausage cooks up extra tender, juicy, and crispy. And on that note, we do have a cooking tip from the kitchen: Pop the pork in the freezer while you prep the seasoning. If the meat is still a little bit cold when it hits the pan, the fat will slowly render as it cooks, giving you a fantastic texture — lightly caramelized, golden brown, and crispy at the edges.
What can you do with a pound of sausage? Patties are great layered on breakfast sandwiches or biscuits with gravy. You can also just throw a couple on a plate with your fried eggs and smashed potatoes. The ground sausage is a natural in hashes, egg bakes, and the like.
Here we've piled the sausage on a hearty brunch bowl with a bunch of sweet and savory fall vegetables — sweet potatoes, umami-riffic shiitakes, and earthy greens. A scattering of salty, toasted pepitas gives it a nice crunch, and brings out the rice's nuttiness. And we love how the egg yolks break over the whole dish, like a very sunny, very rich gravy.
We named the bowl for brunch, but you can eat it anytime. If you're cooking for one or two, this recipe is great for meal-prepping a week's worth of lunches. It's also what we think of when we want something that's both nourishing and cozy — you can curl up on the couch with it. Don't forget the hot sauce!
Ginger Breakfast Sausage
Servings: 4
Ingredients

1 lb ground pork
1 ½ Tbsp minced fresh ginger
2 garlic cloves, minced
1 Tbsp minced fresh sage
1 tsp minced fresh marjoram
¾ tsp kosher salt
½ tsp black pepper
⅛ tsp cayenne pepper
⅛ tsp ground cloves
2 tsp packed brown sugar
1 Tbsp extra-virgin olive oil
Directions
Place the ground pork in the freezer while you prepare the spice mixture.

In a large bowl, combine the remaining ingredients, excluding the olive oil.

Add the pork to the bowl, and use your hands to evenly distribute the spice mixture through it.

At this point, you can leave the sausage loose or form it into 4 patties, each about 2 ½" wide. If you're not ready to use all of it, you can also freeze a portion in a ziplock bag for up to 12 weeks. Note: if you're making the breakfast bowl (recipe below), you'll want to leave the sausage loose.

To cook the sausage patties: Heat the olive oil in a medium skillet over medium heat.

Add the patties to the skillet and cook until golden brown and crispy, about 4 minutes, then flip the patties and cook for another 4 minutes, or until golden brown. Serve immediately.
Fall Brunch Bowl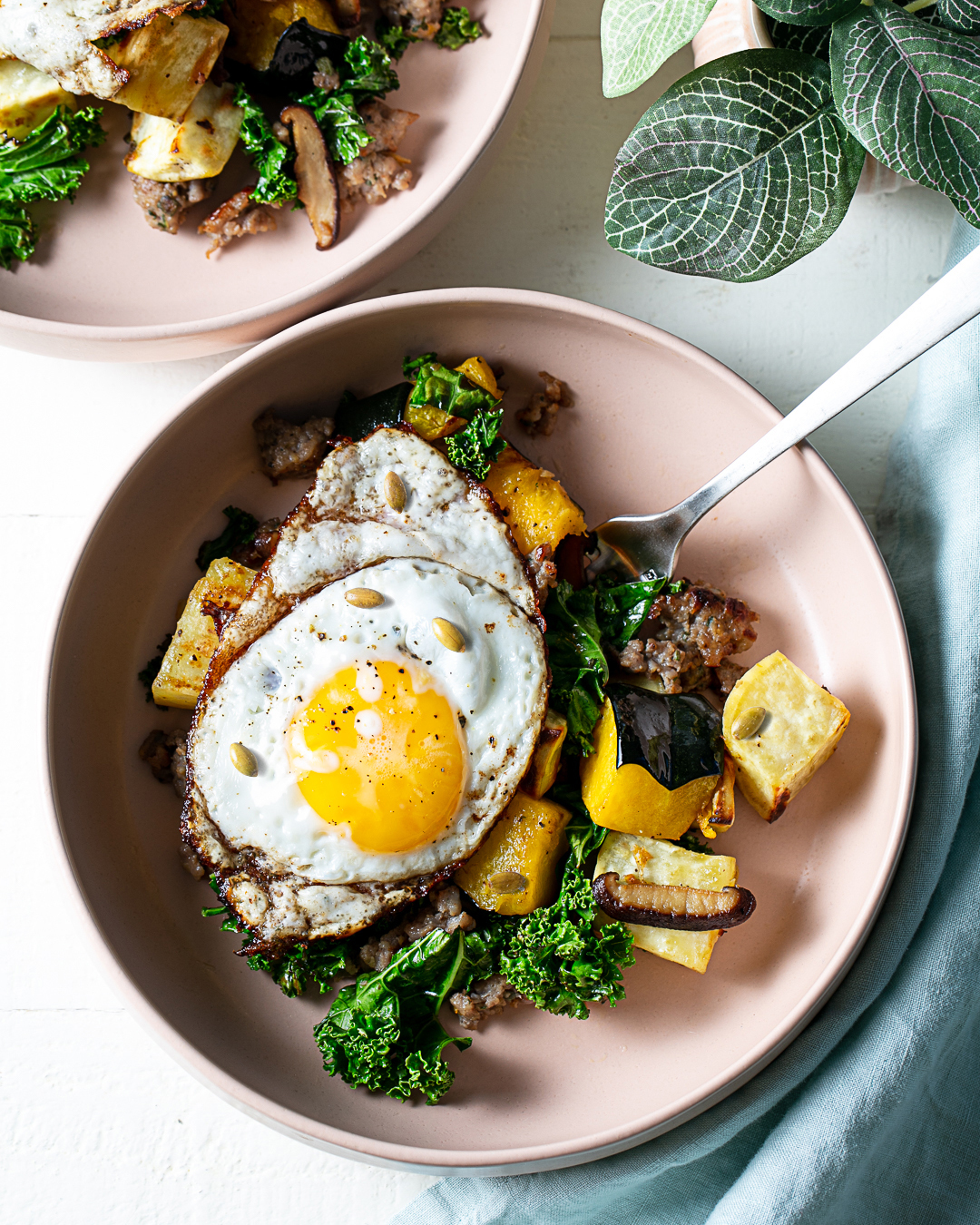 Servings: 4
Ingredients
1 large sweet potato, peeled and diced large
½ acorn squash, seeded and diced large
2 Tbsp extra-virgin olive oil, divided
Kosher salt, to taste
Black pepper, to taste
½ lb uncooked breakfast sausage (see recipe above)
4 oz shiitake mushrooms, stems removed, sliced
4 cups chopped kale, center stems removed
5 Tbsp unsalted butter, divided
4 large Gelson's eggs
4 tsp roasted and salted pepitas
Directions
Preheat the oven to 400° and line a baking sheet with parchment paper.

In a large bowl, toss together the sweet potato, acorn squash, 1 tablespoon of olive oil, salt, and pepper. Place the mixture on the prepared baking sheet and roast in the oven for 30 minutes, or until the squash skin is tender. Remove and allow to cool.

Meanwhile, heat a large nonstick skillet over medium heat and brown the breakfast sausage until it begins to crisp, about 5 minutes, then transfer the sausage to a plate and wipe the skillet clean.

Add the remaining 1 tablespoon of olive oil to the clean skillet and heat to medium-high.

Add in the mushrooms and sauté, tossing frequently, until they begin to caramelize, about 3 minutes.

Add the kale, tossing frequently, until it is tender and the edges begin to crisp, about 3 minutes more.

Add the roasted vegetables, sausage, and 1 tablespoon of butter, and toss to heat evenly. Set aside and keep warm over low heat.

In a clean, large nonstick pan, heat the remaining 4 tablespoons of butter to medium heat. Crack one egg at a time into the pan and cook sunny-side up, basting the whites with the butter, until the edges of the eggs are brown and crispy, about 4 minutes.

Divide the vegetable-and-sausage mixture among 4 bowls, top each with a fried egg, garnish with pepitas, and serve hot.