Recipes
How to Make Chicken Stock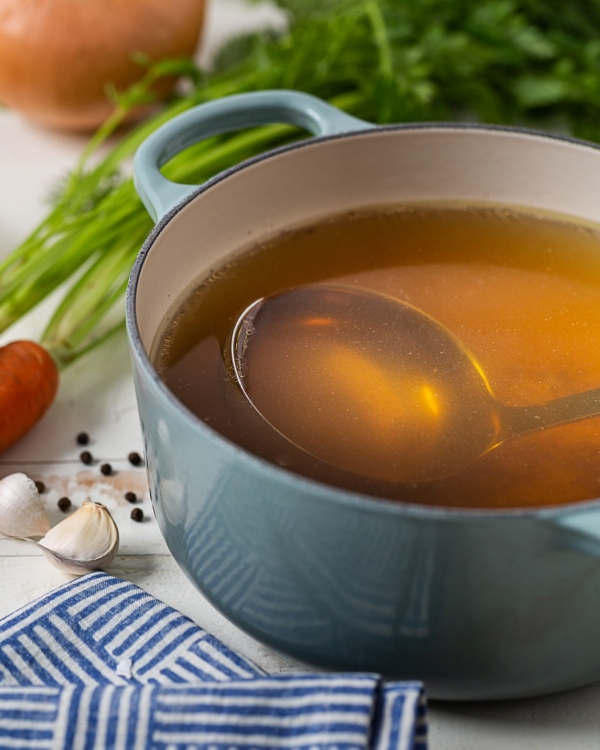 A good basic chicken stock is one of the best tools a home cook can have in their recipe box. It has an intensity of flavor you won't find in the boxed stuff, and it's also sodium-free — so you have more control over how your soups, stews, and gravies taste. It's also a terrific way to use up grocery bits and bobs, from spare vegetables to the bones of a rotisserie chicken. And it's incredibly easy to make: all you have to do is throw all the ingredients in a pot with some water, and time and the stove will turn them into something wonderful.
With so many of us working at home, now seems like an especially good time to make stock. You can get it on the stove in the morning, go about the work and school day while it gently simmers away for six hours or so — and successfully bolster your arsenal of pantry staples with almost no effort. Fair warning: it will make your house smell like Thanksgiving.
For this recipe, we've gone with the basics: fresh water, chicken bones, onions, carrots, celery, bay leaf, and a whopping five cloves of garlic. They yield lovely broth, so full of warmth and aromatic depth, we could finish it with salt and drink it by the cup. It's a great starting point, and once you've got it down, you'll want to experiment broadly with other vegetables and spices — we like to use everything from fresh ginger to spicy cloves and sweet bell peppers to mild leeks.
Our tip: Stock freezes beautifully, so make a large batch and put some of it away for future use. It will keep for up to six months.
Yield: 16 cups
Ingredients
2 lbs chicken bones or 1 chicken carcass with meat removed
1 large onion, halved
2 carrots, roughly chopped
3 stalks of celery, roughly chopped
5 cloves of garlic
1 Gelson's organic bay leaf
¼ tsp black peppercorns
1 ¼ gallons of water
Directions
In a large stock pot, combine all of the ingredients and cover with water. Bring the stock to a gentle simmer over medium-high heat, and then lower the heat to maintain the simmer for 6 hours.

Use a spoon or mesh strainer to skim any foam from the top every hour or so.

Pass the stock through a fine mesh strainer into a heatproof container, reserving the liquid and discarding the chicken bones, vegetables, and spices.

If you're not going to use it immediately, allow the stock to cool in the refrigerator. Note: the stock will keep for 5 days in the refrigerator or for up to 6 months in the freezer.