Recipes
How to Make Mak-Kimchi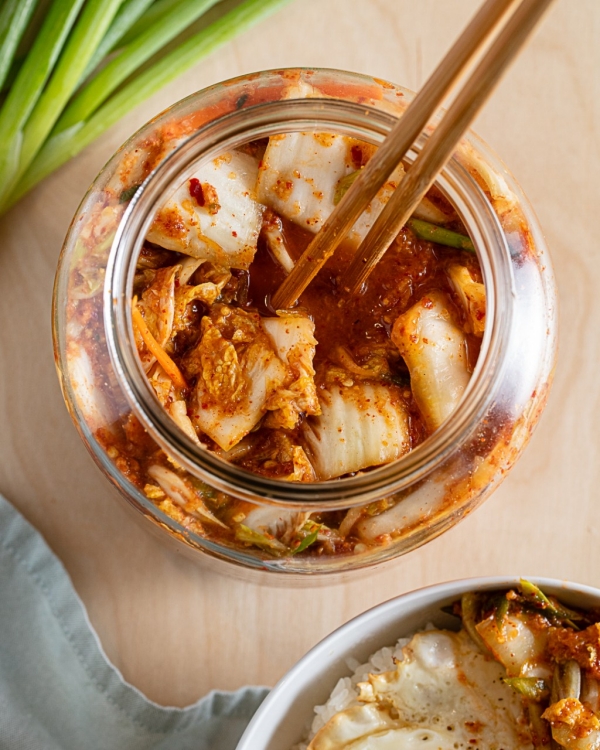 In Korea, kimchi is eaten with almost every meal. At its heart, it's more of a Korean approach to pickling than a single, traditional recipe. Kimchi can be made with all sorts of veggies, like cucumber, radish, and eggplant. Mak-kimchi is made with chopped up cabbage — and there are probably as many mak-kimchis as there are homes, each one slightly different. This one has its quirks too: we developed it using only the ingredients you can find in your local Gelson's, so we made some substitutions, like dried arbol chiles for Korean gochugaru and fresh shrimp for saeujeot, the tiny salted fermented shrimp.
This is a recipe for a lazy Saturday afternoon, when it's too hot to go outside and you feel like listening to a really good podcast and relaxing into a culinary project. Because of the ingredient substitutions, it takes a couple of hours to make, and then you have to wait for the ferment, of course, but it's still a quicker kimchi than some traditional recipes — and the payoff is a giant jar of mak-kimchi.
If you've ever wondered where kimchi gets its pungent flavor, this one ferments in a bath of rich aromatics: fish sauce, garlic, ginger, shrimp, and onions. We like our mak-kimchi on the spicy side, so it gets a handful of those toasty, aromatic arbol chiles, too. All of that goes in a jar with cabbage, green onions, leeks, radishes, carrots — and a slurry of tapioca flour and sugar, the glue that binds all that wonderful flavor to the veggies.
Here's where you get to play with the recipe: The longer the mak-kimchi ferments, the more funky and awesome it will get. If you like it tangy, fresh, and a little less fermented, leave it for three to seven days. If you want it to have the full range of sour, bright, lightly sweet, spicy umami, leave it for at least three to four weeks.
Once it's ready to go, you can eat mak-kimchi right out of the jar or use it in dishes. It can go on literally any rice bowl. We pile it on our sausages and chop it into everything from fried rice to creamy dips and quesadillas. It's also amazing fried up brown and crispy in butter, where it develops a super mellow, sweet, spicy, lightly charred flavor that's incredibly good with eggs or mixed up in a breakfast hash.
Our tip: For mak-kimchi, you can use the pale and the dark green part of the leek. Yes, even the tough tops — they will soften right up during the ferment.
Yields: 2 quarts
Ingredients:
2 ½ lb head of Napa cabbage
¼ cup, plus 1 tsp kosher salt
2 qt, plus ¾ cup water
1 Tbsp tapioca flour
1 Tbsp granulated sugar
1 cup dried arbol chiles
¼ cup fish sauce
15 garlic cloves
1" piece of ginger, peeled and roughly chopped
½ small white onion, diced
4 oz shrimp (any count is fine), cut into ¼" pieces
½ bunch green onions, cut diagonally into ½" pieces
1 leek, green part only, cut diagonally into 1 ½" pieces
½ cup julienned daikon radish
¼ cup julienned carrot
Special equipment: sterile 2-quart jar with a tight-fitting lid
Directions
Remove the outer leaves of the cabbage if they look dirty or damaged. Cut the cabbage into bite-size pieces, making sure to remove the core. Transfer the cabbage pieces to a large bowl.

Sprinkle the cabbage with ¼ cup of the salt, and pour 2 quarts of water over the top. Swirl the salt water around the cabbage to make sure it is evenly dispersed and press the cabbage down into the water. Set aside for 1 ½ hours.

Meanwhile, in a small saucepan, combine the remaining ¾ cup water and the tapioca flour over medium heat. Stir well to make sure the tapioca dissolves. When the mixture starts to bubble, add the sugar and whisk continuously until the mixture thickens, 1 to 2 minutes. Remove the pan from the heat and set aside until cool.

In a medium skillet, heat the dried chiles over medium heat, stirring frequently to make sure they don't burn. Toast the chiles until fragrant and just starting to brown, 4 to 6 minutes. Set aside to cool.

When the chiles are cool, fill a spice grinder with ⅓ cup chiles and grind until coarse and homogenous, about 45 seconds. Transfer the ground chiles to a small bowl and repeat this step with the remaining chiles. Set aside.

In a food processor, blend the fish sauce, garlic, ginger, white onions, shrimp, and the remaining 1 teaspoon of salt until smooth, about 30 seconds.

In another large bowl, add the blended aromatic mixture, the tapioca flour mixture, and the ground chiles, and stir until completely combined. Add the green onions, leeks, radishes, and carrots to the mixture, and stir until well combined.

Drain the cabbage, pressing the excess water out of the leaves. Add the cabbage to the spiced vegetable and shrimp mixture and, wearing disposable gloves, mix the cabbage with your hands until it is fully incorporated.

Transfer the kimchi to the jar. Let the kimchi sit for 24 hours at room temperature in a cool, dark place (ideally around 70°).

After 24 hours, transfer the kimchi to the refrigerator. After 3 to 5 days, the kimchi will be ready to eat. Kimchi will keep in a sealed container in the refrigerator for 6 to 8 weeks.